By Rob Patrick
Photos by Kevin Nagle
Though they trailed 10-2 at the end of the first quarter, the Bryant White Lady Hornets[more] eighth grade team of Bryant Middle School started the second quarter with a pair of quick baskets. Abby Ostrem hit a 12-foot jumper and, less than a minute later, Lania Ratliff grabbed an offensive rebound and scored.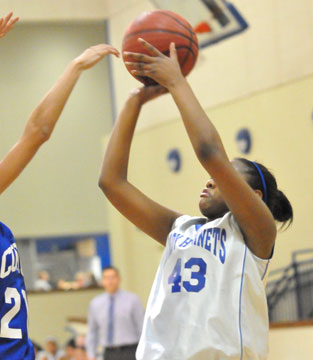 Suddenly, the Lady Hornets were within 10-6 against the Conway Blue Lady Cats. And they kept the visiting Lady Cats from scoring for the first four minutes of the second quarter.
Unfortunately, Bryant White wasn't able to add to its total either and when Conway Blue hit a pair of free throws and a last-second basket right before the half, it produced a 14-6 lead.
And by scoring the first basket of the second half, the Lady Cats had established a 10-point lead on their way to a 30-19 win.
Deja Reyford ended the Lady Hornets' dryspell with a layup with 4:18 left in the third quarter and Destiny Martin hit a free throw in the final seconds of the period, but they still trailed 18-9 going into the final six minutes.
After a Conway Blue basket started the fourth quarter, Hadley Dickinson hit a short jumper and followed up with a steal. But the Lady Hornets were unable to capitalize and the Lady Cats strung together 5 straight points, giving them their largest lead of the game, 25-11 with 2:35 left to play.
Martin scored and followed up with a steal that Dickinson cashed in for a basket to cut it back to 10 with just under two minutes left to play but that was as close as the Lady Hornets would get down the stretch.
Dickinson finished with a team-high 6 points. Martin added 5 and Rayford 4 to go with the baskets by Ostrem and Ratliff.
Bryant White is set to return to action on Monday, Dec. 17, when they host crosstown rival Bryant Blue. That contest will wrap up their pre-Christmas schedule.