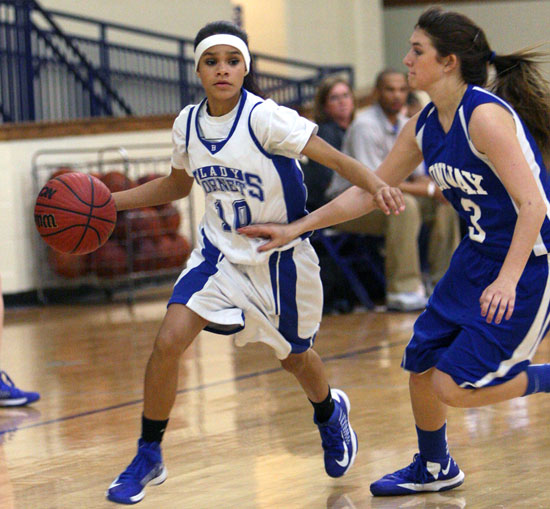 Photos by Rick Nation and Kevin Nagle
By Rob Patrick
If you had told Bryant Lady Hornets freshman team coach Nathan Castaldi before his squad took[more] on the Conway Blue Lady Cats on Thursday night that Alexis Tolefree would only score 6 points, he'd probably would've like their chances of winning.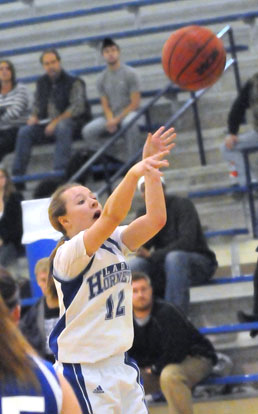 "She's the leading scorer in the conference and we designed our defense around stopping her," Castaldi noted. "Anna Lowery and AnneMarie Keith did a good job of limiting her. And when she did score, we made her really work for those shots. They did a great job."
Indeed, Tolefree, who led the Conway Blue freshman team in scoring last year as an eighth grader, finished with just 6 points but, behind a 20-point, 15-rebound performance by Futra Banks, the Lady Cats were able to pull out a 35-25 win.
Bryant took a lead midway through the second quarter and held it until the early stages of the fourth only to have Conway Blue use an aggressive defense to shut out the Lady Hornets over the final seven minutes of the game.
"They stepped up their pressure a little bit and some of those things that were a little bit easier in the first three quarter were still open but they cut off passing lanes and things like that, which made it a little bit more difficult," Castaldi observed.
Despite the loss, the game continued a stretch for Bryant marked by improved play. The Lady Hornets have been competitive. Coming into the game, they'd suffered losses by 2 and by 5 twice in the last four games. It's a work in progress, Castaldi stated.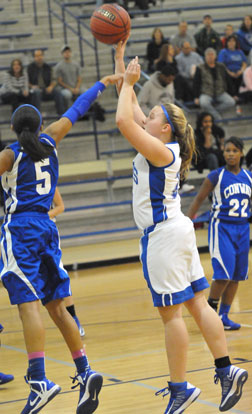 "Bits and pieces of games, we've played well," he related. "We've played good defense for a whole game or decent offense for half a game. We just need to put 24 minutes together. And we'll get there."
For most of the middle 12 minutes on Thursday, it looked like they were there. After falling behind 6-0 initially, they were back within 10-6 at the first break thanks to baskets by Britney Sahlmann, Anna Turpin and Annie Patton.
And when Skyler Davis drained a 3 to start the second quarter, they were within a point. Tolefree scored on a layup to make it 12-9 but then the Lady Hornets scored the next 6 points. Sahlmann fed Kailey Nagle for a basket and, moments later, Patton grabbed an offensive rebound and scored to give Bryant its first lead.
Conway Blue's Heather Lumley missed a 3-point try and, at the other end, Sahlmann plucked one of her 10 rebounds and was fouled. She converted both shots to make it 15-12.
Banks and Carolyn Reeves traded baskets and Conway Blue was within 17-16 going into the final seconds of the half. Patton got a shot inside to go with :08 left and the Lady Hornets took a 3-point lead into the locker room.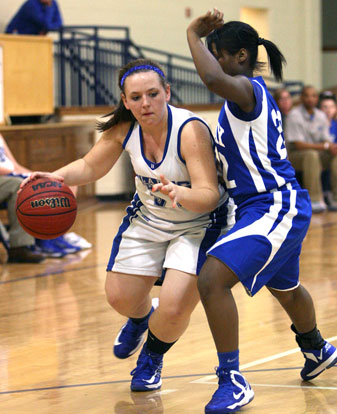 Davis opened the second half with her second triple to double the lead. Banks hit a free throw but when Sahlmann got a stickback with 3:24 left in the third quarter, the Lady Hornets had their largest lead of the game at 24-17.
Conway Blue called a timeout with 2:50 left and, when play resumed, their defensive intensity was ratcheted up. Banks scored then, with 1:28 left, Davis made a steal and was fouled. Her free throw was the last of the Lady Hornets' scoring in the game much to their frustration.
Banks hit a free throw and Tolefree drove for a layup off a steal to cut Bryant's lead to 25-22 going into the fourth quarter.
Up to that point, the Lady Hornets had suffered just 10 turnovers but they had eight in the fourth quarter as the Lady Cats surged. They were also limited to just four shot attempts and two free throw tries.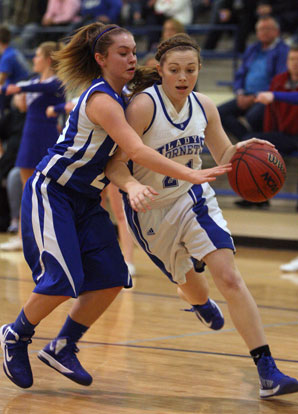 Banks and Miracle Holiday spurred Conway Blue as they attacked the basket. The duo combined for 11 points in the final period including 7 of 9 free throws.
Davis led Bryant with 7 points. Sahlmann and Patton added 6 each. Nagle, Turpin and Reeves finished with 2 each.
The game marked the end of Bryant's pre-Christmas schedule. The Lady Hornets return to action at the Kameron Hale Memorial Invitational Tournament at Lake Hamilton on Thursday, Dec. 27. They open the event with a game against White Hall at 12:30 p.m.

CONWAY BLUE 35, BRYANT 25
Score by quarters
Conway Blue 10 6 6 13 — 35
BRYANT 6 13 6 0 — 25
LADY CATS 35
Tolefree 3-8 0-0 6, Holliday 1-5 3-6 5, Lumley 1-7 0-0 2, Banks 7-11 6-9 20, Green 1-2 0-0 2, Scaife 0-0 0-0 0, Jones 0-0 0-0 0, Smith 0-0 0-0 0. Totals 13-33 9-15 35.
LADY HORNETS 25
Davis 2-8 1-2 7, Lowery 0-0 0-0 0, Nagle 1-6 0-2 2, Sahlmann 2-5 2-2 6, Turpin 1-3 0-0 2, Miller 0-2 0-0 0, Patton 3-8 0-0 6, Keith 0-0 0-0 0, Reeves 1-1 0-0 2, Ramsey 0-3 0-2 0, Bullington 0-0 0-0 0, Moser 0-0 0-0 0. Totals 10-36 3-8 25.
Three-point field goals: Conway Blue 0-8 (Lumley 0-4, Tolefree 0-3, Holliday 0-1), Bryant 2-7 (Davis 2-7). Rebounds: Conway Blue 23 (Banks 10), Bryant 27 (Sahlmann 10, Miller, Davis 3). Turnovers: Conway blue 15, Bryant 18. Total fouls: Conway Blue 7, Bryant 11.