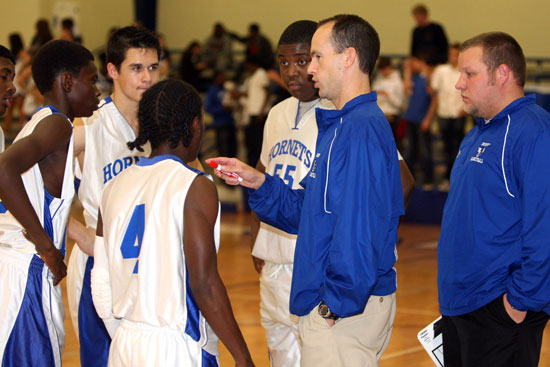 Photos by Kevin Nagle and Rick Nation
By Rob Patrick
Because of the length of the season, basketball, as much as any prep sport, is a process[more] of working, developing and improving. Sure, there are great teams from time to time that go out and excel from the start but they're the exception rather than the rule. For most teams, it takes a little time; the aim being to be at your best down the stretch and heading into the post-season.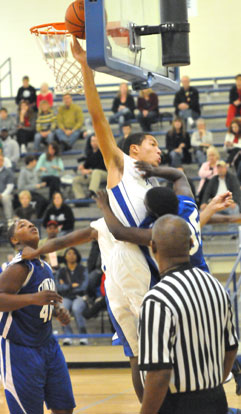 The Bryant Hornets freshman team took a big step forward on Thursday night. Coming off a wrenching loss at Little Rock Catholic on Monday in which they led late but fell victim to a comeback, they found themselves in similar circumstances, trying to hang on at the end as an opponent — this time, the Conway Blue Junior Wampus Cats — rallies.
But, instead of giving way at the end, this time the Hornets held on for a 41-34 victory.
It was a great way to head into the Christmas break.
The Hornets return to competition on Thursday, Dec. 27, at 1:45 p.m., against the Malvern Leopard Cubs in the first round of the Kameron Hale Memorial Tournament at Lake Hamilton.
"We're playing better and better," stated Hornets coach Mike Simmons. "It's just that we have stretches where we're not real solid. The first half, we were real intense, in the passing lanes, in a stance, ready to go."
The result was a 15-2 first quarter and as much as a 15-point lead in the second half.
"We think the game's over with and we start standing around and not being in a stance, ready to move and do things we've been doing the first half," Simmons related. "Then momentum catches you. Conway gets momentum then it's hard to stop it once they get it."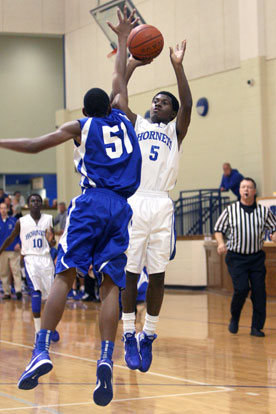 Conway whittled the lead down to 5 but could get no closer as Kevin Hunt, Simeon Watson and Kris Croom converted free throws in the final minute.
"I just think the basic, fundamental stuff we're doing is a lot better than it was a month ago and it's putting us in positions to actually have a chance to win some games," Simmons observed. "We made a few more free throws; still not enough. But we made a few more in clutch times."
Croom led all scorers with 19 points. Watson had 7 and Clay Ingold 6. Hunt was shaken up during the game but returned and contributed 3 points, all free throws. Evan Lee, Dagan Carden and Cameron Murray pitched in with 2 each.
Murray, who was held well under his average scoring, led the team with 10 rebounds. Ingold had eight boards.
"Big Cam's got to finish those little shots around the goal, which he has been doing," Simmons mentioned. "If he gets his 8 or 10 points then that's going to help us out a lot too. It was good to get a win without him playing his best.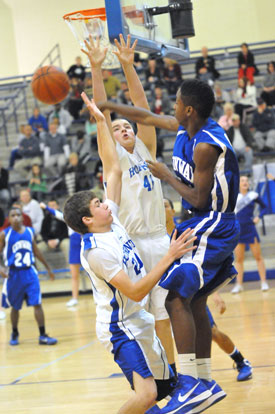 "Once we get into January, I think that last month of the season, we'll be a solid team that people won't want to play," the coach added.
Watson hit a 3 to get the Hornets started. After two free throws by Conway Blue's Orlando Phillips, Bryant reeled off the next 12 points, starting with a jump hook by Murray. Ingold hit a short jay off an offensive rebound then Croom buried a 12-footer to make it 9-2 and force a Cats timeout.
Hunt made a steal that led to two free throws and when Carden scored from the baseline off a nice feed from Jaelynn Jones, the Hornets had their first double-digit lead.
In the final 20 seconds of the first quarter, Lee knocked down a pair from the line to complete the run.
Kris Patrick, who led the Cats with 12 points and nine boards, ended his team's drought in the opening minute of the second quarter. Bryant maintained the lead, however, and took a 22-13 lead into the locker room.
Croom then started the second half with a 3 and Ingold added a stickback. After a timeout, Conway countered with a basket by Carlin Fuller. Croom, however, was fouled on a 3-point try and wound up converting all three free throws to produce Bryant's largets lead at 30-15.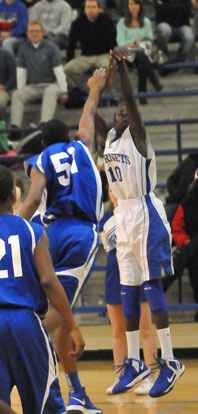 The teams traded baskets the rest of the third quarter, which ended with the Hornets up 34-19.
That's when Conway Blue began its run. The Cats cut it to 34-27 before Croom took a feed from Murray and hit a jumper in the lane for Bryant's first points of the quarter almost halfway in.
A 5-point burst by Phillips trimmed the margin to 36-31 with 1:47 left. The Hornets went to a spread offense and Conway, trying to foul, was cited for an intentional foul with 1:06 to go.
Though Watson went to the line and came up empty, the Hornets were awarded possession and Hunt was fouled. He hit one of the free throws.
Murray was fouled rebounding a Conway miss but couldn't get his free throws to fall. But, after Phillips misfired, Watson got another chance and drained both shots.
Patrick's 3 with :07.5 got the Cats back within 5 before Croom put the game away with two charity tosses with :04.9 showing.
HORNETS 41, WAMPUS CATS 34
Score by quarter
Conway Blue 2 11 6 15 — 34
BRYANT 15 7 12 7 — 41
CONWAY BLUE 34
Thomas 0-2 1-4 1, Graham 0-1 0-0 0, Phillips 1-4 4-7 6, Patrick 3-12 4-9 12, Clifton 2-10 0-0 4, Hammons 0-2 0-0 0, Sanders 0-0 0-0 0, Fuller 3-6 1-2 7, Jones 2-2 0-0 4, Smothers 0-0 0-0 0. Totals 11-39 10-22 34.
BRYANT 41
Watson 2-4 2-4 7, Croom 5-13 8-11 19, Hunt 0-7 3-4 3, Ingold 2-2 2-4 6, Murray 1-9 0-3 2, Jones 0-0 0-0 0, Carden 1-2 0-0 2, Harris 0-1 0-0 0, Lee 0-0 2-2 2, Gentry 0-0 0-0 0, Walker 0-0 0-0 0. Totals 11-38 17-28 41.
Three-point field goals: Conway Blue 2-10 (Patrick 2-3, Clifton 0-3, Thomas 0-2, Phillips 0-1, Hammons 0-1), Bryant 2-8 (Croom 1-3, Watson 1-1, Hunt 0-2, Carden 0-1, Harris 0-1). Rebounds: Conway Blue 33 (Patrick 9, Fuller 8), Bryant 34 (Murray 10, Ingold 8, Hunt 6). Turnovers: Conway Blue 15, Bryant 12. Team fouls: Conway Blue 21, Bryant 22.