For more photos of this event by Rick Nation, go here; Photos also by Andrew Schroeder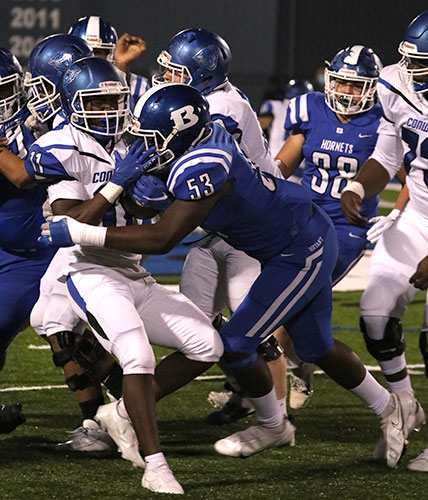 Here's some really bad news for the teams that might play the Bryant Hornets in their quest to capture a third consecutive Class 7A championship as the playoffs commence:
"We've got things that we can improve on," claimed Hornets head coach Buck James.
This on the heels of his team's 70-33 romp over the rival Conway Wampus Cats in their regular-season finale on Everett Field at Hornets Stadium.
"And we've got some time," he continued. "We can get some stuff done this next week."
With all eight teams in both 7A conferences getting into the playoffs, the Hornets will host winless Rogers Heritage in the first round on Friday.
"We're not going to have a bye and that gives us a chance to have a rhythm," he continued. "I think, having byes — we've already had two (weeks off) this year. I think that's plenty for us. We're healthy. We've got to stay away from the quarantine. But I'm glad we're getting to play. I think it gives us a chance to get better."
Now winners of 26 games in a row, the Hornets made believers of the Wampus Cats who scored 33 and had a chance to add two more scores except that the Hornets' defense turned them away. Conway could've scored as much as 47 or 49 points.
But it still would've been far short as the Bryant offense scored nine times amid chants from the Conway student section of "Over-rated," at the Hornets.
And one of those defensive stands culminated in Hornets' cornerback Kyle Knox picking off a pass at the 1 and returning it 99 yards for a touchdown, breaking a school record set by current Bryant linebackers coach Travis Queck in 2004.
Whereas the Hornets racked up over 800 yards of offense including 534 passing last week in their convincing 58-21 win at North Little Rock, this week the Hornets piled up 670 yards of offense with 392 of it coming on the ground as Tanner Anderson ran for 192 yards and Jamarien Bracey added 180 yards.
The total of 392 yards on the ground broke the school record of 387 set all the way back in 1963. The Hornets had 31 first downs, beating the old record of 30 in a game, achieved once in both 2018 and 2017.
Other records, no doubt, have and will be coming.
Quarterback Austin Ledbetter still had a great night with four touchdown passes and 278 yards passing. Hayden Schrader, who set a school mark for single-game yardage receiving against North Little Rock caught another nine throws for 172 yards and two of those touchdowns.
At the start of the season, James knew his team had some offensive weapons.
"They've met all my expectations," he said. "I have to take just a second to step back and just enjoy what I get to see. I think fans in Bryant need to relish this. This is not something that happens every year. We're talking, if not the best, one of the best offenses in state history. I tell our coaches all the time in practice, 'You better enjoy this. This is abnormal, to be that talented and have the kind of mindset and mentality that those guys have, I think is awesome."
Even though the Hornets scored a whopping 35 points in just the first quarter and 42 in the half, James, who loves to talk about his team "imposing our will" on the opponent, had a talk with his offensive line, center Jacob Powell, guards Jason Shiflett and Parker Elswick and tackles Will Diggins and Brooks Edmonson, at the half.
"I didn't think we were physical enough in the first half up front on offense," he said. "I challenged them the second half to come out there and dominate the line of scrimmage and they answered the call. We imposed our will on that defense."
Bryant had 175 yards rushing in the first half and 208 in the second half.
Conway kept scoring, hitting some big plays as quarterback Ben Weese threw for 372 yards.
"We've got to be more confident," James said of his defense. "We've got to stop the bleed faster on defense but, like I told all these guys, (Conway was) averaging over 40 points a game and for us to hold them to 33 — and really, we had some subs in there and they broke a big run — I think it speaks volumes for our whole football team."
Bryant scored on its first five possessions of the game. Conway scored just enough to keep the Hornets' offense producing, asserting itself.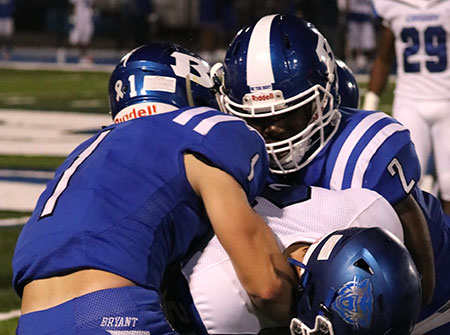 The opening drive went 68 yards in nine plays. On fourth-and-5 at the Conway 29, Ledbetter, who was facing pressure from the blitzing Conway defense just about every pass, flipped a dart over the middle to Schrader on a tunnel screen. The senior receiver laced his way through the Conway secondary for a touchdown.
Brock Funk, who was 10 for 10 on extra points, made it 7-0.
Conway answered. Though they were struggling to run the ball, Weese connected with Micah Mosby for 32 yards then Boogie Carr for 26 to the 1. Weese scored from there.
With the game tied, the Hornets commenced their second series and went 67 yards in six plays capped by Schrader catching a 32-yard touchdown pass from Ledbetter.
The points then started coming in a hurry. After forcing a punt, Bryant drove 58 yards in six plays, spurred by Anderson's 31-yard burst. Ledbetter unleased a beautiful touch pass to the corner of the end zone, leading Cory Nichols perfectly for the score.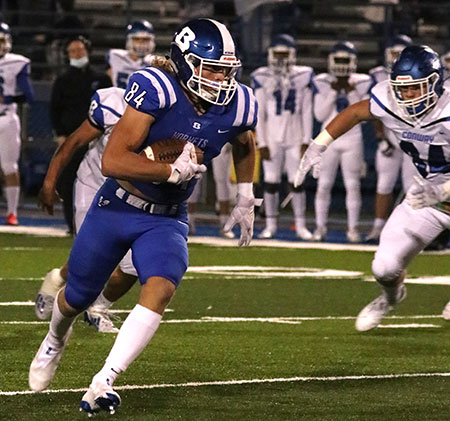 The Hornets quickly gained another chance to score when linebacker Hart Penfield made an interception off a deflected pass. He returned to the Conway 20.
Two plays later, it was Ledbetter to Schrader again for a 19-yard strike.
With 1:40 left in the quarter, the Hornets held a 28-7 lead.
The Cats drove to the Bryant 6. Weese threw to Bohanon for 31 yards and a roughing-the-passer penalty moved them closer.
On a third down, Weese was trying to throw a slant but the ball was deflected, and Kyle Knox picked near the goal line and took it to the house.
Conway returned the favor. Weese and Bohanon teamed up on a 38-yard touchdown pass, cutting the margin to 35-14.
In turn, the Hornets went 73 yards in seven plays, all on the ground. Bracey's 50-yard blast set up his 1-yard touchdown run, his seventh consecutive carry on the march.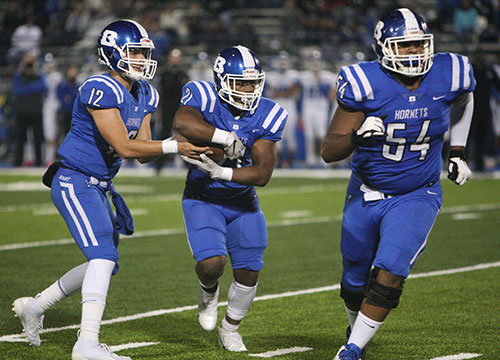 Again, Conway answered. This time, Manny Smith hauled in Weese's aerial on a 40-yard play. An extra point try failed so the Hornets led 42-20.
Bryant's only punt came on the subsequent series and the Cats answered with a drive from their own 22. It appeared to be a three and out then, with Weese back to punt, a low snap came in and it looked like it skipped in.
The Hornets knocked Weese down but got a flag for roughing the kicker that James vigorously protested to no avail.
Conway's drive continued and with a 29-yard pass from Weese to Boudreaux, the Cats had reached the 2.
But the Cats struggled to run the ball. Penfield, Koby Melton and Rodricho Martin stopped Bethune for a loss of 1. On second down, safety Austin Schroeder came up fast and knifed through to drop Bethune for a loss of 2 yards.
A third-down pass was off target and, on fourth down, another pass to the end zone was broken up by Kyle Knox and the Hornets took over on downs.
On the first drive of the second half, the Cats picked up a first down but Weese was sacked by Brayden Godwin.
The Hornets got the ball back at their own 20 and Ledbetter started a new scoring drive with an 11-yard pass to Nichols. That started a 12-play drive on which Ledbetter twice converted third-downs with passes to Nichols and Schrader.
From the Conway 22, Bracey and the offensive line went to work for 9 yards.
Trailing 49-20, Conway drove for another score, a 34-yard strike from Weese to Boudreaux.
Kaleb Knox intercepted the pass on a two-point conversion try. A penalty gave Conway another try but, this time, Rodricho Martin forced a fumble that he recovered himself.
Bryant's next drive went 84 yards. A 36-yard completion from Ledbetter to Schrader converted a third down. Anderson eventually scored from 22 yards out.
Bethune broke a 68-yard touchdown run in response. But the Hornets started to grind down the Conway defense with the powerful running game. Anderson contributed a 20-yard run to set up Bracey's 8-yard push for the 6.
Funk kicked it to 63-33.
With Martin sacking Weese, Conway was forced to punt again. Bryant got the ball back with 10:18 to play and pounded the Cats' defense into submission. Anderson carried the ball on eight consecutive snaps. Bracey took over from the 18 and eventually scored from 9 yards out with 5:44 left in the game.
That made it a mercy-rule lead and the reserves played the rest of the way. Freshman quarterback Gideon Motes came in the final seconds to take his first varsity snaps as the Hornets closed out the win.