Freshman Hornets roll past Panthers to finish undefeated season
EDITOR'S NOTE: Because the look back at each day in Bryant athletic history has been so favorably received during the time when there was no sports during the COVID-19 shutdown, BryantDaily.com will continueposting past stories of Bryant athletics either posted on BryantDaily.com (from 2009 to the present) or published in the Bryant Times (from 1998 to 2008).
For more photos of this event by Kevin Nagle, go here; by Rick Nation, go here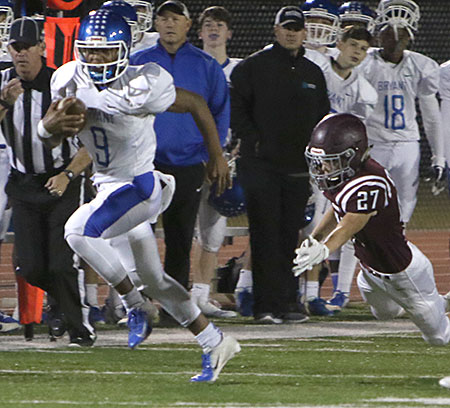 BENTON — For the third time in the last four seasons, the Bryant Hornets freshman team completed an undefeated season, winning the Central Arkansas Junior High Conference championship, with a 27-7 win over the rival Benton Panthers on Tuesday night.
It was the seventh time during the 12-years under head coach Kenny Horn that the freshman team won a league title.
And when the Benton Panthers scored a touchdown in the second quarter of the game, it was only the fifth touchdown anyone had scored on the Hornets this season. In 10 games, the Bryant defense surrendered just 38 points with 14 of those coming in the fourth quarter with reserves in the game.
Overall, the Hornets out-scored the opposition 339-38.
"We've probably never had a better defense," asserted Horn. "This may be one of the best ninth grade defensive units I've seen. They're just all fast. They're all physical. They wanted to win. They played well all year long. Coach (John) Orr and Coach (Blake) Ratliff did a great job with them.
"We had good quarterback play, good receiver play," he said, turning to the offense. "We pretty much had everything we needed. We were fast everywhere, skill-wise, and we had linemen to go with it. Coach (Guy) Brown did a good job with them, playing to their strengths and getting them in the right spot.
"We just had a great year," the coach concluded.
That Benton touchdown, an 8-yard run by Jamarius Morgan on a jet sweep, capped a 52-yard drive in seven plays, highlighted by a 20-yard pass completion from quarterback Jack Woolbright to Abe Rose.
With Lucas Wilbur's extra point, it pulled the Panthers within 14-7 of the Hornets with 3:27 left in the first half.
Benton, however, managed just one first down the entire second half when they netted minus-3 yards of total offense. The Panthers finished with a net of 49 yards total offense.
Offensively, quarterback Cory Nichols ran for 103 yards on 13 carries with three touchdowns including a 51-yard gallop on the very first snap of the game.
Martavion Earle capped off the scoring with a 5-yard touchdown run in the fourth quarter, set up by a blocked punt.
Benton went three-and-out on its first two possessions. Ivory Gilmore stopped a third-down run for no gain on the second series to stem the tide after the Panthers' Jace Mattox intercepted a Nichols pass when his arm was hit by Patrick Shipp as he was throwing. On a fourth-down screen pass, Will Cornelius sniffed it out, dropping Morgan after a 2-yard gain as the Panthers turned it over on downs.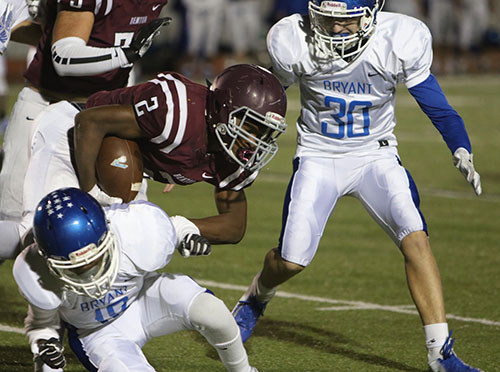 Bryant got the ball at its 40 and Nichols scrambled for 24 yards then Earle sliced for 10. A penalty and a lost-yardage play due to a bad snap had the Hornets at the Benton 28 with a third-and-12. But Nichols got loose again and went the distance. With Fuller's extra-point kick, it was 14-0.
It was 14-7 at the half.
The Panthers got the ball first to start the second half but, on a third-and-5 play, Tyler Mosley dropped Woolbright for a loss, forcing a punt.
The Hornets answered with another touchdown drive. This time, covering 74 yards in 10 plays. They converted an early third-down with a Nichols pass to Braylon Butler that broke for 33 yards. Earle added runs of 9 and 11. Nichols converted another third down with a 19-yard sprint and, a play later, he scored from 11 yards out. Fuller's kick made it 21-7.
Benton's next series reached the Bryant 49 thanks to a 17-yard run by Donavan Pearson. But, on a third-down there, a bad snap sailed over Woolbright's head and he did well to cover the loose ball at his own 32.
A punt followed only to have Jaylon Brown block it. The Hornets recovered at the 5, setting up Earle's touchdown.