LITTLE ROCK — On Friday, Sept. 21, Arvest Bank announced that Dale Colclasure of Bryant has been hired as[more] a client advisor and investment specialist for Arvest Asset Management.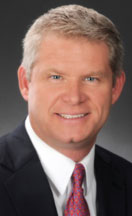 In this role, Colclasure will serve as a client advisor to Arvest customers in Benton, Bryant and Little Rock. He will assist with trust sales and joint calls with other Arvest Asset Management client advisors. John Womack, chairman and CEO of Arvest Bank made the announcement.
"As a professional with 14 years of experience in this field, we know Dale will be a great asset to our team," said Asa Cottrell, Arvest Asset Management location manager. "His investment knowledge and drive to help our clients will make him successful at Arvest."
An Arkansas native, Colclasure has lived in Bryant since 2002 where he is a Bryant Soccer Club volunteer coach, a Junior Achievement classroom leader, a Watch Dog Dads coordinator, and teaches elementary Sunday school at his church.
A graduate of the University of Arkansas, he received a bachelor's degree in Finance, with focuses
in insurance and real estate.