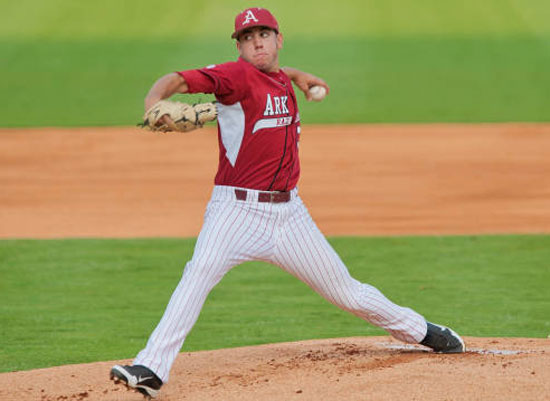 By Rob Patrick
Photos courtesy of www.arkansasrazorbacks.com
On Sunday at 1:05 p.m., at the University of Arkansas' Baum Stadium, Trent Daniel will begin[more] his senior season as the starting pitcher in the Razorbacks' third game of a three-game series with Western Illinois, which starts today.
Daniel, a former Bryant standout, is one of 17 lettermen back from a team that went 46-22 and advanced to the College World Series in Omaha, Neb., finishing third. With that experience and returning talent, the Hogs are ranked number one in the nation by the USAToday Coaches, the National Collegiate Baseball Writers Association, and Collegiate Baseball; number two in Perfect Game, and number three by Baseball America.
Daniel, who has starred for the Razorbacks the last two seasons out of the bullpen and as a spot starter, will be stepping in for fellow senior Randall Fant.
"I'm thankful to get the chance to do it," he said Thursday. "Randall went down with his hamstring injury so I got the chance to take his spot. I'm looking forward to it. You never know, if I pitch well maybe they'll keep me in the rotation.
"But I'm not really worried about it," he added. "I just want to contribute where I can. I got some experience starting mid-week games last year. That's going to be helpful for me, just knowing what's going on before the game, preparing for a start."
Razorbacks head coach Dave Van Horn and pitching coach Dave Jorn are counting on Daniel to return to the form he showed in 2011 and at the end of 2012 when he came through in some key moments in the Super Regionals and in the World Series.
"That was an unreal experience," Daniel recalled. "There's nothing we want to do more than to go back there. It was the most fun I think I've ever had, for the two-and-a-half, almost three weeks we were up there, getting to be around Florida and (South) Carolina, these teams that are in our conference that are always in the World Series then Arizona and Florida State. Getting to be one of the eight best teams in the nation, it was a fun experience, and playing in front of even bigger crowds than we're used to up here (in Fayetteville).
"A lot of people think that we are going to put more pressure on ourselves," he said of the ranking. "We actually don't feel that anything is any different. We go about our business the same every day. We're just ready to start. That's the biggest thing. We've been waiting for it to start since we got beat last year.
"The rankings, it's going to be going up and down," the lefty noted. "That's what coach has been telling us all year. We know that. The conference we play in is incredible. The rankings aren't that big of a deal. I mean, it's awesome to start out number one but that's where we want to end up."
Asked how he thinks he's improved, Daniel said, "I think the main thing that I've worked on since I've been here is better command of my pitches and repeating the same delivery over and over, which puts you in a spot to make those better pitches and cut down on the walks. It's just repeated work every day with Coach Jorn on my delivery."
He still features the fastball and change-up that baffled hitters in Bryant but he's made an adjustment to his big hook.
"I throw more of a snappy slider," he explained. "I had a curveball back in high school and it's kind of changed with what I've done here. Now it's pretty much a slider the way it tracks. I basically throw it as hard as I can. I mean I know where it's going. It's basically my arm action."
No matter how things go Sunday for him, Daniel's season could not possibly get off to a worse start than last year when, before the game in which he was set to make his debut in relief, he learned of the tragic death of his best friend in Bryant, Logan Parker.
"We were on the same Peewee football team in fifth grade," Daniel said. "It's kind of funny. I was the quarterback and he was a running back. He ended up being a quarterback (at Bryant High School) and I went to defense.
"I've known him about as long as I've known Taylor Masters and Logan Cruse and Jared Szabad. We'd all known each other a long time, just a real close group of friends. It was basically like he was one of my brothers.
"I found out about it from friends who sent me a text asking if I'd heard about it," he recounted. "I had no idea what they were talking about. I was already out on the field after our batting practice, getting ready for the game. I checked my phone and see all this stuff.
"I saw my parents (Tom and Kathy Daniel) and they basically didn't want me to know about it until after the game because I was scheduled to pitch. It was too late by then. I could tell just from their body language that something wasn't right before I even asked. I could see it in their eyes it was going to be news that I didn't want to hear.
"I still pitched that day but I honestly don't even remember my outing or what happened in it," Trent continued. "I was just in a different place mentally, which, in baseball, if you're not totally focused, it's hard to do anything.
"Having that happen to start the year was a pretty big setback for me. It took me a while to honestly even care about baseball again. It took a few months to even get the interest back. I was still just devastated over Logan.
"It was tough," he stated. "It still is."
Friends on the team and baseball itself helped him work through it.
"Luckily, the pitchers I've been teammates with here — we've been together basically three years now, the same guys, I'm really close to them," he explained. "Luckily, Jared was up here. He was my roommate last year. It was nice to have guys close that I could be around all the time to help whenever they could tell you needed it. I could kind of get away from it all when I would go to baseball every day. But he was still in my mind. It took me a while to get going."
Time helped too.
"Once I was able to get past it a little bit, I was able to improve and help our team out a little bit, which was nice," Daniel related. "Luckily, Van Horn gave me some opportunities because I was so bad, he could — I could've just not pitched the rest of the year. He kept giving me chances and I was able to make it work out toward the end of the year."
This season will actually be big for the Daniel family. Not only is Trent a senior with the Hogs, younger brother Hayden, whom, when they were young he nicknamed "Petey", will be a senior for the defending Class 7A State champion Bryant Hornets.
"My brother, you know, is so athletic, it's unreal," Trent said. "His buddies that he's real close to, they all play baseball. I know they're going to have a good year. I know he will too because of the work he's put in. It always shows. When you put in that work, you're going to get results. I know how hard (BHS) Coach (Kirk) Bock works them. I feel like they're a college team as hard as they get worked. It's good for them.
"I'm excited to see where he ends up deciding to go and play (in college)," he continued. "He's got quite a few options. This senior year will be big for him. I'm excited to see how he does."
Big for Petey's future and big for Trent's too.
"I guess it is big for both of us," said big brother. "I get asked about the draft. I don't even really think about it. I'm just glad to be back here. It's awesome to play at Arkansas one more year. It's been a dream. I'm trying to enjoy it while I can before (baseball) becomes an even bigger job."