Editor's note: This is a regular feature profiling senior athletes at Bryant High School.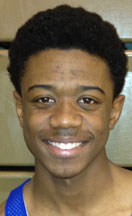 NAME: Strodney Davis
PARENTS: Stacey Newburn and Angelo Davis
SIBLINGS: Three brothers, Tim Cameron, he attended Bryant High School; O.J. and Landon Newburn. Tim's 22, O.J. is 10 and Landon is 9.
FAVORITE SUBJECT IN SCHOOL: Science
FAVORITE SPARE TIME ACTIVITY: Working out, exercising, keeping my body moving.
FAVORITE FOOD: Fried rice, I love Chinese food.
FAVORITE MUSIC ARTIST OR GROUP: A Tribe Called Qwest[more]
FAVORITE MOVIE: The Sixth Man
FAVORITE TV SHOW: The Jamie Foxx Show
WHAT WAS YOUR FAVORITE TOY AS A KID? I really loved Power Rangers.
WHAT ARE YOUR PLANS AFTER HIGH SCHOOL? Attend Arkansas State University, study Graphic Design.
OTHER THAN YOUR PARENTS, WHO'S HAD THE BIGGEST INFLUENCE ON YOUR LIFE? HOW? Coach (Mike) Abrahamson; he's helped me grow as a man and helped me throughout life.
WHAT'S YOUR FAVORITE THING ABOUT BASKETBALL? Competing; I love to compete. That's one thing I love the most and I don't like to lose.
POSITION: Shooting guard, small forward.
WHAT DO YOU FEEL LIKE YOUR RESPONSIBILITIES ARE? To help be a leader.
WHAT DO YOU THINK OF THE SEASON SO FAR? The season's going pretty well. We can fix a few things here and there but this is, above all, my favorite season.
WHAT'S BEEN THE HIGHLIGHT TO THE SEASON SO FAR? I'd have to say, playing against El Dorado, going into a tough place, a tough environment, but we still came out with the win.
WHAT'S IT GOING TO TAKE FOR THE TEAM TO BE SUCCESSFUL THE REST OF THE SEASON? Stay focused and keep getting better every day.
TALK ABOUT YOUR GAME NOW; WHAT ARE YOU MOST CONFIDENT IN YOUR ABILITY TO DO? I'd say my shooting, and I'm very strong. I work to have a lot of versatility.
WHAT DO YOU WORK HARDEST TO IMPROVE ON IN PRACTICE? Free throws.
WHEN YOU'RE THROUGH PLAYING BASKETBALL AT BRYANT HIGH SCHOOL, WHAT DO YOU THINK YOU'LL LOOK BACK AND REMEMBER MOST FONDLY ABOUT THE EXPERIENCE? Boot camp; it's one of the hardest weeks that we have. We all know that that's where we grow as a team.