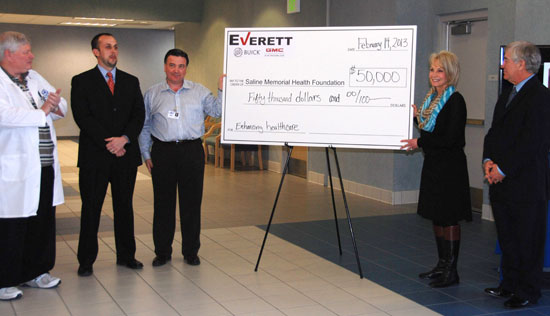 BENTON – It wasn't roses or chocolates, but a gift of $50,000 made for a great Valentine's[more] Day for the Saline Memorial Health Foundation. Everett Buick GMC presented a $50,000 to the Saline Memorial Health Foundation at a press event held at the hospital on Feb. 14.
Hospital staff, physicians, Board members and Everett representatives were all present for the check presentation and reception.
"It's fitting that this donation was made during American Heart Month and specifically on Valentine's Day," said Matt Brumley, SMH foundation director. "Everett is a business known for its generosity and heart for the community. They have been instrumental in enhancing healthcare and we're grateful for their gift and support. This donation is just an extension of their vast generosity which they have already established with SMH."
Everett has been a presenting sponsor for all of the major fundraising events that support the Foundation which include: The Beat Goes On 5K Run/Walk, the Swing Fore Saline Golf Tournament, the Heart of Saline Dinner and Glitz and Garland.
Over the past few years, the Saline Memorial Health Foundation has helped purchase life-saving medications for indigent patients, enhanced technology for the cardiovascular program and started a $1.25 million room renovation campaign.
"This donation isn't about the hospital but about the people we serve," said Brumley. "The staff at SMH is committed to making quality, personalized care convenient for our patients. We can continue to meet this commitment through generous donations like this."
Saline Memorial Hospital is a non-profit, 167-bed community hospital that has served patients for over 55 years. They offer a wide range of inpatient and outpatient services including: Cardiology (through a partnership with Arkansas Heart Hospital), Diagnostic Imagining and Radiology, Emergency Services, Geriatric and Adult Psychiatry, Neurology, Orthopedic, Sleep Disorder Services, Ophthalmology, Pediatric Care, Rehabilitation Services, Surgery, Women's Services, Wound Care and more.
For more information about Saline Memorial Hospital and its services call 501-776-6064 or visit www.salinememorial.org.