Bryant's McEntire, Buck blank Benton
EDITOR'S NOTE: In this time of COVID-19, with no sports action, BryantDaily.com will be posting past stories of Bryant athletics either posted on BryantDaily.com (from 2009 to the present) or published in the Bryant Times (from 1998 to 2008).
For more photos from this event by Kevin Nagle, go here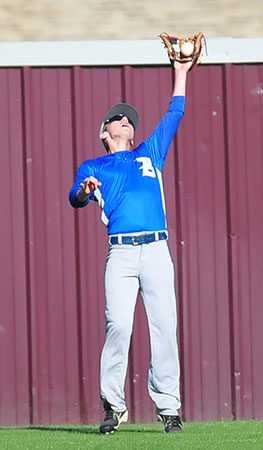 BENTON — Will McEntire and Myers Buck combined on a two-hit shutout as the Bryant Hornets took a break from 7A-Central Conference play to edge the rival Benton Panthers, 3-0, on Monday night.
Cameron Coleman and Jake Wright each had two hits and a run batted in. Logan Chambers knocked in a run as well.
McEntire, a sophomore right-hander, held the Panthers without a hit for 4 2/3 innings. He walked four, hit a pair of batters and struck out three. His gem was broken up by Coltyn Lane with a clean single to left.
Buck relieved in the sixth and set down six of the seven batters he faced. A one-out single by Jared Kelley in the home seventh was the lone base-runner against the junior right-hander.
The Hornets flashed some leather along the way. With the no-hitter still going in the fifth, shortstop Seth Tucker made a diving catch of a liner up the middle. In the sixth, center fielder Matthew Sandidge ran down a deep fly off the bat of Beau Brewer.
In the seventh, Coleman made a sliding catch of a sinking liner to right off the bat of Jacob Cooper to get the first out. Following Kelley's single, Buck fanned Preston Fleemon to bring up lead-off man Drew Chilton with Benton down to its last out. Chilton put a charge in a 1-0 pitch and drilled one to left-center only to have Coby Greiner run it down, reaching up and hauling it in to end the game.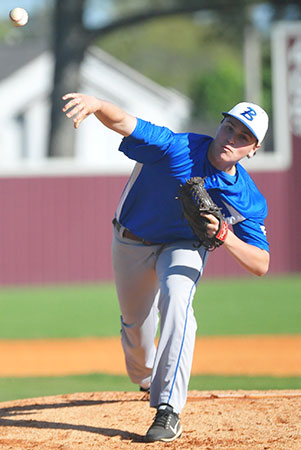 "It's something that's been our Achilles heel is these close games, looking back," noted Hornets head coach Travis Queck. "We've been preaching, preaching, preaching about finishing.
"I'm very proud of what Mac was able to do and Buck to give us that opportunity," he said of his pitchers. "I kept telling (McEntire), throw to that mitt. Force them to hit the ball. Greiner ran down that ball to end the game. Our guys are making plays behind you. There's no need to get behind in counts, no need to dibble and dabble here, just attack them.
"Mac hung in there," the coach said. "It wasn't his greatest performance. It wasn't his worst performance. But it was good enough and it was an opportunity to learn and see him mature a little bit."
The game came a day before the Hornets host the Cabot Panthers in a first-place showdown in the conference. Both are 4-0 heading into Tuesday's battle. Against anybody but Benton, the Hornets might've been looking ahead a little bit. But Queck asserted there was no letdown. In fact, the opposite was the case.
"I had to bring them down a little bit during practice, during B.P.," he related. "They were sky-high. I said, 'Guys, we've got to kind of even it out. You can't be so high that you can't function if it gets too low.' The guys did a good job of finding the even-keel spot and performing when they had to."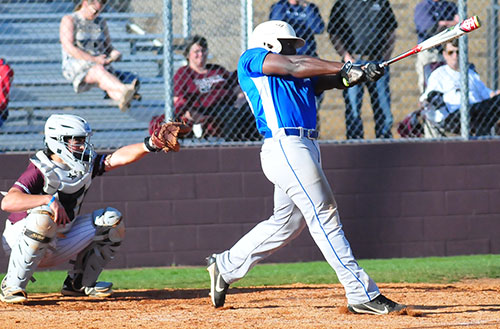 Bryant took the lead in the top of the first off Benton senior right-hander Ross Carver. Tucker drew a one-out walk and scored all the way from first when Coleman plugged the gap in left-center for a double.
It stayed 1-0 through three as Carver pitched around a two-out single by Wright in the third.
Meanwhile, McEntire retired the side in order in the first then pitched around a lead-off walk to Carver in the second, fanning Beau Brewer and Payton Paullette to take the starch out of the inning.
In the bottom of the third, he hit Kelley and, with one out, plunked Chilton. But he didn't let it phase him as he got Lane to ground to Greiner at third. He got the force at second and nearly completed the doubleplay as Lane sprinted down the line.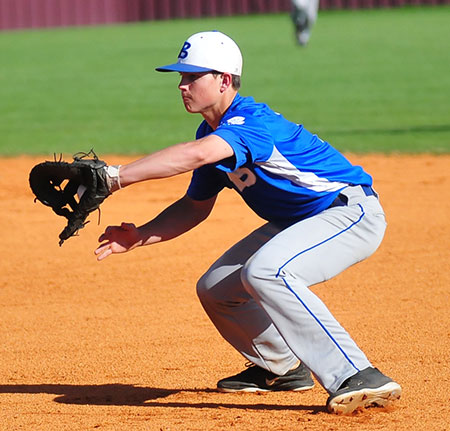 With Preston Fleemon on third, Lane stole second to give Benton its first threat. But McEntire got Logan Easterling to bounce out to Scott Schmidt at second, keeping it 1-0.
In the top of the fourth, Coleman ripped one just beyond the reach of Lane in center, racing to third for a triple. Chambers swatted a single to left to get him home, making it 2-0.
An error in left allowed Chambers to take second. Greiner tried to bunt him to third but popped out then Carver got Schmidt and Brandon Hoover to fly to left to keep it a two-run game.
"Cameron is hitting the ball well," acknowledged Queck. "It's kind of flying under the radar. Another guy flying under the radar is Matt Sandidge down in the nine hole. They're sticking to the plan and doing what they can to help the team."
Sandidge cracked a one-out double in the top of the fifth but was stranded.
In the sixth, Coleman walked and Chambers tried to sacrifice only to pop out to Paulette at third. Carver worked out the inning and it went to the seventh 2-0.
Meanwhile, McEntire walked Carver in the home fourth but courtesy runner Peyton Hudgins was thrown out by Wright, trying to steal second. Brewer struck out then Paulette walked but Cooper bounced into a force to end the threat.
Still working on the no-no, McEntire retired the first two in the fifth before missing on a 3-2 pitch to Chilton. The count ran to 1-2 before Lane's single to left.
Buck eased through a 1-2-3 sixth.
Bryant's seventh started with Hoover's single up the middle. Grayson Prince came on as a pinch-runner and, on their third attempt at a sacrifice, the Hornets got it as Buck not only got the bunt down but reached safely on Paulette's errant throw to first. So when Sandidge worked a walk, the bases were loaded with no one out.
"We got one at a crucial time," Queck said. "I'll take the blame for Chambers' (bunt in the sixth). I had an opportunity to do something different in that situation and I called it one side but I didn't call it the other side. That's totally on me. Granted, if he executes the bunt, you don't even notice that and I can go back to sleep. But I know that I may have left one — like I tell these guys, you're going to make mistakes. Guess what? I make them too. That was on me."
Jesse Barker relieved for Benton and his first pitch was slapped to right for a single by Wright to make it 3-0.
Barker then did a fine job of keeping it there, retiring the next three to send it to the bottom of the inning.
Now the Hornets, 11-4 overall, can concentrate on Cabot.
"It's another game, just like this one," said Queck. "This one was huge. The next one's going to be huge. The one after that is going to be big. The way we're looking at it is one game at a time, one pitch at a time, one inning at a time — the cliché stuff. But that's the way we've got to do it this year. It's the way this program has always tried to do it."