Buck, Beaux and Boston combine to blank Russellville
EDITOR'S NOTE: Because the look back at each day in Bryant athletic history has been so favorably received during the time when there was no sports during the COVID-19 shutdown, BryantDaily.com will continueposting past stories of Bryant athletics either posted on BryantDaily.com (from 2009 to the present) or published in the Bryant Times (from 1998 to 2008).
Photos courtesy of Paul Dotson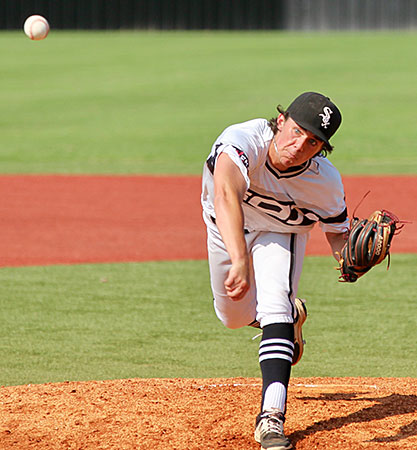 CONWAY — Right-hander Myers Buck retired the first eight batters he faced on Saturday and wound up with seven shutout innings against the Russellville Patriots. With a shutout inning of relief from each Beaux Bonvillain and Boston Heil, the Bryant Black Sox blanked an opponent for the second game in as many days in a 6-0 win.
The Sox, now 30-5, will play a winners' bracket semifinal against Cabot Centennial Bank on Sunday at 4 p.m., at Warrior Field on the campus of Hendrix College.
Saturday's win came at Bears Stadium at the University of Central Arkansas. Cabot survived a 12-inning battle with Paragould Glen Sain late Saturday night, 7-5. Cabot is one of only two Arkansas teams that has defeated the Sox this season. On June 7 at Cabot, the Bankers edged Bryant, 3-2.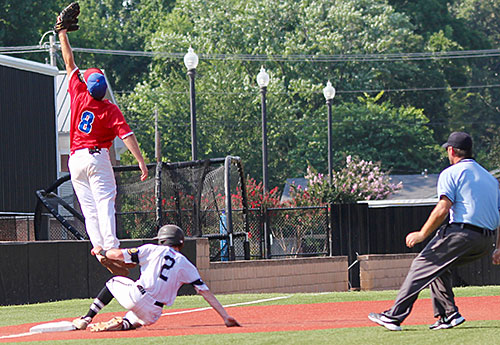 Matthew Sandidge had three hits in Saturday's victory. Logan Allen, who came within a home run of hitting for the cycle in a 17-0 win over Mountain Home Lockeroom on Friday, had two more extra-base hits against Russellville. Seth Tucker had two knocks as well.
Buck didn't allow a hit until the fourth inning when Jacob Sharp plugged the gap in left-center for a lead-off double. Bryant's right-hander threw 96 pitches in his seven innings of work. He struck out six and walked two. At one point, he retired 10 in a row with the help of his teammates on defense.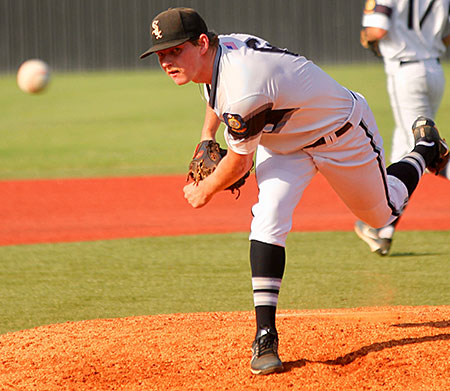 Bonvillain was seeing his first action of the summer after working through the requirements of the UCA program, which he will join as a freshman this fall. He showed no negative effects of the layoff from competition. Entering in the eighth, he struck out the first two he faced and induced a fly to Jake Wright in left to close it out.
Heil started the ninth and surrendered a bloop single to right by Sharp then walked Carter Thessing. But the next batter hit a grounder to Tucker at second that turned into a doubleplay. A strikeout of Michael Mullen ended the game with Sharp still standing at third.
The Sox, who scored nine runs in the first inning in Friday's win, didn't get away with as fast a start against Russellville lefty Greyson Stevens who retired the first four he faced then worked around a pair of errors in the second.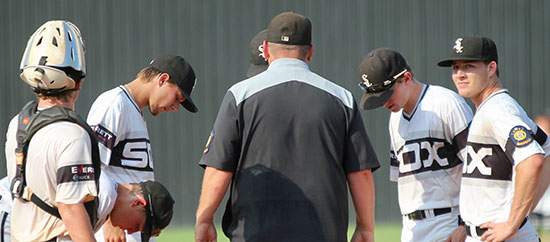 Russellville's first base-runner came on a two-out walk in the third. In the bottom of the inning, the Sox struck for a 3-0 lead. Wright started the uprising with a single to right. Allen split the outfielders with a drive to right-center for a double then Jake East walked to fill the sacks for Tucker who picked up an RBI with a grounder to short which resulted in a force on East as Wright crossed the plate.
Dylan Hurt, Bryant's clean-up batter, squeezed in Allen with a nice bunt. An error trying to throw behind Tucker at second allowed in to reach third. He scored on a wild pitch.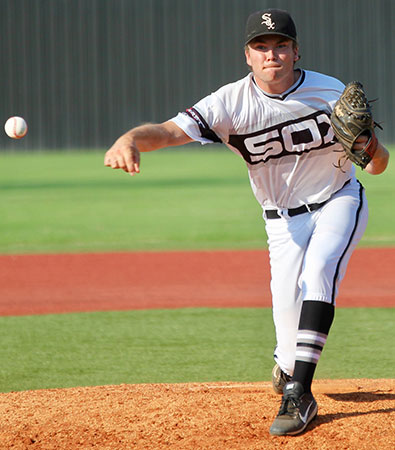 After Sharp's double to lead off the fourth, Thessing walked. But Tucker made a nice play on a grounder to second by Nick Hagerty, stepped on the bag and fired to first for a doubleplay. Buck fanned Mullen to keep it 3-0.
Sandidge smacked his first hit, a single, to right to open Bryant's fourth. He took second on a passed ball, stole third and, after Scott Schmidt walked and stole second, Allen yanked a drive into the left-field corner for a two-run triple.
Russellville didn't have another base-runner until a pair of two-out singles by Mullen and Stevens in the seventh. He got Brayden Myers to hit a grounder to East at short for an inning-ending force.
In the meantime, Bryant tacked on a run in the sixth. Schmidt singled and, with two down, so did East and Tucker to bring him around to set the final tally.
2017 Senior American Legion State Tournament
At UCA/Hendrix College (HC), Conway
Friday, July 21
Game 1 — Paragould 9, Benton 7 (10 innings) (HC)
Game 2 — Cabot 10, Arkadelphia 5 (UCA)
Game 3 — Bryant 17, Mountain Home 0 (HC)
Game 4 — Russellville 11, Jacksonville 3 (HC)
Game 5 — Texarkana def. Searcy (UCA)
Game 6 — Little Rock 10, Batesville 0 (HC)
Game 7 — Fort Smith 14, El Dorado 1 (UCA)
Game 8 — Conway 7, Sheridan 6 (UCA)
Saturday, July 22
Game 9 — Arkadelphia 11, Benton 6 (UCA)
Game 10 — Mountain Home 7, Jacksonville 1 (HC)
Game 11 — Batesville 10, Searcy 9 (UCA)
Game 12 — Sheridan 10, El Dorado 6 (HC)
Game 13 — Cabot 7, Paragould 5 (12 innings) (UCA)
Game 14 — Bryant 6, Russellville 0 (UCA)
Game 15 — Texarkana 6, Little Rock 5 (HC)
Game 16 — Fort Smith 14, Conway 4 (HC)
Sunday, July 23
Game 17 — Arkadelphia vs. Conway, 10 a.m. (HC)
Game 18 — Mountain Home vs. Little Rock, 10 a.m. (UCA)
Game 19 — Batesville vs. Russellville, 1 p.m. (UCA)
Game 20 — Sheridan vs. Paragould, 1 p.m. (HC)
Game 21 — Cabot vs. Bryant, 4 p.m. (HC)
Game 22 — Texarkana vs. Fort Smith, 4 p.m. (UCA)
Monday, July 24
Game 23 — Game 17 winner vs. game 18 winner, TBA (HC)
Game 24 — Game 19 winner vs. game 20 winner, TBA (HC)
Thursday, July 27
Game 25 — Game 23 winner vs. game 21 loser, 5 p.m. (HC)
Game 26 — Game 24 winner vs. game 22 loser, 7:30 p.m. (HC)
Friday, July 28
Game 27 — Game 21 winner vs. game 22 winner, 12 p.m. (HC)
Game 28 — Game 25 winner vs. Game 26 winner, 2:30 p.m. (HC)
Game 29 — Game 28 winner vs. game 27 loser, 5:30 p.m. (HC)
Saturday, July 25
Game 30 — Game 27 winner vs. game 29 winner, 12 p.m. (HC)
Game 31 — if necessary