For more photos from this event by Kevin Nagle, go here
For more photos from this event by Rick Nation, go here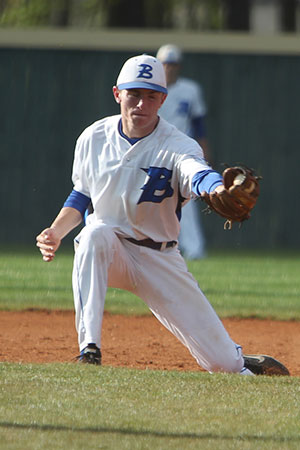 A foot higher, or one way or the other, and Brandon Hoover may have had a gap shot that might've tied the game. But Cabot Panthers second baseman Kyler Franks reached up and caught the line drive for the final out of his team's 3-2 win over Hoover and the Bryant Hornets in an early-season first-place showdown on Tuesday.
Cabot snapped a 2-2 tie with a two-out, two-strike RBI double by Evan Hooper in the top of the sixth. Panthers' right-hander Logan Gilbertson made it hold up, going the distance on a three-hitter.
A season ago, Gilbertson held the State champion-to-be Hornets to three hits but was out-dueled by Zach Jackson (now at Crowder Junior College) in a 4-0 game.
This time, the right-hander dueled with Hornets senior (and UCA signee) Beaux Bonvillain who surrendered the three runs, two earned, on six hits with seven strikeouts over his six innings of work.
After Cabot took the lead, Bryant's Jake Wright slapped a one-out single to right. Seth Tucker tried to surprise the Panthers with a bunt for a hit but the ball was ruled to have hit him as he broke toward first and he was called out.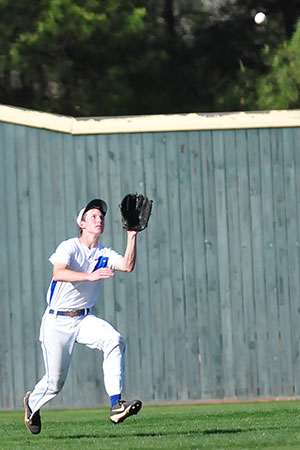 Cameron Coleman, who had driven in one of the Hornets' runs and scored the other, popped out to third to end the threat.
In the top of the seventh, senior right-hander Boston Heil made his 2017 debut but walked Franks on four pitches. Coby Greiner relieved him with the top of the Cabot batting order coming up. Blake McCutchen sacrificed pinch-runner Brett Brockinton to second but then Greiner got Clayton Gray to fly to Matthew Sandidge in center.
That brought up Cabot catcher Denver Mullins who had doubled in the first inning and was robbed of another one by Coleman in the third. With first base open, head coach Travis Queck had Mullins intentionally walked.
That brought clean-up hitter Dillon Thomas to the plate and, on three pitches, Greiner struck him out to send it to the bottom of the seventh.
With one out, Greiner beat out an infield hit to give the Hornets a chance. But Gilbertson fanned Scott Schmidt before Hoover's ill-fated bid for a hit.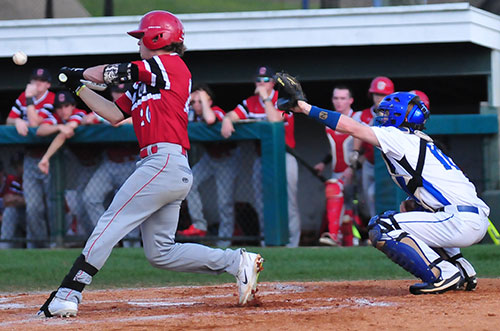 The game was scoreless until the third inning when Franks singled up the middle, advanced to second on an errant pickoff throw and scored on a two-out single to right by Gray.
In the fourth, Thomas singled but was forced at second by Houston King. A wild pitch got him to second then Bobby Duncan dumped a single into right for an RBI to make it 2-0.
Bonvillain struck out the next two to keep it that way.
Meanwhile, Gilbertson retired the first 10 Hornets that came to the plate. With one down in the fourth, Tucker's grounder to second was bobbled by Franks giving the Hornets' speedy senior a chance to reach safely. On the very next pitch, Coleman burned center fielder Caleb Harpole for an RBI triple.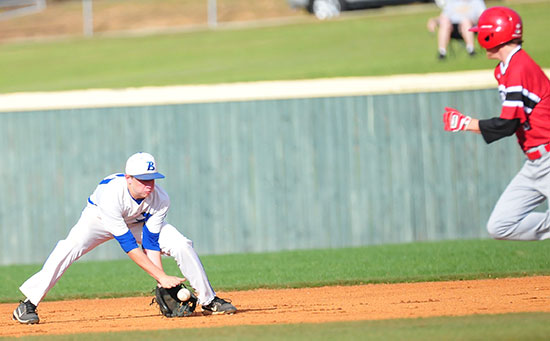 Logan Chambers followed with a sacrifice fly to center to tie it 2-2.
Cabot made a bid to untie it in the top of the fifth when Franks doubled down the right-field line. McCutchen tried to sacrifice but popped up his bunt. Bonvillain charged in and caught it on one hope, firing to first for the out. Franks had to hold not knowing if Bonvillain would catch the ball in the air or not.
A wild pitch, however, moved Franks to third anyway with Gray at the plate. Franks tagged as Gray ripped a sinking liner to left but he had to hold as Myers Buck ran in to make the catch. Bonvillain then fanned Mullins to end the inning.
The Bryant lefty retired the first two batters in the sixth, thanks in part to a fine play by Schmidt at second. But Duncan singled to center to set up Hooper's go-ahead double.
Cabot improved to 12-5 overall and 5-0 in league play. Bryant, now 11-5 and 4-1, visits North Little Rock on Friday.