For more photos from this event by Rick Nation, go here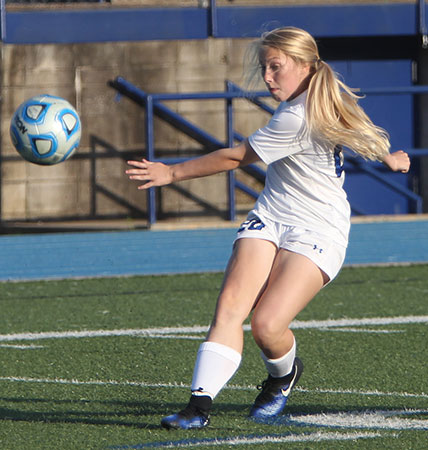 The league-leading Cabot Lady Panthers had to rally for two goals in the second half to survive the Bryant Lady Hornets, 2-1, on Tuesday night at Bryant Stadium.
"I think that was the best game we've played so far, as far as toughness, work ethic and me being more diligent about subbing people out knowing that it's hot, keeping them fresh. I think that helped us a lot," said Lady Hornets coach James Paul.
"But it's just been one of those years where the ball doesn't bounce our way sometimes," he noted. "We've just got to overcome that, dig ourselves out of a hole. It's a struggle but I believe struggle's good. It gets you some life lessons when you struggle. So it's okay."
The Lady Hornets, now 4-6 overall and 1-4 in conference have now lost four times by one goal and another on PK's.
Bryant led 1-0 at the half on a goal by Jessica Butler off a feed from Rachel Studdard on a corner follow eight minutes into the contest. They had four other shots on goal before the half then went 0 for 5 in the second half.
"We were working the ball through the middle a lot better, defending in the middle a lot better, which was giving us a lot more opportunities up front. The goal that we scored was well-earned. We had several other chances and just didn't get it in there. That's a huge positive.
"We got a lot more girls in the game, more frequently," he mentioned. "Some of our younger ones got a taste of what it's like to kind of take over and do a job that they're asked to do. And they did it. I'm proud of them."
The coach was proud of his defense, noting sophomore Alyssa Fason's work on Cabot star Hadley Dickinson, a former Lady Hornet.
"Alyssa was forced to guard somebody that's one of the best players in the state," he said. "She did a great job.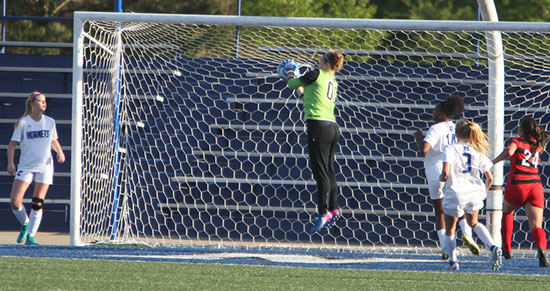 "Those girls in the back — like I've said before, you have to trust your back line and we're getting it," Paul added. "I feel a lot more trust, a lot more freedom to go up because our back four, our back five or six, are solid. They're getting there. They're meshing together.
Still, Cabot rallied.
"They got a fluke goal in the second half," Paul recounted. "We should've caught it. It went through our hands. The other was a corner that we didn't quite mark up. The girl was just on the back post and knocked it in.
"Some things that maybe were a result of a tired mind," he related. "They're running a lot and we kind of lost focus there for a second but by no means do I feel like we got beat. We've just got to fix some mental mistakes, fix some assignments and stay focused all the time."
The Lady Hornets will try to rebound this Friday when they travel to North Little Rock.