Photos courtesy of Scott Dettmer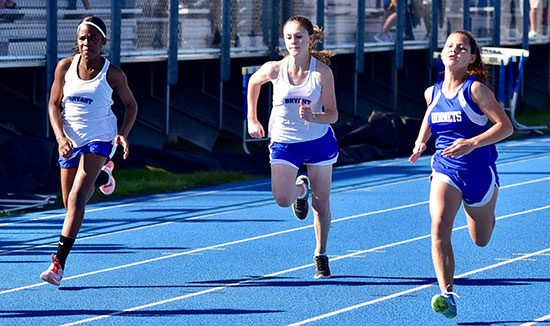 Khyla Tucker, Mallorie Scott-Smith, Shavia Freeman and Ella Reynolds combined on a Bethel Middle School eighth grade record time of 52.31 in winning the 4×100 relay on Monday at a meet held at Bryant Stadium.
Meanwhile, Jade Rivers won the shot and the discus for the Bethel seventh grade including a school record of 36' in the shot.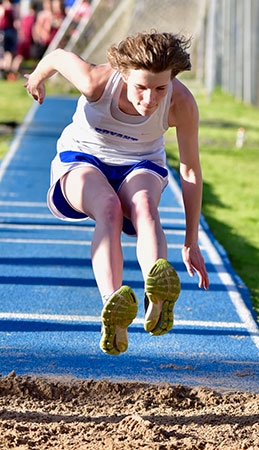 "Ella Reynolds had a fantastic meet winning first place in every event she was in," noted Lady Hornets coach Denise Smith. "Lawson Godwin had an excellent meet (for the seventh grade) receiving all first-place ribbons in her individual events."
In all, the Bethel eighth grade team accumulated 10 first-place finishes. There were eight firsts among the seventh-grade Lady Hornets.
No results were provided for the Bryant Middle School team.
Reynolds won the discus with a throw of 70'7". She also took first in the 100-meter dash in 13.10. in the 200, she won in 27.0. She and teammate Summer Brown had firsts in the 400.
Bethel won both of the other relays as well. In the 4×400, Scott-Smith, Freeman, Tucker and Reynolds ran a 4:32. In the 4×800, Tucker, Mackenzie Moore, Caroline Pelton and Jillian Colclasure finished first with a time of 11:51.
Colclasure added first-place finishes in the 300 hurdles as well as the 800 meters (2:53). In addition, Mia DeSaussure won the shot put with a throw of 31'9.5".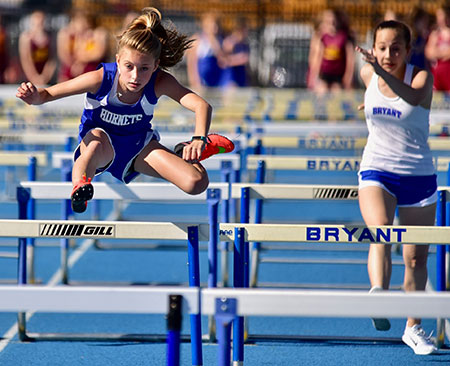 For the seventh-grade team, Godwin won the 300 hurdles with a time of 56.34; the 100-meter dash in 13.56 and, along with Brooklyn Sisco took a first in the 100 hurdles.
Aidan Sutterfield won the discus with a throw of 69' while Rivers won her flight at 63'.
The Lady Hornets team of Maddie Gallagher, Isabella Jackson, Kimberly Hernandez and Margo Gilliland paced the field in the 4×800 with a time of 11:51.
Seventh-grade performers also earned second-place finishes in seven events. Alyssa Hood was second in both hurdles races. Jackson took second in the 800 with a time of 2:51 while Gilliland ran a 1:05 to finish second in the 400. Gallagher was second in the 1600 with a time of 6:33.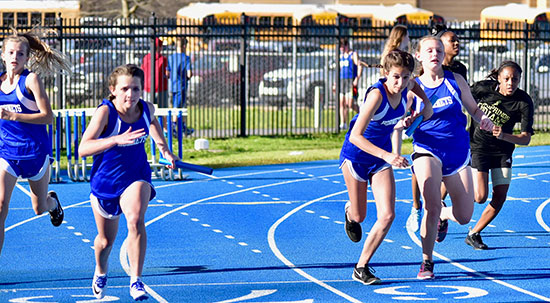 In addition, Hood, Jackson, Gilliland and Godwin combined on a 4:55 clocking in the 4×400 to take second.
Monica Shifflet was second in the shot with a throw of 31'. She was fourth in the discus with a fling of 51'.
For the eighth grade, Maddie Thomas, Pelton and Freeman turned in second-place finishes. Thomas was second in the 100 hurdles while Pelton took second in the 1600 with a time of 6:33. Freeman's second-place finish came in the 100.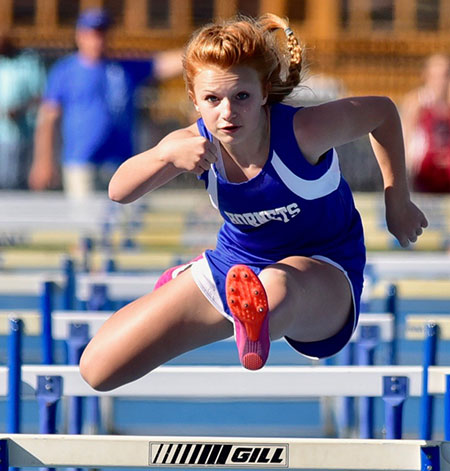 Ellie O'Gary led Bethel's contingent in the 200 meters, finishing third with Megan Brown fourth, Ryleigh Laughlin and Madelyn Martin fifth. Pelton was third in the 800 with Trulie Billingsley fourth, Moore sixth and Aryn Stiles eighth.
In the eighth-grade discus throw, Makayla Shipe's 60'8" throw was third overall with Isabella Martinez third in her flight with a toss of 59'. O'Gary was sixth at 49' and Polet Ocana-Reyes was eighth at 38'8".
In the shot, Madelyn Martin's heave of 27'2.5" was good for fourth with Taylor Clouse fifth at 23'.
Also in the field events, Laughlin was fourth with a long jump of 13'4". Skylar Risk was sixth at 12'9". In the triple jump, Scott-Smith covered 27'10" to place fourth with Tucker fifth at 27'1.5".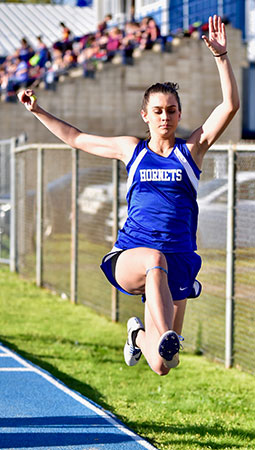 Scott-Smith was also fourth in the 400. Martinea and Laughlin each finished fourth in their respective heats of the 100. Shipe was fifth. O'Gary was fifth and Moore sixth in the 1600.
In the relays, Risk, Brown, Martinez and Colclasure combined to take fourth in the 4×400 while Thomas, DeSaussure, Clouse and Risk teamed up to place sixth in the 4×100.
For the seventh grade, Mai Tran was third and Erin Ives sixth in the triple jump. Tran was third in the 100 as well with Kate Keith fourth, Kennedy Claypool sixth and Shifflet sixth in her heat.
Kaitlyn Loudermilk took third in the 400 and Kimberly Hernandez placed third in the 1600 with a time of 6:42. Marissa Tate was fifth in 7:08.
Bethel was third in two relays. In the 4×800, McKenzie Hicks, Olivia McCallister, Madison Hagan and Tate ran a 12:26. In the 4×100, Tran, Jackson, Ives and Godwin combined on a 57.38 while the quartet of Gilliland, Sisco, Loudermilk and Sutterfield placed sixth.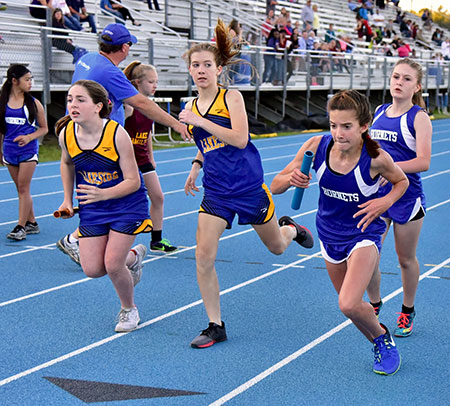 In the 4×400, McCalister, Lana Mears, Sisco and Loudermilk ran a 5:23 to finish fifth.
Mears was fourth in the 200 with Sutterfield fifth, Claypool sixth and, in their respective heats, Avery Caldwell and Hagan took seventh.
Hernandez finished fourth in the 800 with a clocking of 3:03. Gallagher was on her heels in fifth with a time of 3:05 and McCalister was right there at 3:06 to take seventh.
In the 300 hurdles, Sisco was sixth and Hicks seventh.
In the throws, Claypool's discus toss of 41' was good for seventh. Mears was eighth. In the shot, Keith's throw took eighth place.
The next action for the teams will be at Benton on Monday, April 10.