Photos by Kevin Nagle
CABOT — The Bryant Blue Hornets eighth grade team of Bethel Middle School got[more] off to a slow start in both halves and never recovered as the Cabot North Panthers handed them a 37-16 loss on Tuesday night.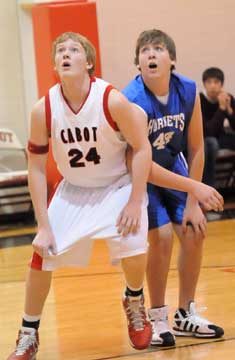 The Hornets trailed 9-1 after a quarter. It was 23-8 at the half then they were unable to score in the third period as Cabot North built the margin up to 37-8 going into the final period.
Evan Lee paced the Hornets with 6 points. Jordan Gentry finished with 4. Grayson Ruple and Nic Feeko had 2 each with Drew Castleberry and Gunnar Burks each knocking down a free throw.
Bryant Blue hosts Bryant White in its next outing on Monday, Dec. 12.