Photos courtesy of Julie Shelby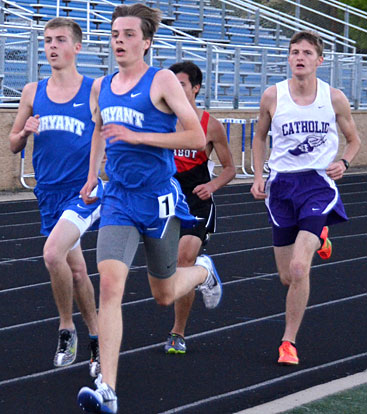 CONWAY — In a meet that included six of the eight teams that will be competing for the 7A-East/Central Conference track and field championship on April 28, in Cabot, the Bryant Hornets finished fourth overall and third among those teams at the Wampus Cat Relays on Thursday.
The Hornets' effort was highlighted by a 1-2 finish by John Carder and Cole Watson in the 3200-meter run plus a first-place effort in the shot put by Dany Murillo.
Bryant finished with 101 points. Cabot won with 143 points with host Conway second with 118. Class 6A Parkview was third with 105. After Bryant, the scoring dropped off precipitously with Little Rock Central fifth with 44 points and North Little Rock sixth with 43. 7A-Central member Little Rock Catholic was seventh with 34 in the 12-team field.
"This was an important date on the track schedule for us," said Bryant coach Steve Oury. "Coach Brad Stroud took a crew to the Hot Springs Trojan Relays while we were in Conway. Not only did we get almost everyone on the team involved in a meet, but we were able to let some athletes compete in multiple events to get a feel for what conference meet will be like. I thought they handled it well, especially considering how fast the meet in Conway went. Recovery times were short."
Carder ran a 10:17.16 to win the 3200. Watson turned in a 10:29.83. Catholic's Thomas Paladino was third at 11:08.12.
Murillo's winning shot put went 44'9.5" to top Central's Jacob Buchannon at 45'1.5". Bryant's Madre Dixon took fourth with a toss of 41'04".
Carder was third in the 1600 with a time of 4:49.90 with Christian McIntosh finishing fifth in 4:51.20. The field was paced by the top distance runner in the state, Toler Freyaldenhoven of Conway who turned in a 4:18.15. Carder finished on the heels of second-place Nathan Burd of Sylvan Hills (4:48.38).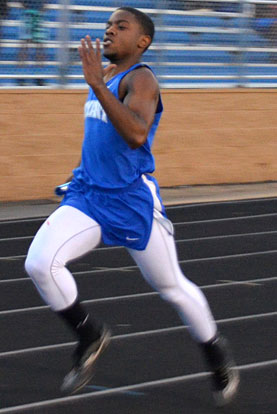 Murillo added a third-place finish in the discus with a fling of 136'10.5". Dixon was eighth at 105'4". Cabot's Brandon Jones threw 148'5.25 to finish first.
The Hornets' Devon Davis placed well in the long jump and triple jump. His 44'6.5" in the triple earned second place behind only Kolby McNeal of Parkview (45'1.5"). In the long jump, Davis reached 19'8", which was third. Cabot's Jarrod Barnes won at 20'10.5".
"Devon Davis had a great effort in the triple jump with a big personal record and John Carder had a solid double in the 1600 and 3200," Oury acknowledged. "Several other personal records were set, so I thought we had an overall good day."
Senior Pierce Finney scored in five events. Along with finishing eighth in the triple jump behind Davis at 41'5.5", he was third in the 400 with a time of 51.44 and fifth in the high jump, clearing 5'8". Matthew Bagby garnered sixth-place points in the 400 with a time of 52.45.
Bagby and Finney also helped out in a pair of scoring efforts in the relays. In the 4×100, they joined Andre White and Diante Woodson on a 44.70 clocking that took fourth. In the 4×400, Bagby, Finney, Woodson and Landon Abernathy placed fifth in 3:33.27. The latter group has posted a 3:27.54 this season, which is currently third overall in the state behind Bentonville's 3:23.85 and Springdale Har-Ber's 3:25.08.
In the 4×800, the Hornets' Joey Colvert, Travis Cumming, Eric Stewart and Justice Pryor earned third-place points with a time of 9:02.19.
Hunter Apel was third in the pole vault by clearing 8'0 and Abernathy scored in both hurdles races. He was seventh in the 300 with a time of 42.71 and eighth in the 110 with a time of 16.07.
The Hornets will compete in one more regular-season meet at Lake Hamilton on Friday, April 15.