Photos courtesy of Julie Shelby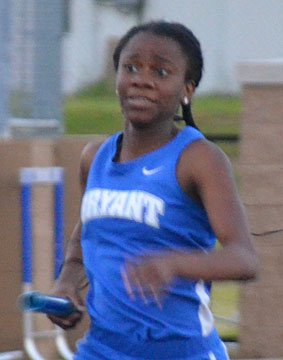 CONWAY — With stalwarts Haley Hood and Jadyn Lewis continuing to produce big points, the Bryant Lady Hornets gained a lift from freshman Deborah Shaw to compile 144.5 points at the Wampus Cat Relays on Thursday.
Once again, however, the Lady Hornets were second to Conway, which won its home meet with 161 points. The fifth meet this season where the two teams finished 1-2.
This time, there were four other teams that will be competing in the 7A-East/Central Conference meet in Cabot on Thursday, April 28. Cabot was the next highest scoring group with 62.5 points to finish fifth in the 11-team field.
Lewis finished with 24.5 points and Hood contributed 22.5 points. Distance runner Hannah Shelby pitched in with 18 points and thrower Kaycee White had 12. Hood and Shelby accounted for the Lady Hornets' lone individual first place finishes. Hood and Lewis contributed legs to the winning effort in the 4×400 relay, joining Amanda Burt and Zeia Robinson on a 4:04.91, which not only was the best time in the state so far but was a qualifying time for the State meet.
"I was extremely proud of our effort," said Bryant coach Danny Westbrook. "Jadyn and Haley both had their usual outstanding performances. Hannah added the 1600-meter run to her schedule tonight and ran very strong. Kaycee White continues to do very well in the throws. Also, Bree Hood in the pole vault and Lauren Hart in the 3200-meter run came through with really strong performances."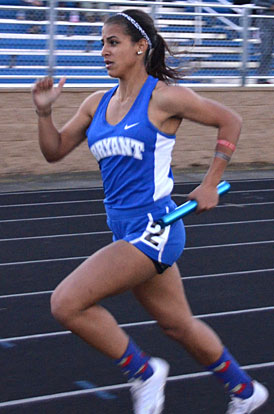 "Probably the biggest surprise was the awesome performances of freshman Deborah Shaw," he added. "We moved her up to the high school team this week and she came through with some big points for us.
"Our 4×400-meter relay team proved that they have a legitimate shot at defending their State title from last season," the coach noted.
Haley Hood's win came in the 300 hurdles with a time of 46.16, just short of her 45.54 clocking that's been the best in the state this season so far but still better than the second best time of 47.32 by Audra Beneux of Fort Smith Southside. At Conway, Sylvan Hills' Makayla Smith was second in 50.17. Shaw, the freshman, earned a sixth-place finish in 51.99.
Shelby won the 3200 with a time of 12:10.83. Conway's Lauren Campbell was second at 12:83.54 with Lauren Hart of Bryant fourth in 13:35.71.
Lewis had a pair of second-place finishes that both would've been firsts if not for athletes from Class 6A Parkview. In the long jump, her 16'4" was second to Parkview's Johnaya Givens' 16.9.5. Haley Hood was sixth at 14'10".
In the 200-meter sprint, Lewis turned in a 25.83, a top five time in the state, but second to the 24.87 turned in by Parkview's Jada Baylark, the second best time in the state this season.
In the 100, Lewis was third in a time of 12.79 behind Central's Tamara Kuykindall (12.68) and Conway's Rhaegan Linn (12.73).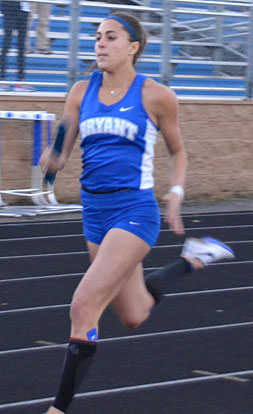 In addition to her win in the 3200, Shelby was third in the 1600 with a time of 5:47.73. Carissa Colclasure finished eighth in 6:83.90 for the Lady Hornets.
Shelby also contributed to the 4×800 relay team, which was second in a time of 10:38.31. Tziyah Fisher, Lauren Hart and Flora Noble completed the quartet. Conway won in a time of 10:07.18.
Shaw, in her first varsity high school meet, took second to Baylark in the 100 hurdles, finishing in 16.39. Baylark, tops in the event in the state, scorched at 14.70.
In the high jump, Shaw was third, clearing 4'10" with Haley Hood fourth at 4'8". Conway's Aly Brinkley cleared 5'3" and Conway's Shakyra Smith cleared 4'10" in fewer attempts to take second.
Shaw's triple jump of 33'6" earned third-place points. Bryant's Ty Foote was fifth at 31'7".
White would've had first-place finishes in both the shot and discus but for Class 6A athletes. She was third in both events. In the shot, her toss of 31'5" trailed a pair of Sylvan Hills throwers with Sa'Maya Farmer reaching 33'0" to win. In the discus, White's throw was 86'4", well off her best, but still third to another pair of Sylvan Hills throwers with Sierra Towles winning at 101'10.5".
Bree Hood cleared 9'0" in the pole vault to pick up second-place points for Bryant. The winning height was 11'4" by Conway's Jadah Meyer. A time of 2:43.10 was good for eighth for Bree Hood as well.
Zeia Robinson ran fourth (1:03.76) and Daelyn Young sixth (1:07.16) in the 400 then the duo combined with Burt and Foote on a 51.43 clocking in the 4×100, which was good for fourth.
Bryant has one more regular-season meet on the schedule before the conference meet. They'll compete at the Lake Hamilton Invitational on Friday, April 15.