By Kirk Stewart
The third through sixth grade basketball tournament was slated to end on Saturday, but double-elimination tournaments are never easy to predict. The tournament spilled over into Monday resulting in some down-to-the-wire action and some quality basketball.
Monday night's early game was a 3rd/4th grade girls' division matchup that pitted Team Rowland against Team Hill. Team Rowland wrapped up their season defeating Team Hill. Team Rowland had previously upset Team Hill's bid for an undefeated season on Saturday sending them on to the final elimination game on Monday night, and then handed Team Hill their second loss to take the tournament title.
Monday night's second final was a rematch of the 5th/6th grade boys division Team Price and Team Hurt. The two squared off on Saturday where Team Price suffered its first defeat of the season losing to Team Hurt by a score of 51-50. Team Price switched strategy away from offense to a more defensive scheme playing mostly man-to-man against Team Hurt's high scoring offense. And that adjustment proved to be the winning move. Team Price won the game 40-33 and took the tournament championship. Team Price ended the season with a record of 15 wins versus 1 loss.[more]
Tournament play is all about which teams are peaking at the right time. The 5th/6th grade boys division came down to 3 teams with the 1st seeded Team Price, 2nd seeded Team Warner and 5th seeded Team Hurt. These 3 teams proved to be the hottest teams closing out the regular season and were destined to fight it out. And fight it out they did.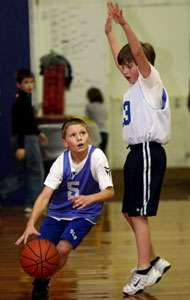 With the exception of the title game on Monday night, those three teams combined to play each other with the scoring ending in the 50's for each team. Most of those games were decided in the final minute of play. Team Hurt defeated Team Warner in the semi-final elimination game setting up a game Saturday night with undefeated Team Price. Team Hurt took that game by 1 point, forcing Monday night's showdown.
The most competitive division in the league proved to be the 3rd/4th grade boys. As the regular season ended, the tournament appeared to be any one of the nine teams to win. In this tournament, the 4th seeded Team Sahr upset Team Chumley's undefeated regular season, defeating them on Saturday morning, sending Team Chumley to
the elimination bracket. The 2nd and 3rd seeded teams of Team Eley and Team Vail faced off Saturday morning with Team Eley winning that game to face Team Chumley in the semi-final elimination game. Team Chumley advanced in that game on Saturday afternoon to force a showdown with Team Sahr later in the day. But it was Team Sahr who defeated Team Chumley at 4:30 Saturday to take the tournament title.
Team Sahr ended the season with a record of 10 wins, 5 losses.
The 5th/6th grade girls division was a sweep for Team Patton throughout the year. Team Patton finished undefeated in League play and carried that winning tradition through the tournament. Team Patton finished the year at 15 wins with no losses.
Tommy Powell and Richard Chumley would like to say thank you to all the parents, coaches and players for their support and participation this year saying, "To all the coaches, we appreciate the time and energy volunteered the last 4 months that made this year such a success."