For more photos of this event by Rick Nation, go here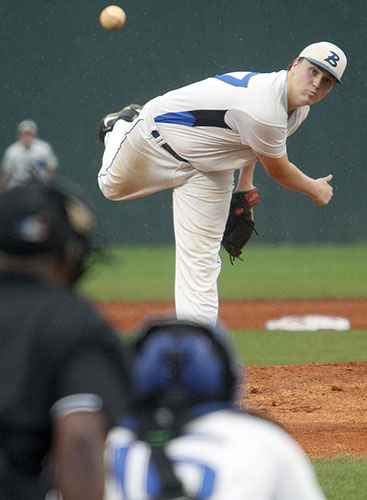 The Bryant Hornets had their chances.
But the key two-out hit they needed did not come as they stranded three runners in scoring position over the fifth and sixth innings.
And the 7A-Central Conference champion Conway Wampus Cats held on for a 5-3 victory that completed a 13-1 run through the league.
The Hornets fell to 20-8-1 overall and 9-5 in conference play. Coupled with Little Rock Catholic's 20-5 win over Little Rock Central on Friday, the Hornets wind up a 4 seed for next week's Class 7A State Tournament at Burns Park in North Little Rock. They will open play at 10 a.m., probably against the Fayetteville Bulldogs, the No. 5 seed from the 7A-West Conference. The winner will challenge West champion Springdale Har-Ber on Friday, May 11.
Only one of Conway's five runs was earned as the Hornets struggled with the conditions, committing four errors including three in the three-run first and another that allowed an insurance run to score in the top of the seventh.
Only one of Bryant's three runs was earned as Conway had an error that opened the door to a two-run sixth that had the Hornets within 4-3.
Conway lefty Jordan Wicks, perhaps the best pitcher in the state this season, had shut out the Hornets 2-0 early this season in Conway. And he had the Hornets blanked through four innings Friday. But, after coming into the contest having allowed just one earned run all season, he gave up a second when Myers Buck drilled a two-out RBI triple in the bottom of the fifth.
Logan Chambers, who had walked, scored the run. That was one of five walks for Wicks, who came into the game having issued just seven walks all season as the Conway ace.
After Buck's triple made it 4-1, Austin Ledbetter drew a free pass and Jake Wright made a bid at an RBI single with a sinking liner to right. But Conway right-fielder Andrew Hreha charged in and made a sliding catch right off the top of the grass to rob him and Buck was stranded at third, Ledbetter at first.
In the bottom of the sixth, Brandon Hoover's grounder to short was bobbled by Matthew Lloyd. His rushed throw to first was wild and Hoover wound up at second. Coby Greiner followed with a grounder up the middle that second baseman Clay Tollett got to but couldn't make a clean play on as Greiner beat out an infield hit and Ryan Riggs, running for Hoover, took third.
Wicks, by then, was at 107 pitches so, despite the 110-pitch limit, he was able to face Logan Catton though it took him five pitches to strike him out.
James Hicks relieved for Conway and Peyton Dillon greeted him with a shot off Hicks' body for an RBI single. Chambers followed by lashing a single to center to drive in Greiner and it was 4-3.
With Buck, one of the Hornets' hottest hitters at the plate, Hicks unleashed a wild pitch, putting the potential tying and lead runs in scoring position.
But Hicks got Buck on a comebacker to escape with the lead.
Bryant starter Will McEntire opened the seventh and Wicks singled up the middle. But the right-hander retired the next two to bring up Hicks, who had not batted this season. On a 1-0 pitch, however, he singled to left. A walk to Reed Hughes loaded the bases as McEntire reached the 100-pitch mark.
The Hornets' super reliever Greiner came on to try to get the third out of the inning, facing Tollett, the nine-hole hitter. On a 2-1 pitch, Tollett hit the ball to the right side. Freshman second baseman Noah Davis, a stellar defender, got to the ball, ranging far to his left and appeared to have a play. But he couldn't get a clean handle on the ball and Tollett reached safely as an insurance run scored for the Cats.
Davis handled a similar grounder off the bat of Parker Gavazzi, moments later, to end the inning.
In the bottom of the inning, Ledbetter hit a rocket but right at Tollett at second. Wright lined one back at Hicks for the second out then Matthew Sandidge popped out to right to end the game.
Conway's three-run first began with a double by Gravazzi. But when Jack Stroth hit one back to McEntire, Gavazzi took off for third and McEntire threw him out.
Lloyd, however, followed with a single to right that was bobbled by Buck. Will Kennedy, running for Stroth, came around to score and Lloyd wound up at second.
Wicks followed with a grounder to Chambers at third. He looked Lloyd back to third then threw to first where the throw skipped in to first baseman Scott Schmidt and got past him. Lloyd took third and Wicks was safe at first.
It looked like the Hornets might get out it there when Hreha hit a grounder to Catton at second, a potential doubleplay ball. But Catton, looking to start the throw to second for the force quickly, booted the ball, and Lloyd scored to make it 2-0.
McEntire took matters in his own hands and struck out James Martindale. But, on his first delivery to Cade White, a soft liner to right fell in for an RBI single and a 3-0 lead.
Hughes fanned to end the inning.
Wicks, in turn, worked around a lead-off single by Chambers, the only hit he allowed over the first four frames.
Conway scored its lone earned run in the second when, with one out, Gavazzi walked and, Stroth and Lloyd stroked back-to-back singles to bring him around. The Cats might've gotten more but, on a liner to right by Hreha, Buck made a splendid sliding catch to rob him and keep it 4-0.
McEntire worked around a two-out double to Hughes in the third, an infield hit by Gavazzi in the fourth and, after a 1-2-3 fifth, an infield knock by Tollett and a two-out walk to Stroth in the fifth.
Meanwhile, Greiner walked in Bryant's second but was stranded. With two out in the fourth, Sandidge and Hoover drew free passes, and, with the continuous light rain, Wicks asked for some "Diamond Dry" to be applied to the mound. When play resumed, he struck out Greiner to end the threat.
Catton supplied Bryant's second hit, lining a single to left to open the fifth. But Dillon bounced into a 4-6-3 doubleplay before Chambers walked and the Hornets began their rally.
Bryant will celebrate Senior Day in their regular-season finale on Tuesday in a non-conference tune-up for State against Sheridan, the defending Class 6A champion.