BAY CITY, Texas — For the third time in as many games at the Babe Ruth 14-year-old Southwest Regional Tournament, the Bryant All-Stars held their opponent to one run on Monday. But, this time, Bryant was unable to get any more itself until, in the top of the seventh, Chase Tucker came through with a clutch, two-out RBI single to left that snapped a 1-1 tie.
Ashton Green, who went the distance on the mound, worked around a one-out walk in the bottom of the inning as Bryant edged Eagle Pass, Texas, 2-1, in the winners bracket final.[more]
As the only remaining unbeaten team in the tournament, Bryant advances to the championship round, a win away from earning a trip to the Babe Ruth World Series in Loudoun County, Va. They'll take on the Mississippi State champion from McComb on Tuesday at 4 p.m. McComb will have to win the first game to force a winner-take-all final at 6:30.
On Monday, McComb eliminated North Arkansas champion Springdale, 6-5, then came back immediately and ousted Eagle Pass, 8-1, to reach the title round against Bryant.
The Bryant 14's include Wesley Akers, Harrison Dale, Justin Emmerling, Zach Graddy, Ashton Green, Tristan Matthews, Austin Miller, Christopher Phillips, Nate Rutherford, Korey Thompson, Chris Troillett, Chase Tucker and Blake Yates. Jason Thompson manages the team with assistance from Mark Akers.
Green scattered seven hits but was aided by his catcher Graddy, who threw out one baserunner trying to steal, and his defense, which turned a nifty 3-6-3 doubleplay along the way. In addition, Matthews made a circus catch on a two-out drive to right to save a run.
Eagle Pass stranded seven baserunners. Green walked one and struck out four.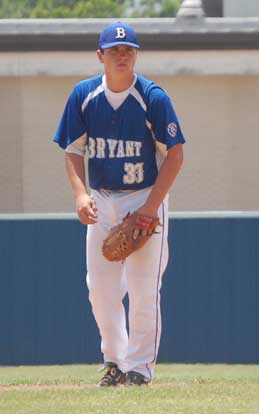 The game went to the seventh knotted at 1-1. But Miller led off the frame with a base hit to right, his second hit of the game. Troillett got a sacrifice bunt down to move Miller to second. Matthews was robbed of a hit by the Eagle Pass pitcher as Miller took third. On the very next pitch, Tucker laced a liner to left-center to chase in the go-ahead run.
In the bottom of the inning, a grounder to Thompson at second was followed by the walk but then a pop to Thompson and fly to Tucker in center ended it.
Bryant had taken the lead initially when Green led off the game with a hit to center and, an out later, Akers flew out deep enough to right to allow Green to advance. Miller then came through with a two-out RBI single to left.
In the home half of the inning, Dale made a nice play on a grounder off Green's glove to get the first out. A single to center followed but then a grounder to Rutherford at first started the doubleplay.
After Bryant went down in order in the top of the second, however, A double and a single to right had runners at the corners with two out, They worked a double steal and got the run home to tie it.
From then on, both teams were shackled. Bryant managed a baserunner on an error in the third then didn't have another until Yates drew a walk to start the sixth. But the next three were retired to keep it 1-1.
Meanwhile, Green pitched around a single in the third inducing three straight groundouts to end the inning. In the fourth, an infield hit started the inning but Graddy gunned down the baserunner trying to steal. That proved crucial when the next batter reached on the lone Bryant error of the game.
Green came back with a strikeout then Matthews made his diving catch in right to end the inning.
Eagle Pass managed a hit and a walk with two out in the fifth but a pop to Rutherford at first ended the threat.
Another lead-off single in the sixth came to nothing when Green and the Bryant defense set down the next three in a row to send it to the seventh.
2010 SOUTHWEST REGIONAL 14-YEAR-OLD TOURNAMENTBABE RUTH BASEBALL
At Bay City, Texas
Friday, July 30
Game 1 — McComb (Mississippi) 9, Bay City (Host) 8
Game 2 — Bryant (South Arkansas) 6, Nederland (East Texas) 1
Game 3 — Twin Rivers (Lousiana) 5, Plainview (West Texas) 3
Game 4 — Eagle Pass (South Texas) 4, West Brazos (East Texas) 3
Saturday, July 31
Game 5 — Springdale (North Arkansas) 6, McComb 4
Game 6 — Bay City 11, Nederland, (Nederland eliminated)
Game 7 — McComb 11, West Brazos 7 (West Brazos eliminated)
Game 8 — Bay City 8, Plainview 4 (Plainview eliminated)
Sunday, Aug. 1
Game 9 — Bryant 8, Twin Rivers 1
Game 10 — Eagle Pass 9, Springdale 5
Game 11 — McComb 15, Twin Rivers 11 (Twin Rivers eliminated)
Game 12 — Springdale 14, Bay City 10 (Bay City eliminated)
Monday, Aug. 2
Game 13 — Bryant 2, Eagle Pass 1 (winners bracket final)
Game 14 — McComb 6, Springdale 5 (Springdale eliminated)
Game 15 — McComb 8, Eagle Pass 1 (losers bracket final) (Eagle Pass eliminated)
Tuesday, Aug. 3
Championship round
Game 16 — Bryant vs. McComb, 4 p.m.
Game 17 — Bryant vs. McComb, 6:30 p.m. (if McComb wins game 16)