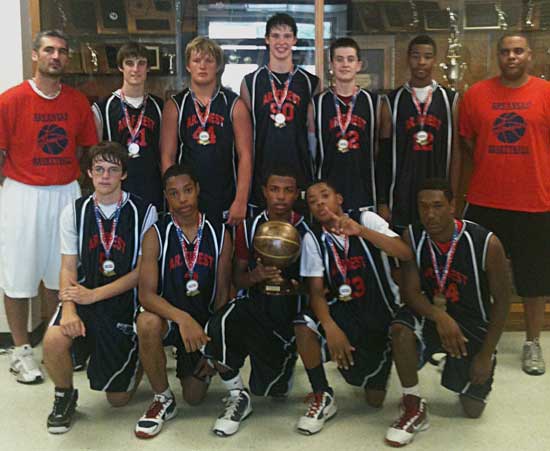 Arkansas' Finest, an eighth grade (14U) boys basketball team featuring players primarily from Saline County just completed their spring and summer 2010 season with great success.
Several of the boys have been together since the fourth grade and their hard work and dedication paid off with them taking their first National Title this year.
Team members include Mitch Scoggins, C.J. Rainey, Brian Reed, Jordan Jones, and Hunter Holder of Bryant; Blake Bowlin, Samonte Wallace, Garrett King, and Tarek Beaugard from Benton; Hayden Burchfield of Harmony Grove; and Christian Robertson (Fuller Middle), Trenton Deloach (LR Episcopal), and Larry Stephens (LR Christian). Coach James Scoggins is assisted by Chris Bryson.[more]
Overall, the team finished with a record of 46-6. They competed in 12 tournaments taking home the Championship in six events, runner-up in five, and third in one tournament.
The season had several highlights, including:
• Second place at the American Athletic Association SWOOSH National Tournament in Las Vegas, Nev. Collectively, the tournament featured well over 100 teams.
As the AAA AR State Champion representative, the Finest went 6-1. Along the waym they defeated the Colorado Storm, Henderson Heat, San Diego Thunder, Santa Ana Hawks, Las Vegas Blue Chips, and the Nevada Hoopstars. Their only loss came in the championship game to Team Nevada.
• First place at the Hoopfest USA National Championship Tournament held in Hot Springs. Well over 140 teams from Arkansas and surrounding states gathered in the Spa City to compete.
The Finest qualified for the tournament by winning a Super Regional in northwest Arkansas a few weeks earlier. They had a lot of confidence after their performance in Las Vegas and were determined to finish the season with a National Championship. After finishing pool play undefeated, the boys took their game to the next level in bracket play.
After earning a one seed, they received a bye for the quarter-finals and then defeated the Arkansas Storm from northwest Arkansas 58-38 in the semifinals before taking on the Louisiana Renegades. This team had been dominant to that point with an average victory margin in excess of 25 points per game as they had used a smothering full court man defense to put most teams away early. Despite falling behind early by 4, the Finest used an outstanding team effort to overcome the deficit and then pull away late with clutch free-throw shooting down the stretch to secure a 59-47 win, and their first National Tournament Championship.