By Rob Patrick
Photos by Rick Nation and Kevin Nagle
You know the old saying that "the camera never lies?" Even though, with today's technologies that doesn't always hold like it once did, in terms of a coach's ability to grade his players' performances after a football game, it's as reliable and as instructive as it ever was, particularly in light of this generation's affinity for optics.
And since a coach's view from the sideline is one of the worst angles to assess a game or a scrimmage, it often takes a view of the video for him to get a really good sense of how it went.
So, how did head coach Paul Calley and defensive coordinator Steve Griffith feel about the Bryant Hornets' preseason scrimmage against the Pine Bluff Zebras after reviewing the video?[more]
"We did better than I thought," Calley declared. "We did a lot of good things. The effort was there and, for the most part, the execution was there. I felt like, mentally, we were ready to play, needed to play.
"We had some breakdowns in certain areas," he added. "Of course, it's the first game and we hadn't really tackled live and there were just some things we had to adjust to. The conditioning was a factor like I thought it would be but overall I was pleased with the effort."
"That's the number one thing we saw on the film was great effort," Griffith agreed. "We had guys really fighting hard to get to the football.
"With that, we saw some areas that we can improve on," he added, adding specifically of the defense, "our technique and it was the first time we had really tackled full speed because we hate to tackle our guys in practice and risk injury to them. But I think we'll learn from there. A couple of times we were at the point of attack and we didn't finish off, run through but we'll improve on that for having seen the ballgame on film.
"This is a good starting point," Griffith added. "Hopefully, we'll be a lot better football team when we play Benton than we were (against Pine Bluff)."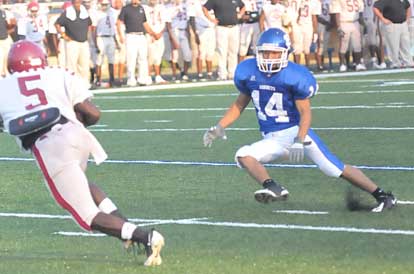 Regarding the offense, Calley added, "Our technique was pretty good. It was better than it has been. We didn't make near as many mistakes as we were making in practice."
He mentioned that they used only about 10 percent of the offense but not for the reason most might think.
"We were very vanilla," Calley acknowledged. "The (coaches) in this area, if they want a tape on you they can get it. So, we weren't trying to hide anything. We were just trying to establish something.
"(Pine Bluff) controlled the tempo," he noted. "The first quarter, we only ran four plays. It kind of got us off our script. There were certain things we needed to work on but I also felt like we needed confidence. I felt like the running game was going to be our strong suit. It is. The offensive line performed well, though we had some breakdowns there. But we got after people. And, if you can run the football, you should be able to throw it too down the road. We are going to be able to run it.
"With the second and third groups, they don't get as many reps. We're safer out of our pro set. That's our safe set. That's the set we have the most plays out of and that's what we stayed in with our second and third groups."
Griffith came away from the scrimmage with a better feeling about his weakside (or Will) linebacker play.
"I thought Jacob Brady had a good ballgame there," he stated. "We were honestly a little bit concerned but both he and Tyler Freshour did a good job. I'm very excited about that.
"(Defensive tackle) Josh Hampton played well,"Griffith added. "We thought he would. I thought (defensive end) James Kidd played really well. James is new to playing defensive end and he's learning but he made a lot of improvement last night, showed a lot of hustle and he showed his athletic ability. He can really, really run.
"Overall, I felt the defense played pretty solid," he concluded. "We didn't allow anybody in the end zone on first, second or third unit and you're always excited about that. At the same time, we're going to see a lot of things on film, we can get a lot better at."
Regarding the offensive line, Calley said, "(Senior center Justin) Rauch played really well and I thought our guards, Steven Lacamu, Landon Pickett and Jordan Murdock, were really quick. They were all where they were supposed to be. They got off on the ball. Our angles were good and our depth was good when we pulled.
"Our tackles," he continued, "our pass protection was a little more passive than what I was hoping for. A couple of times, we got knocked into the pocket and didn't give our quarterback enough room to throw. But a couple of breakdowns were might fault. (Pine Bluff) ran some blitzes I didn't expect and they caught us off guard in our protection. The kids didn't know what to do and I hadn't taught them. But we'll get that fixed."
Calley also expressed some disappointment that there wasn't a lot of special teams work. His team didn't get a chance to return a kickoff and the coverage on the first kickoff return by Pine Bluff concerned him.
"We just had some people out of position," he noted. "(In the past) we kind of spread the ball around — we kick it on the ground or find a hole to kick it in. People say why are they doing that? But you don't want (the opponent) fielding it clean because they get a running start.
"I also wanted to see our kickoff return because I think that's going to be one of our strong points," he added. "I really wanted to practice that."
One initial impression the coach had about the scrimmage did not change after viewing the video. His team needs to work on conditioning. In fact, many of the players after the game were saying the same thing.
"They knew," Calley said. "We'd talked about it and they do. They weren't in real good shape. We didn't know how bad.
A lot of times — I even remember as a player, we ran a lot but then the first two or three games, the first two or three series, you're really winded, until you settle in and get the butterflies out.
"Our guys were tired but they didn't quit. They kept pushing themselves even when their tongues were dragging a little bit."