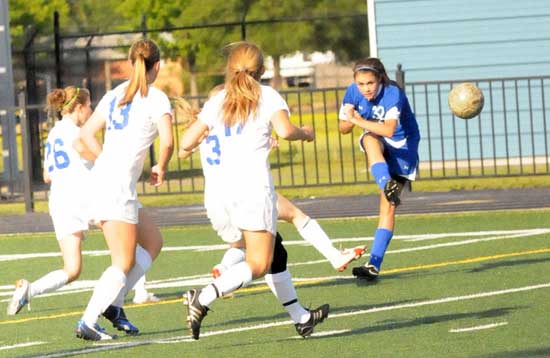 By Rob Patrick
Photos by Kevin Nagle
CONWAY — For the second time this season, the Conway Lady Cats soccer team, which leads the[more] 7A/6A-Central Conference, frustrated the Bryant Lady Hornets, 1-0, on Tuesday night at John McConnell Stadium.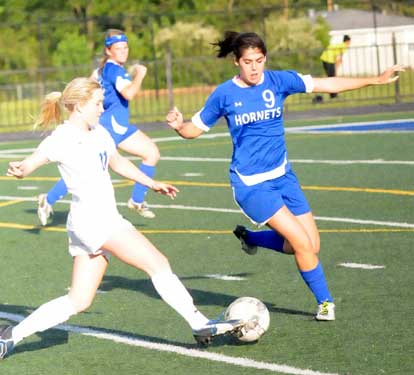 The Lady Hornets are looking forward to another opportunity.
"We haven't ever beat them so that's a team that just feels like they have our number," acknowledged Bryant coach Julie Long, "but, I told the girls, it's hard for anybody to beat a team three times in a row. So, we're just going to keep working and we'll get them. We'll get another shot at them."
That will have to come in the Class 7A State Tournament. In fact, if the Lady Hornets can hold on to the No. 2 seed from the league to State, it would have to come in the State championship game at the University of Arkansas on Saturday, May 21.
If Little Rock Central won at Cabot, as expected, on Tuesday night, Bryant's loss sets up a tie for second in the league between the Lady Hornets and Lady Tigers. Bryant will need to close out strong against Cabot this Thursday on Senior Night, and at North Little Rock on Monday to keep the chances alive for second and the first-round bye that comes with that at State. The Lady Hornets will also need some help from someone against Central. The Lady Tigers host North Little Rock on Thursday and Mount St. Mary Academy on Monday to close out the regular season.
The Class 7A State tourney begins on Friday, May 13, at Cabot.
Conway, unbeaten in league play, officially wrapped up the league title with Tuesday's win. The Lady Cats will be the top seed from the Central at State.
On April 7, Conway defeated Bryant on PK's after the teams battled to a 0-0 tie in regulation.
This time, the Lady Cats scored the game's lone goal with about 23 minutes left to play in the game.It was a disputed goal.
"They made a nice pass," Long said. "The girls said they were offside but I couldn't tell if they were. Either way, it doesn't matter. We've got to get back and make sure they're not back behind us."
There were very few clean shots at the goal for either team. But that figured to be the case since the Lady Cats have allowed goal to only two conference foes all season, both in games they had well in hand. Bryant has been just about as stingy. In two of the Lady Hornets' four conference losses, they shut out their opponents during regulation but lost in shootouts.
"It's hard to play against a defensive team that just clears the ball," Long said. "We have a hard time adjusting to it. Their defense is good. They're obviously good. They hardly ever get scored on.
"We're evenly matched teams," she added. "It's just depends on whose night it is. It hasn't been our night either time we've played them. We play completely different styles. We play with three in the back and they play with like 10 in the back. So it's a lot different.
"But the girls, I can't complain," the coach concluded. "They go out and fight hard every single game. It just doesn't look like we're hungry to score. We've got to work on that."
Bryant's best opportunity to score came early. Less than two minutes into the contest, they were awarded a free kick right in front of the goal from 24 yards out but Tarra Hendricks' try to too high.