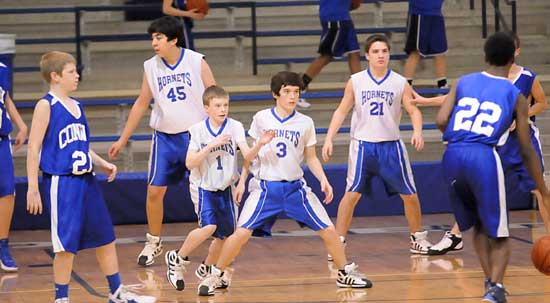 Photos by Kevin Nagle
The Conway Blue Wampus Kittens eighth grade team put together a fourth-quarter spurt to[more] overcome the Bryant Blue Hornets of Bethel Middle School on Monday night as both teams concluded their 2011-12 season.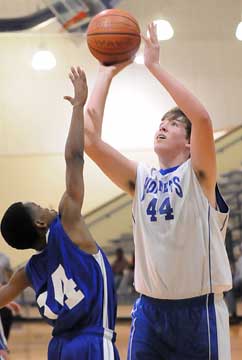 Bryant Blue led 23-21 going into the fourth quarter but Conway Blue came away with a 36-29 victory.
The game was tied at 5 after a quarter. Bryant Blue held a 16-15 edge at the half.
Grayson Ruple led the Hornets with 13 points. Evan Lee added 7 with Logan Alleni and Jordan Gentry scoring 3 each. Jacob Pipkin finished with 2 and Tanner Ezell 1.
"We played a good game," commented Hornets coach Derek McGrew. "We had some critical turnovers in the fourth quarter.
"I'm glad we ended the season with a fine performance," he added. "This group of young men represents Bethel, themselves, and their families to the max. This group was a coach's dream — great grades, great parents, and great attitudes! I will miss them."