By Rob
Patrick
GREENBRIER — In the end of the 16 teams in the Central Arkansas Junior High Conference, only two played deeper in the season that the Bryant Hornets freshman team. Among those that didn't make it that far were the South Division regular-season champion North Little Rock and North Division regular-season champion Searcy.
Those two would be the Greenbrier Junior Panthers, who won a triple overtime game against the rival Vilonia Junior Eagles in one semifinal of the league's post-season tournament, and the Conway Blue Junior Wampus Cats who ended Bryant's season later in the evening in the other semifinal, 55-39.
"We had a great run," stated Bryant coach Steve Wilson. "I think we won nine of our last 13 games but, at the same time, when we were focused, we beat some real good teams. When we played some of the not-so-good teams, we didn't play that disciplined and I think that caught up with us tonight, not having that consistent intensity and focus. And this time, it was against a good team."
Bryant and Conway Blue, both from the South Division of the league, split during the regular season and you could tell the difference in the games by the scores. Conway Blue won the early season match-up in Bryant, 53-44, then Bryant won at Conway, 38-35.[more]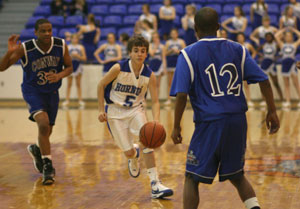 The Hornets faced an uphill battle after the Cats opened the game with a 12-0 burst. Bryant didn't score until Tyler Nelson hit a layup with 2:38 left in the opening period. Everett Reed scored 9 of his game-high 17 points during the opening quarter including a 3 to cap things off at the end, giving his team a 17-6 advantage going into the second quarter.
Reed and center Xavier Clardy not only combined for 29 of their team's points but they consistently forced the Hornets to alter their shots when they got inside. The result was 17 offensive rebounds for Bryant but just 16 of 46 shooting (35 percent) for the game.
"The game plan was to try and keep our cool and take good shots," Wilson related. "And I'm not real sure that we did that. We thought if we could get their big guys away from the goal we could attack them. And we did a few times but then a few times they kind of altered our shots. Then we started pulling some shots a little farther out and rushing them. The problem wasn't really as much our defense as it was letting them score on our offense, not getting back, playing the up-tempo game that really played into their hands."
Conway's quickness on defense wasn't something the Hornets hadn't seen before but it'd been a couple of weeks. The last team as quick as Conway they'd played was North Little Rock and they'd prevailed in that one at home, 60-52.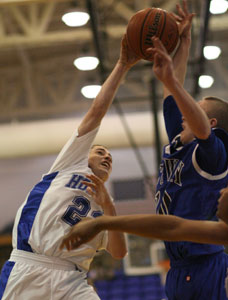 The Cats extended their lead to 23-7 before Jonathan Parks' three-point play with 3:49 was followed by a stickback from L.J. McLaughlin that trimmed the margin to 11. But before the half was over, Conway had pushed the margin back to 30-14.
The largest Cats' lead was 21. It was 41-20 with three minutes left in the third quarter. That's when Bryant started to come to life sparked by a stickback by Cody McPherson who led Bryant with 10 points. The Hornets had two chances to get closer at the free-throw line only to miss all four tosses before Brantley Cozart was fouled with :51.2 left in the quarter and converted a pair.
After a Conway miss, Derek Johnson fed McPherson for a bucket to cut it to 41-26. Johnson followed with a steal but a turnover cost the Hornets that opportunity.
Gavin Davis hit a pair of free throws for Conway to end the 6-0 run and give the Cats a 43-26 lead going into the final period.
The Hornets kept scrapping, however. Johnson canned a 12-foot jumper and McLaughlin knocked down a pair of free throws with 4:20 left to trim it to 43-30.
Conway's Tyrone Willis missed the front end of a one-and-one and Bryant's Jonathan Parks posted up for a bucket that had the lead back to 11.
But that's as close as the Hornets could get. Reed drove for a basket and Parks answered to make it 45-34 with 3:16 left but Clardy, hanging around under the basket as the Hornets tried to press and trap to force turnovers, kept getting lost in the scramble and the Conway guards kept getting him the ball. He hit four straight free throws and, after McLaughlin buried a 3, Reed and Kevin Guiden converted to re-extend the lead and seal the victory.
Bryant finishes the season 16-10 overall.
JUNIOR WAMPUS CATS 55, JUNIOR HORNETS 39
Score by quarters
Conway Blue 17 14 13 12 — 55
BRYANT 6 8 12 13 — 39
JUNIOR WAMPUS CATS 55
Guiden 2-8 2-2 7, Gates 1-1 0-0 2, Davis 3-4 2-4 8, Reed 7-8 2-2 17, Clardy 2-3 8-14 12, Willis 4-6 0-1 9, Tyus 0-0 0-0 0, Fennell 0-0 0-0 0, Felder 0-0 0-0 0, Strickland 0-0 0-0 0, Stevenson 0-2 0-0 0, Blunt 0-0 0-0 0, Avery 0-0 0-0 0. Totals: 19-32 14-23 55.
JUNIOR HORNETS 39
Cozart 3-7 2-2 8, Nelson 1-4 0-0 2, McPherson 5-11 0-3 10, Parks 3-8 1-1 7, McLaughlin 3-8 2-5 9, Johnson 1-4 1-2 3, Trudell 0-2 0-0 0, Motto 0-1 0-0 0, Moore 0-1 0-0 0, Rogers 0-0 0-0 0, Lucas 0-0 0-0 0, Royal 0-0 0-0 0, Freeman 0-0 0-0 0. Totals: 16-46 6-13 39.
Three-point field goals: Conway Blue 3-7 (Guiden 1-4, Reed 1-1, Willis 1-1), Bryant 1-6 (McLaughlin 1-2, Trudell 0-2, Cozart 0-1, Nelson 0-1). Rebounds: Conway Blue 24 (Reed, Clardy 5), Bryant 30 (McPherson 8, Parks 6). Turnovers: Conway Blue 9, Bryant 15. Total fouls: Conway Blue 16, Bryant 16.