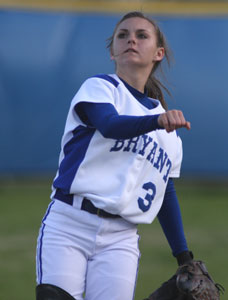 By Rob Patrick
Despite the fact that she has just three seniors and two juniors returning, Bryant Lady Hornets softball coach Lisa Stanfield says it flat out: "It might be more pressure on myself but I think if I do my job as a coach, we should be able to win a lot of ballgames.
"I have a lot, a lot of confidence in this team," she added as she prepared her squad for its 2009 debut at Benton on Thursday, Feb. 19. "I know the ability is here. I have a lot to work with."
Stanfield said that even though she hadn't had what may prove to be four key players on the practice field yet, two days before the opener. Shanika Johnson, one of the juniors that started at shortstop last season, will be with the Bryant varsity basketball team for two or three more weeks as the Lady Hornets advance into State Tournament play. But Cassidy Wilson, Jessie Taylor and Kayla Sory were set to join the team this week after the Lady Hornets freshman team completed its season.
Those frosh, along with Peyton Jenkins, Jenna Bruick, and Ashley Chaloner are a big reason for Stanfield's optimism along with a solid group of sophomores who contributed a lot to last year's 20-7 team that went 11-3 in the 7A-Central Conference and made it into the second round of the State tourney, losing to eventual runner-up Fayetteville.
Returning seniors are catcher Sarah Hart, outfielder Paige Turpin and pitcher Christen Kirchner. Junior Kristin Morehart is back along with the sophomores Amber Cope, Brandi Barnes, Jesseca Cudd, Kelsie Works, Kim Wilson and Lana Naumann.[more]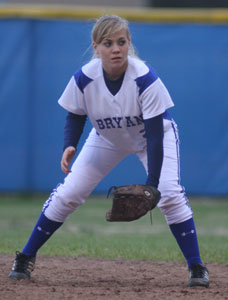 "So far, we're where I wanted us to be at this point," she said of the team's preparations. "We are a young group but we're combining a lot of experience with those young ones and it's just a matter of how well they mesh. It's not something I can really coach."
Because of the team's versatility in the field, Stanfield said she'll be trying to get the best bats in the lineup admitting that it's still up in the air as to who would be playing from game to game.
"I know who I want in there because of their offense," she stated. "Defensively, we may just have to move some people around and put them in new positions."
She mentioned the three seniors along with Wilson, Barnes, Jenkins and Bruick. Jenkins, a pitching prospect, may eventually allow Kirchner to move to shortstop. "I'm just looking for some maturity as far as that goes," Stanfield said. "Maybe one day she can fill the pitching position."
Barnes, who played considerably at first last year, has been working at third some. Wilson is the returning starter at second but Stanfield would like to be able to move her to shore up the outfield.
Of Thursday's opener, the coach said, "Yes, we're bored with practice but most of the girls have learned all new stuff. So, I'm looking for them to put that into action. I've tested them a time or two and we've failed. But our deadline was Thursday. Either you know it or you don't. If I can see that, mentally, we know what we're doing, if we make physical errors and mess up that's one thing but, mentally, we should be there.
"We have people who didn't know what I assumed they should know from last year," she mentioned. "I've just tried to be real thorough because I found that some were just skating by and it would really be beneficial if everyone was on the same page with everything. I'm hoping that's where we are."
BRYANT LADY HORNETS
2009 softball schedule
Feb. 19 — at Benton
Feb. 23 — Vilonia
Feb. 26 — Lake Hamilton
Mar. 3 — LR Central*
Mar. 5 — at Mount St. Mary's*
Mar. 10 — Van Buren*
Mar. 12 — at Russellville*
Mar. 14 — Bootsie Gordon Memorial Tournament, TBA
Mar. 17 — Conway*
Mar. 19 — at Cabot*
Mar. 20 — Sheridan
Mar. 26-28 — at Warrior Southern Invitational Tournament,TBA
Mar. 31 — North Little Rock*
Apr. 2 — at LR Central*
Apr. 3 — Benton
Apr. 4 — at Sheridan Tournament
Apr. 6 — Greenbrier
Apr. 7 — Mount St. Mary's*
Apr. 9 — at Van Buren*
Apr. 14 — Russellville*
Apr. 16 — at Conway*
Apr. 21 — Cabot*
Apr. 23 — at North Little Rock*
Apr. 28 — at Lake Hamilton
May 1-4 — Class 7A State Tournament, Bentonville
May 8-9 — State Finals
*7A-Central Conference games