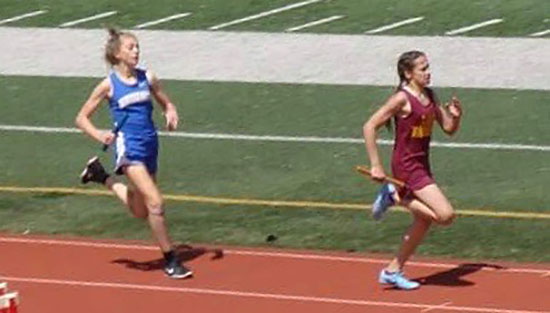 Photos courtesy of Cynthia Austin
RUSSELLVILLE — Sydney Dettmer and Amya Smith led the Bryant Lady Hornets freshman track team on Thursday at the Central Arkansas Junior High Conference championship meet at Cyclone Stadium.
Dettmer captured the league championship in the 800-meter run with a personal-best time of 2:31.37 and Smith was runner-up in both sprint events. She ran a personal best 12.94 in the 100 as well as a personal-best 27.21 in the 200, finishing behind only Benton's Delasha Jones in each race. (Jones ran 12.86 and 27.11 to edge Smith.)
The Lady Hornets finished with 47 points to finish seventh in the nine-team meet. Benton won the team title with 130.5 points with Lake Hamilton second with 104.3.
"Sydney and Amya really performed well," acknowledged Lady Hornets coach Lawrence Jefferson.
"We had a successful year of girls' track," he added. "They improved as the season progressed with a lot of the girls setting their personal bests at the conference meet. I am proud of the effort the girls put in this season."
Madison Dettmer had an eighth-place finish individually in the 1600, finishing in a personal-best time of 6:01.38.
In the relays, Maddison Dettmer, Aryne Stiles, Caroline Pelton and Sydney Dettmer combined on a season-best 10:37.74 in the 4×800 to finish second to Lake Hamilton's 10:36.23.
In the 4×100, Caliyah Thomas, Madelyn Thomas, Jaiyah Jackson and Smith teamed up on a 52.11, just short of Cabot North's 52.05.
Madelyn Thomas, Taylor Clouse, Sydney Dettmer and Smith joined in on the 4×400 to run a 4:37.14, placing fourth.
Personal-best performance were turned in by
Skylar Risk (14'4.25") and Mallorie Scott-Smith (14'9.25") in the long jump as well as the triple jump (Risk, 31'2" and Scott-Smith 29'7");
Katrina Johnson (25'4"), Isabella Martinez (27'0") and Morgan Gooodnight (22'4.57) in the shot put;
Jackson (13.67) and Caliyah Thomas (14.29) in the 100-meter dash;
Stiles (6:16.60) and Pelton (6:02.88) in the 1600;
Erin Key (1:08.30) and Caliyah Thomas (1:08.15) in the 400;
Stiles (2:47.92) in the 800;
Scott-Smith (29.26) and Clouse (29.15) in the 200.