By Rob Patrick
Photos by Kevin Nagle
You've heard the phrase "Been there, done that" — probably a little too[more] often, right?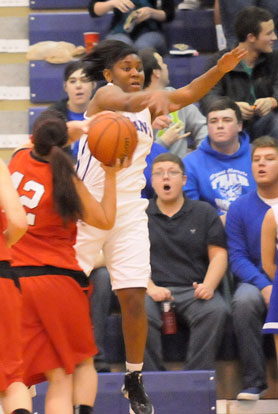 How about 'Haven't been there, haven't done that"?
It's a place that the Bryant Lady Hornets basketball team has found itself many times this season. With just one starter back from the 2010-11 campaign, lots of things are new experiences for most of the players.
They've done a remarkable job, really, of overcoming their lack of experience, most notably on Tuesday night when they went to Conway and won for the first time since both schools became members of the Central Conference.
Sometimes, the toughest part of winning a big game like that is the next game. Pressure mounts, expectations increase. And it doesn't help if the next team you face is that much better than the one you just vanquished.
That's where the Lady Hornets found themselves Friday. The pressure of trying to build on their impressive win at Conway and doing it against the talented Cabot Lady Panthers, appeared to have the Lady Hornets a little tight. And it showed in their shooting.
Bryant went 1 for 21 from the field in the first half, fell behind by as much as 21 points and, though they never quit scrapping, wound up absorbing a 52-37 loss after cutting the margin to 12 twice down the stretch.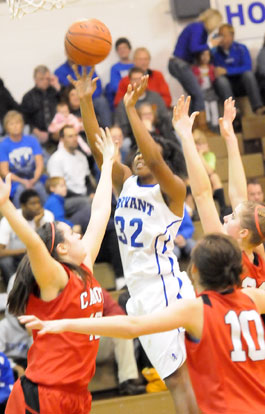 The two teams came into the game tied in the 7A/6A-Central Conference at 3-1. The Lady Hornets, now 11-8 overall and 3-2 in league play, travels to North Little Rock on Tuesday.
"We struggled," Bryant head coach Brad Matthews acknowledged. "I think we struggled to execute, then when we did execute, we didn't convert. It was just a long night offensively. And when you struggle offensively, it looks sloppy and things like that.
"I thought our kids fought and competed and that's something to build on but, offensively, we can't shoot (21) percent and beat anybody much less one of the top three or four teams in the state," he added. "They've got a lot of good players over there."
That includes University of Arkansas signee Melissa Wolff who led her team with 16 points including 10 in the first quarter when Cabot built a 12-2 lead. Elliot Taylor finished with 13 for the Lady Panthers.
For Bryant, junior Kiara Moore, the lone returning starter, scored 22 points. She converted 6 of 10 shot from the field, which means that the rest of the Lady Hornets were 3 of 32 in the game. They just didn't look as confident shooting the ball against Cabot as they had been against Conway.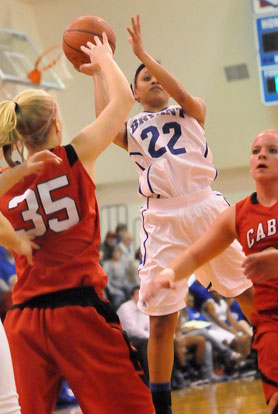 "We prepared for what they did," Matthews mentioned. "I don't think anything caught us off guard like 'Wow, we haven't seen that.' The only thing was their length. We've seen pressure against Conway and some in the Northside tournament (in Fort Smith). We haven't seen length like that on our guards. It forced some slow lobs and that got us out of it a little bit."
The Lady Panthers used soft pressure and traps to slow Bryant down as much as forcing turnovers. In the halfcourt, they double-teamed Lady Hornets' sophomore Taneasha Rhode who has been a double-digit scorer for much of the season.
Somebody had done their scouting.
Rhode was limited to just two field goal attempts in the first half. She was able to get to the free-throw line three times but only converted 2 of the 5.
"I think, for the most part, we got decent shots," Matthews said. "It was just one of those nights — every team has them, girls, boys, college, NBA, high school — where you struggle to score and it kind of snowballs a little bit."
Cabot's Sydney Wacker scored the game's first points then Wolff scored the next 10. It was 8-0 after Wolff hit a 3. A free throw for Bryant's Courtney Davidson and another by Rhode accounted for the Lady Hornets long point of the quarter.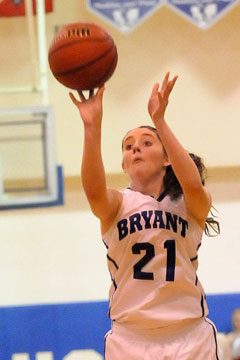 It was 19-2 before Moore hit a 12-footer for Bryant's first field goal of the game.
A layup by Jaylin Bridges and two free throws by Wolff produced Cabot's biggest lead, 23-4 with 1:25 left in the half.
Free throws by Rhode and Dezerea Duckworth trimmed the margin to 23-7 before the end of the half.
It was 30-9 before the third quarter was three minutes old. Matthews called a timeout and Moore responded with a 3-pointer and, after a Cabot turnover, a three-point play fueling Bryant's comeback try.
Still, the Lady Panthers maintained a 37-20 lead going into the fourth quarter. The 21-point margin reoccurred with 6:25 left in the game as Wacker hit two free throws and Taylor drove for a basket twice.
They had a couple of chances to increase it further but Rhode made a steal and, at the other end, got free in the post for a basket. Moore and Cabot's Micah Odom traded free throws then Duckworth added one and, when Cabot turned it over, Moore drove for another bucket. Taylor converted a pair of free throws, then Moore did it again. And when Duckworth made a steal and a layup, the lead had been whittled to 47-33.
But just two minutes remained. Laci Boyett scored off a back-door cut then Moore countered and Rhode knocked down a pair from the line to get the Lady Hornets back within 12, at 49-37. Those were the last points of the game for Bryant, however.
"I thought our kids hung in there and continued to fight and claw and compete a little bit," Matthews said. "That's something to build on because we go to North Little Rock on Tuesday. It's an opportunity. We have the opportunity to go over there and kind of show the progress we've made throughout the year."

LADY PANTHERS 52, LADY HORNETS 37
Score by quarters
Cabot 12 11 14 15 — 52
BRYANT 2 5 13 17 — 37
LADY PANTHERS (15-5, 4-1) 52
Player fg-fga ft-fta reb fls pts
o-d-t
Bridges 2-5 3-4 0-0 0 3 8
Boyett 2-6 0-0 1-1 2 2 4
Wolff 4-8 7-8 2-4 6 3 16
Taylor 5-7 3-6 0-4 4 4 13
Wacker 1-4 2-2 2-3 5 3 4
Odom 0-3 2-2 0-1 1 3 2
Van Enk 0-0 0-0 0-1 1 0 0
Fowler 0-1 0-0 0-1 1 0 0
Smith 2-2 0-0 0-1 1 0 5
Morris 0-0 0-0 0-0 0 0 0
Team 1-6 7
Total 16-36 17-22 6-22 28 18 52
LADY HORNETS (11-8, 3-2) 37
Player fg-fga ft-fta reb fls pts
o-d-t
Moore 6-10 9-10 0-2 2 2 22
Davis 0-3 0-0 0-3 3 2 0
Duckworth 1-12 4-6 1-3 4 4 6
Davidson 0-7 1-2 5-2 7 3 1
Rhode 2-8 4-7 4-4 8 3 8
Meyer 0-1 0-0 2-1 3 4 0
Allen 0-1 0-0 1-0 1 0 0
Murphy 0-0 0-0 0-0 0 0 0
Weaver 0-0 0-0 0-0 0 0 0
Team 0-2 2
Total 9-42 18-25 13-17 30 18 37
Three-point field goals: Bryant 1-9 (Moore 1-3, Duckworth 0-5, Davis 0-1), Cabot 3-10 (Bridges 1-4, Wolff 1-2, Smith 1-1, Odom 0-2, Boyett 0-1). Turnovers: Bryant 16, Cabot 18.