By Rob Patrick
Photos by Kevin Nagle
This time, the Bryant Hornets were at home and they'd led along the way while never trailing by[more] much until the Cabot Panthers opened the fourth quarter with a surge that produced a 45-34 lead with 4:30 left in the game.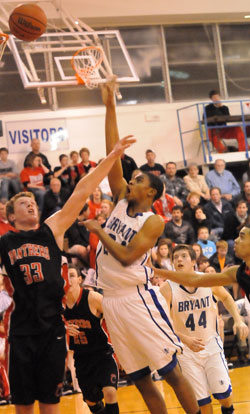 As they did in Tuesday's win at Conway when they erased a 16-point deficit, the Hornets put together a furious rally. This time, however, they cut the lead to 45-44 and still had plenty of time. They got four possessions to try to regain the lead but came up empty and the visiting Panthers made four straight free throws in the final 40 seconds for a 49-45 win that stung the Hornets.
Trailing 47-44, the Hornets got the ball inside to 6-7 senior Quinton Motto who was fouled on his shot. It was almost a game-tying three-point play but, on the field goal attempt, the ball teased by spinning on the rim before almost catching in the crotch of the basket and falling away.
Motto would hit one of his free throws to cut the margin to 47-45 with :20.8 showing.
Cabot, in turn, worked the ball until, with :08.6 left, reserve point guard Brian Shrum was fouled. He dropped in both ends of the one-and-one to put the game out of reach.
The result leaves both teams at 2-3 in the 7A/6A-Central Conference. The Hornets travel to North Little Rock on Tuesday while Cabot hosts Van Buren.
"It's really hard to come back and get over the hump," acknowledged Hornets coach Mike Abrahamson. "That's what happened to us at Van Buren. Conway, we were able to sneak away with a win.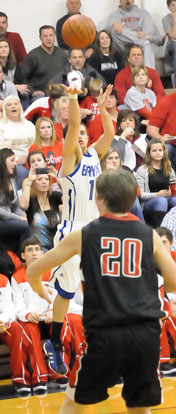 "Our conference is really strong," he added. "You give a lot of credit to your opponent. I give a lot of credit to Cabot tonight. They played a tremendous game. Those kids played their tails off and they had a lot to do with why we played the way that we played. At the same time, we just didn't seem very sharp.
"What bothers me is that we always play hard but we don't seem to go to that next level until I really have to get on them or they're down 10 and their backs are against the wall," the coach stated. "Until it's that situation, they always play hard but they don't play like that, like they did tonight the last five minutes. We can have that special effort — what I call it — from the beginning of the game, no matter what defense we're in, no matter what the score is. We don't have to be trapping and pressing and running around to play that hard and with that passion."
The Hornets had a 34-33 lead after a 3-pointer by Marcus Wilson with :17 left in the third quarter. But when Cabot's Sam Howe beat the buzzer ending the period with a short jumper, the Panthers were ahead to stay.
Taking advantage of a smaller Bryant lineup, Cabot posted up Howe on the shorter Wilson and scored the first 4 points of the final period. After a Bryant turnover then a miss, Cabot's Ryan Stafford got free down the left side against the Hornets' press and scored. Motto, who had already taken three charges, tried to get set to take another one but didn't get the call. Stafford scored and hit the floor. And when he was unable to continue, teammate J.D. Brunett came on to hit the free throw.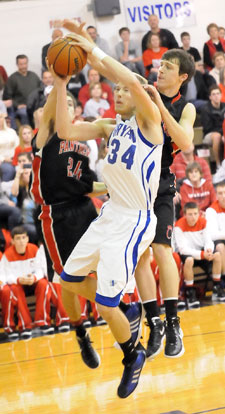 And when Bryant turned it over and Brunett turned in his own three-point play, the Panthers held a 45-34 lead with 4:30 left to go.
Bryant's comeback started with a stickback by Motto. The Hornets jumped into a full-court trap defense and it produced a turnover that eventually led to Wilson's fourth 3-pointer of the game.
After a flurry of turnovers, Brantley Cozart tightened the game even further with a three-point play with 2:31 left in the game. Wilson and Anthony Black combined on a steal and Black sank a pair of free throws after an intentional foul was called on the play, it was a one-point game. The Hornets were granted possession after the free throws. Cozart got an open look at a 3 only to have it rim out.
After taking a timeout, the Panthers suffered yet another turnover against the scrambling Bryant defense. But another shot refused to go in.
Yet, they got another chance after they forced a Cabot miscue. In turn, however, the Hornets turned it over themselves. Howe missed a shot and the Hornets had still another chance to take the lead. Black drove into the lane and put up a shot over Howe but he was called for a charging foul.
Finally, with :36.2 to go, Arthur West calmly converted both ends of a one-and-one to make it a 3-point game. That's when Motto just missed a chance at a three-point play with :20.8 showing.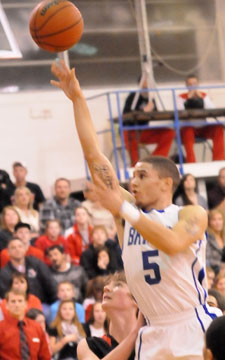 The Hornets' rally was fueled by defense. Through three quarters, they'd forced just six Cabot turnovers. But, in the fourth quarter, that total doubled.
Meanwhile, the Hornets suffered 20 turnovers in the game.
"Twenty turnovers really hurts," Abrahamson said. "That's 20 shots we don't get. Now, we're going to turn it over some. If you cut it in half, that's 10 shots we don't get.
"They pressured the ball but they weren't really trapping or doing anything tricky," he noted regarding Cabot's defense. "I don't know. We were really shaky with the ball tonight. We had guys with the ball right in their hands and having it pop out, or couldn't catch a pass right to them."
Bryant fell behind initially 12-5 with Howe accounting half of his team's points. A reverse layup by Motto got the Hornets going. At the other end, he set up and took a charge. Cozart cashed that in with a 3-pointer to cut the lead to 12-10.
Cabot's Clayton Vaught and Bryant's Jordan Griffin traded 3's but a buzzer-beating basket by Ryan Stafford had the Hornets trailing 17-13.
In the second quarter, the Bryant defense took over and Cabot managed just one field goal (and a couple of free throws). The Hornets took advantage by surging into the lead. A basket by Black had it tied 17-17 then, on consecutive trips, Motto took charges to further spark the Bryant run. Vaught converted a pair of free throws but Wilson trumped that with a 3. Cabot led 21-20 when Wilson nailed another triple to give his team a 23-21 lead. And when Cozart drove and dished to Jalen Hewett in the final seconds, Bryant enjoyed a 25-21 halftime edge.
When Black opened the second half with a driving jumper, the Hornets had their largest lead of the game, 27-21. Cabot caught up, however, and the seesaw nature of the scoring began. Shrum hit a pair of free throws with :54.6 showing, giving Bryant a 33-31 lead. Wilson's 3-pointer followed.

CABOT 49, BRYANT 45
Score by quarters
Cabot 17 4 14 14 — 49
BRYANT 13 12 9 11 — 45
PANTHERS (11-3. 2-3) 49
Player fg-fga ft-fta reb fls pts
o-d-t
Rock 2-3 0-0 0-0 0 1 4
Brunett 4-7 2-2 0-0 0 2 10
West 2-3 2-2 0-0 0 4 6
Howe 7-11 2-5 1-3 4 0 16
McMahan 0-2 0-0 1-3 4 3 0
Shrum 0-2 4-4 0-0 0 1 4
Stafford 2-3 0-2 0-0 0 1 4
Wymer 0-3 0-0 0-0-0 1 0
Smith 0-0 0-1 0-0 0 0 0
Vaught 1-2 2-2 1-2 3 0 5
Team 1-2 3
Total 18-36 12-18 4-13 17 13 49
HORNETS (10-7, 2-3)
Player fg-fga ft-fts reb fls pts
o-d-t
Griffin 2-4 0-0 0-0 0 0 5
Black 2-5 2-2 1-1 2 3 6
Cozart 2-9 3-4 0-2 2 1 8
Neale 0-0 0-0 0-2 2 3 0
Motto 4-7 4-6 3-2 5 4 12
Hewett 1-1 0-0 0-5 5 2 2
Wilson 4-7 0-0 0-2 2 1 12
Cambron 0-0 0-0 1-2 3 1 0
Royal 0-0 0-0 0-0 0 0 0
Rainey 0-0 0-0 0-0 0 2 0
Team 0-1 1
Totals 15-33 9-12 5-17 22 17 45
Three-point field goals: Bryant 6-17 (Wilson 4-7, Cozart 1-6, Griffin 1-2, Black 0-2), Cabot 1-5 (Vaught 1-2, Brunett 0-2, Howe 0-1). Turnovers: Bryant 20, Cabot 12.