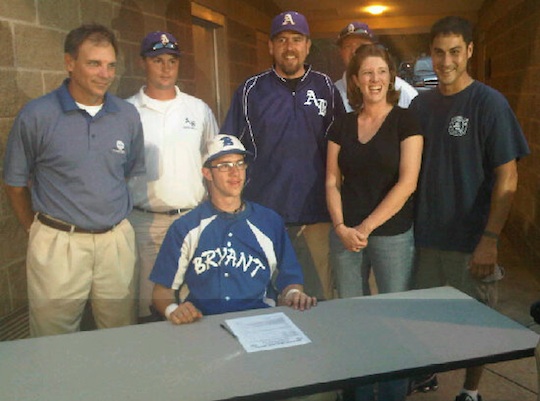 By Rob Patrick
Several Bryant Hornets had clutch hits during the team's nine-game winning streak that culminated in the program's first State championship. Even when the team was trying to snap out of a six-game conference losing skein, when they'd lost seven of eight overall, there were several players that came through in the game that turned the season back around and started that landmark home stretch.[more]
The turnaround game came on April 24 at Lamar Porter Field against the Catholic Rockets. That's where student coach Hunter Alford picked up the lucky rock; that's where the Hornets coaches stopped washing their uniforms.
Tyler Brown produced a huge hit, a bases-loaded two-run single that gave Bryant a lead — something rare at that point in the season. In the seventh with Bryant clinging to a 5-4 lead, Brady Butler delivered a two-out RBI single to pad the margin.
That came after the Hornets had rallied to tie it in the top of the sixth, an uprising that began with a single from senior catcher B.J. Ellis. As usual, Hayden Daniel came in as a courtesy runner for Ellis. Brown sacrificed him to second, Caleb Garrett got him to third with an infield hit and Hunter Mayall brought him home with the tying run on a sacrifice fly.
After igniting that inning, Ellis came back up in the seventh and produced what proved to be the emotional spark for all that came after. One pitch after Butler's RBI single, Ellis slugged the only home run of his high school varsity career, a three-run shot that provided the crowning blow for the 9-4 victory.
"That probably lifted us for the next nine games," acknowledged Hornets coach Kirk Bock.
Ellis came into that game batting just .207 after being in and out of the lineup with a sore shoulder. But from that point on, he was one of the hottest Hornets, raising his average all the way up to .313 at one point near the end of the regular-season. He finished at .308. In those last nine games, he drove in 10 runs including the only one against, you know how, Catholic in Bryant's 1-0 win in the Class 7A State semifinals that vaulted the Hornets into the State championship game against Van Buren in Fayetteville. Ellis then was behind the plate for Ben Wells' gem, a five-inning perfect game in the title tilt.
Well, you never know who's watching but, in this case, a representative from Arkansas Baptist College had his eye on the Hornets catcher. And, on Wednesday, May 26, he got his man as Ellis signed a letter of intent to continue his baseball career and education at the Little Rock school under scholarship.
"It came about when we played at Central (on March 16)," recalled Bock. "Their pitching coach was in to watch Wells and found B.J., who had a great game offensively and defensively that day. (The coach) let us know that he was actively recruiting him. Then he saw (Ellis) in the State tournament and they signed him.
"He's a very hard worker and he's certainly a guy that we're going to miss," Bock added. "He's a great pick-up for Arkansas Baptist because he's a great catch-and-throw guy."
Regarding the senior's contribution to the Hornets, Bock noted, "B.J. meant the world to us behind the dish. We were never worried about anyone running on us. He finished batting .308 but he was very productive for us at the plate. He got hit a lot, he walked and when we needed that big hit, it seemed like B.J. always came up and got it."