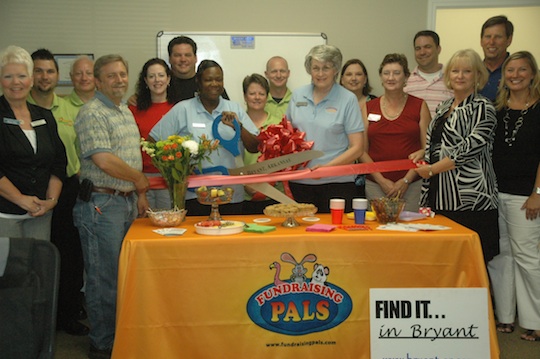 Members of the Bryant Chamber of Commerce hosted a ribbon-cutting ceremony for Fundraising Pals on Thursday, May 27. (Photo by Martin Couch)
By Martin Couch
Fundraising Pals is a God-send for Marilyn Wilcox and Carolyn Colclough — literally.
"Carolyn and I have been friends for a long time and she has worked in this field before we met," Wilcox, the company president, said. "We talked about what we wanted to do and as a result we researched it and felt like we were totally suited for it. It's happened pretty quickly, too. We're Christian people and God opened doors for us to make this happen. Boom, boom, boom…and things fell into place. It's a God thing and we love it."[more]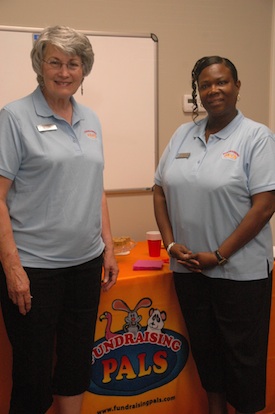 Primarily www.fundraisingpals.com will service schools, churches, athletic groups and many others who are in need of fundraising efforts. Ideally, Wilcox and Colclough do all the "leg-work" involved in the fundraising process after an interested party has chosen a fundraising activity from the company's website.
"We have a lot of typical products like candy, cookie dough, coupon books and everything you can think of when it comes to fundraising materials," Wilcox said. "We can do whatever and the fun thing about it is it's all online."
Already the company has several requests from all over Arkansas and out of state for help with fundraising events.
"It's simple, we do the printing and delivery of the materials, we work with them to tell people about our website and the person checks in, clicks on one of our online stores where there are a lot of different categories and makes an order," Wilcox explained. "We bill through PayPal and we gather the reports, then cut the check to the fundraiser."
The official start date for the website will be Monday.
"It's an excellent way for parents who have two or three children doing fundraising activities to order online and it's easy for out-of-state relatives to do the same, as well," Colclough said. "One of the complaints from schools is that the product wasn't always delivered and not all of the money was turned in and that causes the school to suffer. That's why we love the online fundraiser, because you pay with PayPal and everything is collected there. We tally it up when it's over and cut them a check, which is the best and safest way to do it."
Both Colclough and Wilcox are grandmothers, as well.
"I wanted to see my kids on the best playground equipment they can be on and with this type of fundraising, it can be possible," Colclough said. "Everybody doesn't have the funds they need and what better way to get it than a fundraiser, so we got together all the products from several companies who have organized fundraisers and we put things together. We see what their budget is and we present them with a way to get them a substantial amount of money."
Colclough and Wilcox believe this fundraising business will aid the community.
"We want to do fundraisers and present it to make life easier on folks," Colclough said. "Marilyn and I have been friends for six years and we know each other real well. We are close and we are Christian people. We love the Lord and we kept that relationship going. It was our destination."