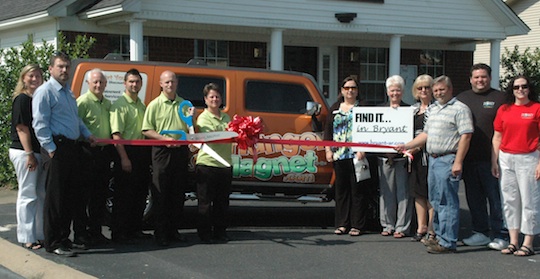 Members of the Bryant Chamber of Commerce attended a ribbon-cutting for HungerMagnet.com on Thursday, May 27. (Photo by Martin Couch)
By Martin Couch
HungerMagnet.com was initiated by Bryant's own Shaun McFarland. A 1984 graduate of Bryant High School, McFarland and his wife Tanya are working with Randy Walker and Bradley Lattin on an online "brainstorm" idea that will save consumers the time and trouble of clipping coupons.[more]
"It's a free membership where you can look for special offers, find the one you want and enter your cell phone number and zip-code to text yourself the coupon you select," McFarland, hungermagnet.com CEO, said. "I want to emphasize that the cell phone numbers are not kept. Once the coupon is text, the number goes off and that's very important for privacy."
The online business, www.hungermagnet.com, offers members several businesses within the zip code they enter. McFarland and his staff contact a particular business with the coupon of interest and uses text to send it directly to your cell phone.
"It came about through a culmination of several things we developed," McFarland said. "We found there was a need for this and it was an easy transition for us to do. We have memberships and consumer members on our site. We know where the consumer lives because of the zip code and send an e-mail communication. Take Chick-Fil-A, for instance. Say we've got 5,000 members in the two zips nearest them and ask them if they'd like for us to send e-mails to the consumer, but we do this conservatively — we don't want to bug them."
The main advantage to this service is no coupon clipping for consumers.
"We just think it's a huge advantage," Walker said. "In the world we live in, you think about saving money, but we don't take enough time to look at the newspapers or have the time to clip coupons and even when we do clip them, sometimes we have no idea where we put them. We eliminate that by giving them text messages, which is something just about everybody has. We give them the ability to do that and, in turn, it gives us the ability to give advertisers the opportunity to brand their business. Every time someone sees the logo or coupon, it's branding and it's to the consumer's advantage to never clip a coupon again."
It also gives the consumer a choice on which coupon to use. For the advertisers, the business advantages are many.
"From a business standpoint, we offer a product at a low price that no one else can beat," Lattin added. "Our site links to google maps so businesses can be easily found and to the businesses website to see what other services are offered. Everyone loves coupons and this is an easy way to get it to your cell phone."