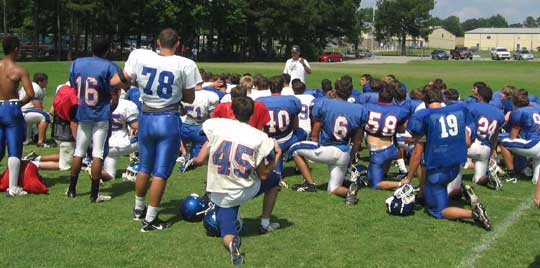 After a few years of paying attention to such things, an observer at Bryant Hornets football practices — spring or fall — will have noticed by now that head coach Paul Calley is in his best mood when he feels good about his offensive line.
Of course, Calley was a stellar center himself in high school and college and he's been coaching the Bryant offensive line all along.
So when spring football sessions for 2010 concluded on Friday, it was revealing that Calley was in good spirits despite the fact that the Bryant defense had had the better of it during the concluding scrimmage.[more]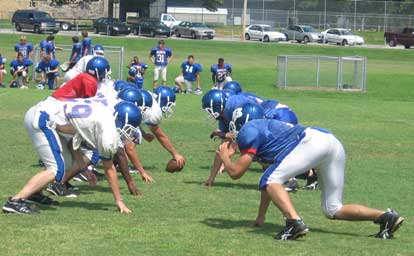 "We've got a bunch of seniors up there," he said, acknowledging that perception. "They stick together, they go eat together, they hang out together, they push each other and I think you have to have that type of camaraderie in the offensive line. I really had it two years ago when I had (Jordan) Jacobs and (Scott) Pilcher and those guys. Last year, we only had a couple of seniors but this year they're all seniors and I look for that group to provide the leadership. They're going to give us the ability to move the ball on offense."
Those seniors include Justin Rauch, Austin Johnson, Steven Lacamu, Jordan Murdock, Colby Maness and Landon Pickett.
If games are won in the trenches, the Hornets should be well equipped for success this fall.
"That's the most important part of the game," Calley asserted. "I think we have it on both sides. I think (on defense) Josh Hampton has improved tremendously. Matt Jones, Ben Seale — they're solid. James Kidd, Michael Smith — those guys have all gotten better each day. You could really tell today, they've come a long way since last week.
"We didn't show it today offensively," he added. "We probably had our worst offensive outing of the spring, just silly mistakes here and there, just not concentrating. The defense really got after us today and played really well. I think they're in a little bit better shape than they were when we came out last week. They were chasing the screens a lot better and working the cutback lanes in the zones real good.
"We didn't have a lot of room to run it today and it was the first day we haven't had that," Calley noted. "Wednesday, we had a lot of open windows in the passing game but those windows closed today. And we got a little more pressure on us.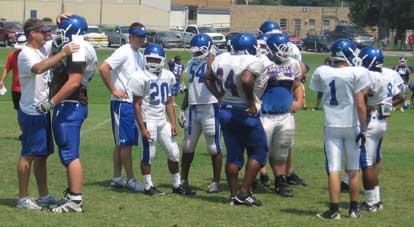 "So, the defense won today but offensively we're going to be fine. We've got a lot of stuff we're working on and, when you get to this point, we've got so much stuff in, the kids are thinking instead of reacting. We'll eliminate some of those mistakes through seven-on-seven this summer and team camp before we get back in August."
Defensive coordinator Steve Griffith concurred, saying, "When we go back to January to where we are today, we've made a tremendous amount of progress. A lot of young men are starting to grow up. Some of the guys we weren't too sure about, we feel better about right now.
"We saw some guys get quite a bit better this spring," he continued. "Josh Hampton was just a physical force at end and, especially, at tackle. Matt Jones is not real big but he's showing some leadership in our defensive line, how we're going to fight every block, every guy, until the end of the play. I think those things will help us out as we go along.
"We played a few games here in the spring where we took some guys who are normally offensive guys and we put them on defense," Griffith related. "We know, with doing that and watching them on film, we've got some depth in that we could use some of those if we had to. Our second and third teams still need a lot of work but we're excited about taking them to a team camp to work against Lakeside and Benton's varsities. We feel like that's going to help out a lot right there."
Asked if there were any revelations this spring, Calley said, "I really think that KaRon Dismuke is going to give us somebody who has the ability to make plays. As a quarterback or a running back, he has good vision. And Jalen Bell, our sophomore running back, has got great vision. He's not very big but, if our offensive line executes like I think they will, we're going to give him places to go."
The Hornets JV team will go to Lakeside for team camp June 7-8. The varsity will compete in a 7-on-7 tournament on June 10.
"We've got to solidify our secondary," Calley mentioned. "Coach (John) Wells has been rotating a lot of people. We're trying to find some starters at safety then add some depth. I think that's what we're lacking right now.
"Our cornerbacks are starting to catch on to our multiple coverage schemes," he added. "They're fixing up their looks good and they gave us a little trouble today.
"Our linebacking corps looked especially good today. (Collin) Chapdelaine is always going to be in the right place, Hunter Mayall had two picks today. He's always going to be around the ball, making plays."
The Hornets open the 2010 season on Sept. 3 with the annual Salt Bowl at War Memorial Stadium in Little Rock against the Benton Panthers. They host Fort Smith Northside on Sept. 10 then travel to Texarkana on Sept. 17. The 7A-Central Conference season will begin on Sept. 24 against Little Rock Catholic back at War Memorial.