Photos courtesy of Jason Majors
HOT SPRINGS —The Bryant Hornets freshman track team amassed 135.5 points to finish second[more] only to the Lake Hamilton Junior High Wolves Junior High team (including eighth graders) at the Junior Rams Relays at Lakeside High School on Tuesday. Lake Hamilton finished with 170 points.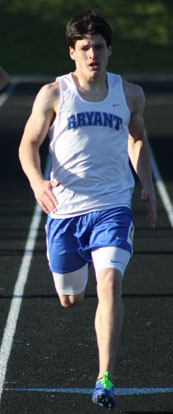 The Hornets were paced by Pierce Finney who won high-point honors at the meet with over 40 points. He won three individual events and contributed to a winning effort by the 4×100 relay team.
Bryant also picked up a first-place finish from the 4×800 relay team.
"Once again, I was very proud of the way these kids competed," stated Hornets coach John Orr. "I believe everybody who competed scored points for us in the meet. That is quite an accomplishment in itself.
"Pierce Finney had a tremendous meet," he acknowledged. "Danny Murillo had good marks in the shot put and discus. Drew Alpe stepped up for us and ran very well in the 4×400 meter relay. He had not competed at that distance before and he did great.
"We are competing hard and scoring points in almost all events," the coach concluded. "We just need to add some depth in some of the field events and we will be right where we need to be as a team."
The Hornets are scheduled to run again on Tuesday, April 2 at a meet at Hot Springs High School.
Finney won the 100 in 12.09 and the 400 in 54.62 with teammate Taylor Hecker third in the latter race with a time of 57.26. In the triple jump, Finney covered 37'4.5" to take top honors.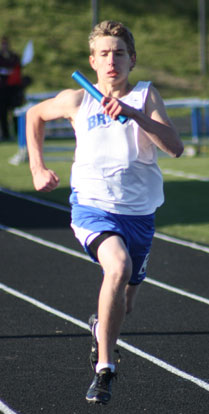 In the 4×100, he joined Alpe, Khaliq Slater and Hecker on a 47.53 clocking. In the 4×400 that Orr mentioned, Alpe and Finney teamed up with Clayton Harvey and Wyatt Heavin on a 3:57.75, which was good for second place.
The 4×800 team was first in 9:47.75 as Sam Martin, Chandler Reep, Joey Colvert and Josh Yenner combined to pace the field.
Murillo took second in the shot with a toss of 42'2". Ronnie Beard was sixth at 39'3". In the discus, Murillo was fifth (114'4") and Justin Karp was seventh (104'6").
The Hornets scored well in the 800 and 1600 as Charlie Terry and Ben Majors finished 2-3 in both behind only Lake Hamilton's Hunter Usdrowski. In the 800, Terry finished in 2:19.59 and Majors at his heels in 2:20.71. Yenner added a fifth-place finish in 2:26.99. In the 1600, Terry's time was 4:53.58 with Majors clocking in at 5:04.93 and Bryant's Ian Britt fifth in 5:16.81.
Finney added to his big day with a third place finish in the long jump, leaping 17'8". Kameron Guillory was seventh at 16'9.5".
Simeon Watson and Guillory also scored in the 200. Watson was fifth in 27.66 and Guillory sixth in 27.69. In the 300 hurdles, Drew Carnahan's 50.52 garnered fifth-place points.