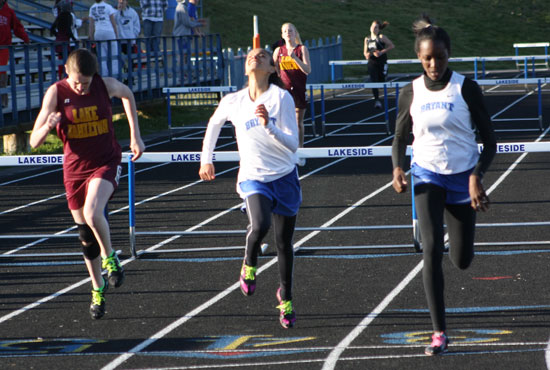 Photos courtesy of Jason Majors
HOT SPRINGS — Haley Hood, Hannah Shelby and Stephanie Smith each won individual events as[more] the Bryant Lady Hornets freshman team finished second at the Junior Ram Relays at Lakeside High School Tuesday.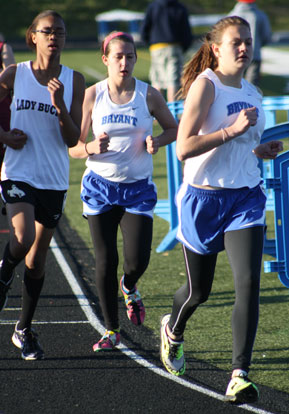 Lake Hamilton's Junior High team took top team honors with 163 points in the nine-team meet. Bryant (with only freshmen) accumulated 126.5 points.
Hood contributed 28.5 points, Ann Marie Keith 20.5, Smith 17.5 and Shelby 15 for the Lady Hornets who also picked up first-place points in the 4×400 relay with Hunter Delaney joining Smith, Hood and Keith on a 4:39.50 clocking.
In the open 400, Hood won in a time of 1:05.03 while Shelby picked up her win in the 1600 with a time of 6:07.30. Smith won the 300 hurdles in 51.48 with Keith second in 51.80.
"Our girls had a great night," stated Lady Hornets coach Beth Solomon, "especially for it being their first away meet and they were battling temperatures and nerves.
"We came home with a second place finish after some good performances," he added. "Hannah Shelby had a great night. She really helped lead the team."
Bryant's girls picked up second-place finishes in four events including both the 4×100 and 4×800 relays. In the former, Jordan Duvall joined Hood, Smith and Keith on a time of 54.31. In the latter, it was Sarah Cowell, Shelby, Delaney and Melissa Barrientos finishing in 11:57.03.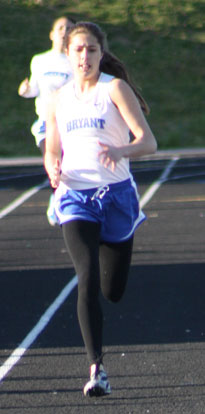 Hood was second in the high jump, clearing 4'6" while Kieth took second in the 100 hurdles in 17.29. Megan Curry followed in fifth with a time of 19.21.
In the 200, Hood was third (29.57) and Reagan Smith fifth (30.10). Sharayah Wallace added third-place points in the discus with a toss of 81'3". Jaela Hunter was seventh at 49'6'.
Wallace added a fourth in the shot put, covering 28'5". Hunter was sixth at 27'8". Delaney was fourth in the 800 (2:51.44) with Shelby sixth in 2:55.22.
Stephanie Smith took sixth in the 100 (13.81) while Reagan Smith finished seventh in the long jump (13'3") and eighth in the triple jump (26'5.5"). Megan Curry's triple jump of 26'8.75" was good for seventh.
The Lady Hornets return to Hot Springs for their next meet. On April 2, they'll compete at the Junior Trojans meet at Hot Springs High.