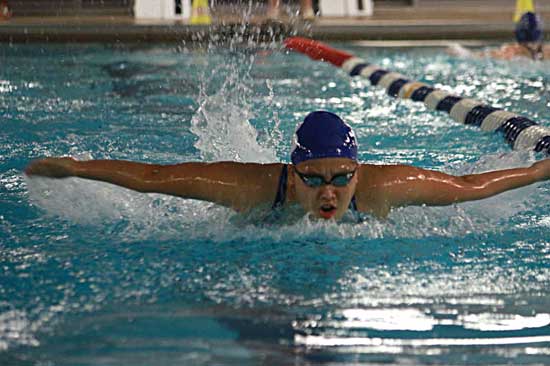 Photos courtesy of DeeDee Gillespie
Lightning brought a premature end to the first high school swim meet to be held at the[more] Bishop Park aquatic center on Tuesday night. The meet was partly through its sixth event, the boys 200 yard individual medley, when it was stopped.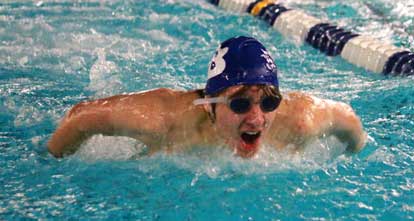 After three events, the Lady Hornets led the eight-team field with 111.5 points. Mount St. Mary was second with 85 followed by Magnolia (78), El Dorado (78), Arkansas Baptist (65.5), Hot Springs Lakeside (48), Arkadelphia (24) and Carlisle (13).
Through two and a half events, Catholic led the boys with 174 points. Bryant was second at 96 followed by Magnolia (56), Arkadelphia (32) and Arkansas Baptist (28).
For the Lady Hornets, junior Jinson Kang was back to her winning ways. She tied for first in the girls 200 IM with a time of 2:20.02, matched by Arkansas Baptist's Andi Burroughs.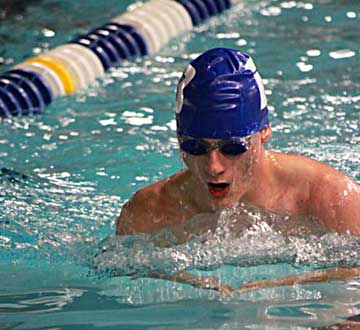 Kang also contributed a leg to Bryant's 200 medley relay. Along with Lindsey Butler, Amanda Butler and Emily Dabbs, Kang helped produce a winning time of 2:07.46. Edging El Dorado's quartet of Kasey Smith, Sarah Sixbey, Laura Rogers and Courtney McDiarmid who combined for a time ot 2:09.92.
McDiarmid won the other completed event, the 200 freestyle with a time of 2:13.66. Bryant pulled points from four swimmers in that event, led by Devin Hester who was sixth in 2:45.29. Tiffany Robinson's 2:47.07 grabbed seventh and Mikayla Douglas' 2:53.94 was good for eighth. In addition, Taylor Rhea picked up points for a 14th-place finish in 3:26.66.
Along with Kang, Mollie Robinson and Shelby Burchfield scored for Bryant in the 200 IM. Robinson was 10th in 3:22.47 with Burchfield 11th in 3:24.56.
For the Bryant boys, the relay team of Casey Ball, Nick Hoffpauir, Dylan Rogers and Jake Tipton turned in a 2:06.11 clocking to take fourth in the 200 medley. Catholic's foursome of Chase Peterson, Bobby Richardson, Blake McCauley and Jayce Gustafson won the event in a time of 1:50.06.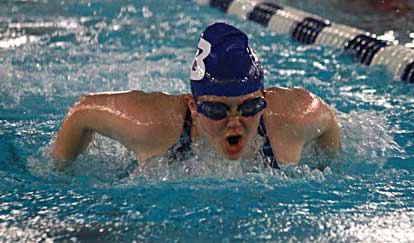 In the only other completed event, Catholic's Jacob Toland won the 200 free in 1:58.48. Bryant picked up fourth-place points from Ross Grant who turned in a 2:23.39. The Hornets' Austin Sanchez was ninth in 2:54.45 and Ryan West was 10th in 3:00.91.
McCauley was leading in the 200 IM when the meet ended. He had completed a 2:10.95 turn. Rogers was fourth in 2:28.23 and Ball was sixth in 2:40.12.
The Bryant teams are scheduled to compete again this Saturday at Ouachita Baptist University in Arkadelphia.