By Rob Patrick
Photos by Kevin Nagle
Trailing 12-5, the Hot Springs Junior Trojans started the second quarter of Tuesday's Bryant Invitational[more] tournament semifinal running a box-and-one defense to try to slow down the hosting Hornets' K.J. Hill. Of the 12 points the Hornets had scored, Hill had accounted for 7.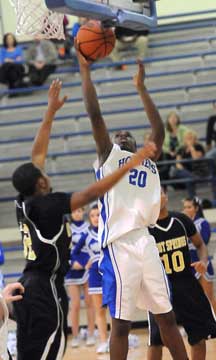 So Bryant head coach Jim Pennington countered by spreading the floor and making the Trojans come out of that defense and pick up everyone man-to-man. And since he had them chasing, he continued the tactic.
The Hornets led 12-8 at the half with the only points of the second quarter coming on a 3 by Xavier Anderson with :20 left.
And the Trojans actually tied the game at 12 early in the third quarter. Pennington continued to call for patience on offense and anyone that forced a shot came to the bench. And, sure enough, the Hornets gradually started pulling away again as the rushed and ever-more weary Trojans began went cold.
Over the final 5:30 of the third quarter and all of the fourth, Hot Springs converted just three of 24 shots including 1 for 16 in the final period as Bryant forged a 30-20 win that sent them to the tournament championship game against the Conway White Wampus Kittens. The title bout will be held this Thursday at 7:10 p.m., at the Bryant Middle School gym.
"The point of emphasis tonight was to take care of the ball, take good shots, be patient on offense," Pennington said. "(Hot Springs) is a very talented team and I think we took them out of their game a little bit, made them play defense a lot. I think they got tired. They didn't shoot near as well.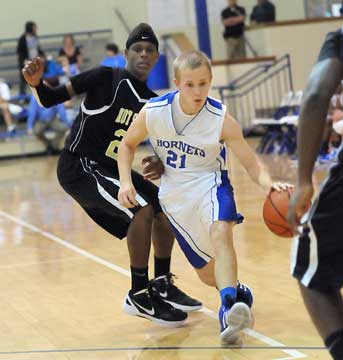 "Winning this game is big as far as getting the kids to believe in what we're doing," he noted. "We've still got to get better. We've got a long way to go but I was very proud of them buying into what we talked about today in practice and being willing to do it, for the most part. There was a time or two we took a shot we shouldn't have taken but I'm very proud of their effort. They beat a good basketball team and it's good to be in the finals of our tournament."
Pennington's strategy was keyed by his team's ability to handle the ball well against the Trojans' pressure defense. Hill and John Winn were particularly vital in that regard.
After Hot Springs had tied the game, Pennington took a timeout and the Hornets responded. Hill was fouled and converted a pair of free throws then J.C. Newborn scored three unanswered baskets by taking advantage of seams in the defense, driving to the hole.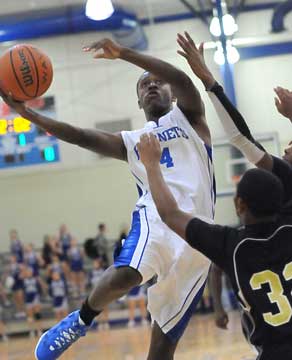 The Hornets led the rest of the way. Hot Springs cut the margin to 20-17 but Newborn fed Ryan Hall for a layup with :17 left in the third period to make it a 5-point game going into the fourth quarter.
Newborn scored again to start the final period then Hot Springs' Quincy Smith answered with 4:57 left in the game. But that was the Trojans' last field goal. They would manage only one free throw the rest of the contest.
Free throws by Marcus Withers and Hill down the stretch extended the margin to the final score.
The Hornets dashed out to a 9-0 lead in the game. Hill scored inside then Brandan Warner drained a 3. A bank shot by Withers off a nice feed from Winn made it 7-0 and forced a Hot Springs timeout.
But, when play resumed, Hill hit a driving layup to cap the run. Smith got the Trojans on the board with 1:45 left in the first quarter. Anderson added a free throw to make it 9-3 but Hill popped a 3 and it was 12-3. Kenny Kerley's late basket cut into the margin going into the second quarter.
JUNIOR HORNETS 30, JUNIOR TROJANS 20
Score by quarters
Hot Springs 5 3 9 3 — 20
BRYANT 12 0 10 8 — 30
JUNIOR TROJANS 20
Kerley 1-7 1-2 3, Haywood 0-3 0-0 0, Lenox 0-7 0-2 0, Anderson 1-6 1-2 4, Smith 3-7 0-0 6, Gaffigan 3-8 1-2 7, Corder 0-1 0-0 0. Totals 8-39 3-8 20.
JUNIOR HORNETS 30
Hill 3-3 6-7 13, Winn 0-2 0-0 0, Warner 1-3 0-0 3, Withers 1-4 2-2 4, Newborn 4-6 0-1 8, Hall 1-3 0-2 2, Nelson 0-0 0-0 0. Totals 10-21 8-12 30.
Three-point field goal: Bryant 2-6 (Warner 1-3, Hill 1-1, Withers 0-1, Winn 0-1), Hot Springs 1-10 (Anderson 1-4, Lenox 0-2, Haywood 0-1, Kerley 0-1, Corder 0-1). Rebounds: Bryant 27 (Hall 7, Hill, Winn 5), Hot Springs 20 (Lenox, Smith 6). Turnovers: Bryant 13, Hot Springs 4. Total fouls: Bryant 7, Hot Springs 12.