Photos courtesy of Julie Shelby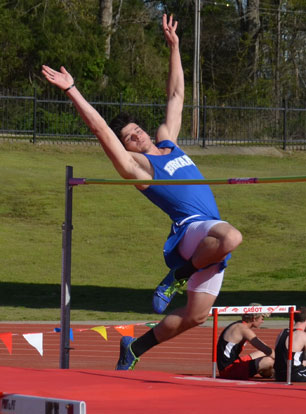 CABOT — In what developed into a three-man race in which each finished under 2:05, Bryant's Charlie Terry broke the tape to win the 800-meter run at the Wal-Mart Invitational track meet on Tuesday to provide one of the highlights for the Hornets.
Terry finished in 2:04.21 just ahead of Cabot's Gardner Howze at 2:04.80 and Conway's Jonah Willis at 2:04.99.
But it was Cabot that wound up winning the team title with 103 points. Conway was second with 96.5. Bryant was fifth in the 19-team field with 54 points.
"We had some nice performances for the first meet after spring break," said Hornets coach Steve Oury. "I always expect there to be a little spring break rust to shake off, and we had plenty of that, but we also had some breakthrough performances."
Along with Terry's first-place finish, the Hornets picked up first-place points in the 4×400 relay with Landon Abernathy, Matthew Bagby, Pierce Finney and Diante Woodson combining on a 3:30.21 to edge Cabot (3:30.88).
The Hornets also got points in both throwing events. In the shot, Dany Murillo's toss of 47'9.5" was second only to Luke McGowan of Heber Springs (50'10"). Bryant's Madre Dixon was fourth with a throw of 46'2.25". In the discus, Dixon took sixth at 125'5" and Murillo seventh at 122'11".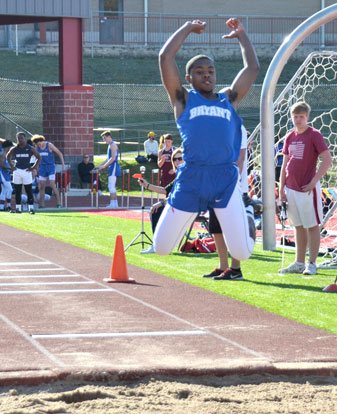 "Dany Murillo and Madre Dixon stepped up big time in the shot put," Oury acknowledged. "They each threw several feet farther than they did at the Hornet Relays.
"Charlie Terry showed a lot of grit and toughness in winning the 800 meter run," he noted. "It was also great to see our 4×400 meter relay team of Matthew Bagby, Diante Woodson, Landon Abernathy, and Pierce Finney step up and win a very competitive race. It's always nice to finish the meet off with a victory in the last event."
Abernathy added points in both hurdles races. His 16.03 in the 110 hurdles was good for sixth while his 42.91 in the 300 garnered seventh.
Bagby was sixth in the 400 with a time of 52.55 while teammate Malik Dockery was finishing seventh in 53.11. He also provided a leg to the 4×100 relay team, which finished eighth in 44.48. Pierce Finney, Andre White and Diante Woodson completed the quartet.
The Hornets picked up sixth-place points in the 1600 with John Carder's 4:49.90.
In the 4×800, Christian McIntosh, Justice Pryor, Enrique Ramos and Eric Gonzalez ran a 9:02.08 to place seventh.
The Hornets are scheduled to run at Russellville on Friday.