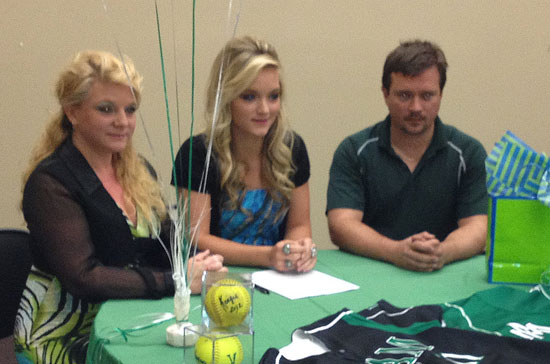 By Rob Patrick
As a freshman, McKenzie Rice was a courtesy runner and late-game replacement in the field for[more] the 2009 Class 7A State champion Bryant Lady Hornets. As a sophomore, she was the starting third baseman who rarely batted for the 2010 Class 7A State champion Bryant Lady Hornets.
Rice got a few chances to bat that year but struggled mightily — not something she was used to based on her career in the summer. It took its toll on her. There was frustration that, at times, was such that it brought tears.
But it also served to steel her determination. She didn't quit. She went to work.
As a result, she not only started all season as a junior, both at the plate and at third for the 2011 Class 7A State champion Bryant Lady Hornets, she excelled to the point that, on Wednesday, Nov. 14, months before her senior season even got under way, McKenzie, daughter of Willie and Connie Rice, signed a letter of intent to continue her softball career and her education at the University of Arkansas at Monticello.
"I will use her as an example years down the road," declared Lady Hornets coach Debbie Clark. "I don't care what the competition level is, if you want it bad enough, you can get it. And she got it.
"McKenzie's motto, I think, could be, 'Never, never, never give up,'" she added.
"We always meet at the end of the season with everybody one on one," the coach said, regarding her players. "We talk about, 'What do you think went well? What would you like to see different?'"
And there was just such a meeting between Rice and Clark after that sophomore season.
"She said, 'Coach, I'm going to be in the lineup,'" Clark recalled. "I said, 'What do you have to do? Because, with a team that hits 43 home runs in a season, you've got a lot of competition.' She went to work and she came back and she found her way."
Rice explained, "I had to get out of my own head because I was really nervous, with all those great hitters. I went to batting lessons and I just had to calm myself down when I got in the box and get out of my slump."
As a junior, Rice responded with a .434 batting average, a .505 on-base percentage and a .695 slugging percentage. Of her 36 hits, 12 were doubles, two were triples and two were home runs. She drove in 18 and scored 36 times as the Lady Hornets put together an unheard-of 34-0 record, outscoring the opposition 344-24.
"We called her the second lead off," Clark said of Rice who batted ninth in the order. "People would say, 'Where's your weakness?' and I'd say, 'I don't know. You tell me. One through nine's hit a home run.' That's the thing, we were threats everywhere, including her."
And the coach lauded her defense, saying, "She's fearless there. Sometimes we'd have to say, 'Back up,' because sometimes she wouldn't trust her feet. She wanted to make sure she got there and made the play. That's how important it was to her. She was great defensively with a strong arm."
Rice was drawn to UAM by the presence of former teammate Cassidy Wilson, who graduated last spring. Over the last two seasons, Rice and Wilson, a shortstop, played next to each other on the left side of the Lady Hornets' infield.
"I was looking at UCA but their softball program didn't need anybody from my graduating class," Rice said. "I was looking at Harding for a little while.
"Cassidy went with (UAM) and I just wanted to see if I could go to college with one of my (former teammates)," she added. "She was one of my favorites. She talked to Coach (Alvy) Early and let him know about me."
Rice was also a star outside hitter for the Lady Hornets' 7A/6A-South Conference champion volleyball team this spring. A starter since her sophomore season, she wasn't sure at first which sport she wanted to pursue in college.
"But then when I was a senior (in volleyball) I hurt my shoulder," she recalled. "It kind of started messing up. I didn't want to injure my shoulder any more and I didn't want to sit out long enough for it to heal completely."
The injury should affect her play on the diamond, she said.
Rice and classmate Carly Yazza, who signed with Ouachita Baptist University, are the lone seniors on this spring's edition of the Lady Hornets, a young group that fully expects to be holding the State championship trophy at Bogle Park for the fourth straight time next May.
Rice talked about their role as leaders: "We want to stay as humble as possible and try to be close friends with the other girls. As a senior on the volleyball team I was closer to some of the sophomores than I am a lot of people in the school. We just want to be close to them like they're not below us or anything. Of course, we're going to be line leaders and all that. We get to boss them around sometimes but it's going to be fun."
For Clark, the duo holds a special place.
"They're my first group," she noted. "When I was brought here to be the coach, they were my freshmen. To watch them and to grow with them has been incredible."