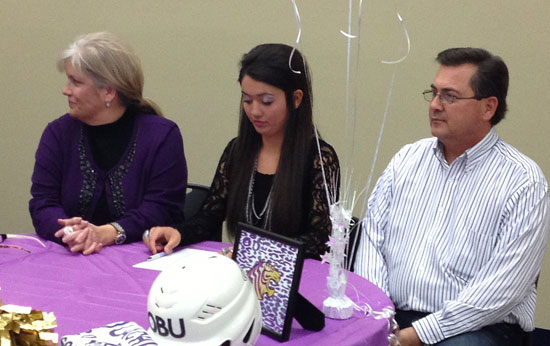 By Rob Patrick
To see Carly Yazza run down line drives, making lunging catches or hustling after a hit to[more] hold a runner a base short of where they expected to wind up, got to be a common thing for the Bryant Lady Hornets softball team over the last two years.
At the plate, she always seemed to be moving the line forward during those high-scoring innings, a regular event for the high-scoring Lady Hornets. A bunt, a slap to the opposite field, a base hit — whatever was needed.
But Yazza has been playing pretty much in the shadows of the spectacular group of 2012 graduates who spear-headed three straight Class 7A State championships with 85 wins in 93 games including a phenomenal 34-0 run last year.
Though she may not have been the focus of a lot of attention from casual observers, as quiet and unassuming as she is, Yazza has not gone unnoticed by some important people — coaches.
Bryant coach Debbie Clark will tell you and, in fact, she told her friend Tim McGhee, the head coach at Ouachita Baptist University. It didn't take McGhee long to see for himself.
And, on the first day of the early signing period, Wednesday, Nov. 14, Carly, the daughter of Craig and Aunna Yazza, officially signed an offer from the OBU coach to continue her softball career and her education at the school in Arkadelphia.
"There were a few (other schools considered) but I always had OBU picked to be my number one so I just went for that," Yazza said. "I prayed about it a lot. I kind of kept my options open but after talking to Coach McGhee and going to OBU camps, I just felt like that's where God was leading me. I just felt like that was the place for me to be. I love the campus and the school. I love the coach and the team at OBU."
Clark recalled her outfielder's development, saying, "Freshman year, she got hurt in the middle of the season, a knee injury but she came in her sophomore year and made an impact.
"She's one of those really quiet leaders," the coach continued. "But, if she says something to you, that's going to be how she's going to act too. You don't have to worry about her speaking out of both sides of her mouth. That's how she's been raised. That's her beliefs and her morals. When she says something on the team, you better listen."
"My freshman and sophomore year were pretty tough just being in the shadows of the fab five," Yazza added, referring to the core of players that led the team to those three State titles. "It's taken a lot of work and a lot of effort and time put into it. But I just kept working hard, kept pushing through."
"She's a great listener too," Clark mentioned. "Kayla Sory (now at Henderson State) took her under her wing, talked with her about things and helped Carly. She listened and worked hard and became a better outfielder.
"At bat, she's consistent," the coach noted. "We've asked her a lot of times to put a bunt down because we knew she could do it."
Last spring, Yazza had a .343 on-base percentage and a .420 slugging percentage. She hit a home run along the way, drove in 13 runs and scored 21. She walked eight times and struck out just five times all season.
This year, the onus will fall on her and classmate McKenzie Rice, who signed Wednesday with the University of Arkansas at Monticello, to be the leaders, to step out of the shadows, so to speak, and into limelight.
"It's going to be hard after all the seniors that have left us but I think me and Kenzie can do it," she said. "I think we're going to have to lead the younger ones but I think we can make it to where we were last year."
That would be, of course, hoisting a fourth straight State championship trophy at the University of Arkansas' Bogle Park this May.
And as exciting as that will be, Yazza and Rice have already endeared themselves to Clark.
"I'm going to miss both of these girls because they both have contributed in their own way in very big ways," she stated. "And they're going to be my first class to graduate, to be with me all the way through."