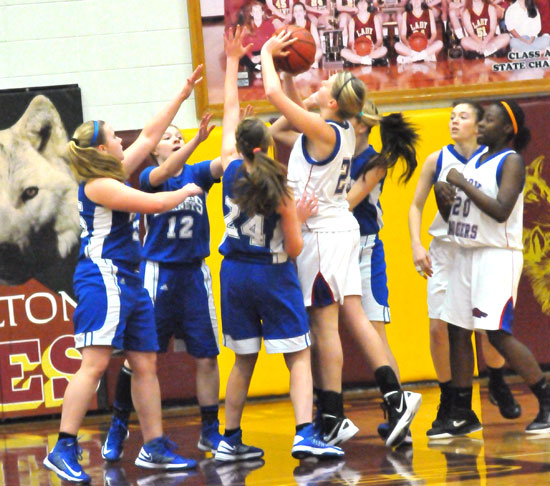 Photos by Kevin Nagle
PEARCY — The Bryant Lady Hornets freshman team advanced to the finals of the annual[more] Kameron Hale Invitational Tournament with a 31-18 win over the Arkadelphia Junior Lady Badgers on Saturday.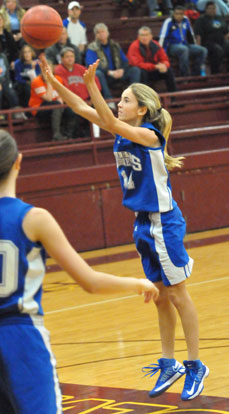 The team will play for the tourney title at noon on Monday, Dec. 31, at Lake Hamilton High School.
The Lady Hornets held Arkadelphia to just 2 points in the first quarter and only 4 in the fourth as they grabbed the early lead then pulled away at the end. Britney Sahlmann led the scoring with 14 points. Skylar Davis added 13 with Kailey Nagle and Anna Turpin finishing with 2 each.
After leading 6-2 going into the second quarter, the Lady Hornets held a 14-11 edge at the half. It was 31-25 by the end of the third quarter as both teams got some offense going but the Lady Hornets finished with a 14-4 flourish.
"This game played out a lot like our first game in the tournament," said Lady Hornets coach Nathan Castaldi referring to Friday's 32-8 win over White Hall. "We played well defensively all game, but came out a little flat offensively the first half, then played much better in the second.
"While we were up 6-2 after the first quarter, we missed a bunch of easy shots and I think that got us a little down and that carried over to the second quarter," he explained. "In the third quarter, we moved the ball much better against their zone and some of the shots we missed at the start of the game we were able to make. Then in the fourth quarter, they had to play us man and we were able to stretch the lead.
"We played great team defense tonight," the coach emphasized. "Britney was assigned their best player and she did great but she always had four teammates ready to help on her girl whenever needed."