Photos by Kevin Nagle
PEARCY — Nine different players contributed to the scoring and everybody that played[more] contributed to the defense as the Bryant Hornets freshman team prevailed over the Malvern Leopard Cubs, 39-20, in an opening round contest at the Kameron Hale Invitational Tournament at Lake Hamilton High School Friday.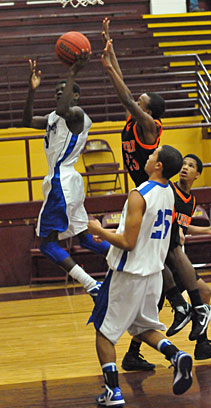 The tournament, which was supposed to start on Thursday, was moved back a day by the inclement weather.
Bryant was set to play Hot Springs in a semifinal game this afternoon at 4:15.
The Hornets took control of the game by outscoring the Cubs 16-6 in the second quarter to push a 7-4 edge after the first quarter to a 23-10 advantage at the half. Bryant led 32-14 going into the fourth quarter.
Kris Croom led the Hornets with 9 points. Kvonte Thornton, Kevin Hunt, Dagan Carden and Jordan Walker each added 5 points. Clay Ingold pitched in with 4 with Simeon Watson, Jaelynn Jones and Cameron Murray scoring 2 apiece.
Hunt was named the Hornets MVP of the game.
Malvern's 20 points was a season low for the Bryant defense.