Photos by Kevin Nagle
PEARCY — The Bryant Hornets freshmen team knew all about the Hot Springs Junior Trojans[more] before hitting the floor against them in the semifinals of the Kameron Hale Invitational Tournament on Saturday at Lake Hamilton High School. That's because the Junior Trojans had won the Bryant Invitational Tournament in convincing fashion early in the season.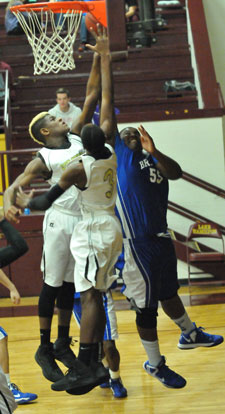 Hardly intimidated, though, the Hornets played Hot Springs close Saturday for a half but the Junior Trojans put together a 14-3 third quarter to take command of the game then held off a Bryant run late for a 47-37 win.
Hot Springs advanced to the tourney finals. Bryant returns to action on Jan. 7 at Malvern.
Hot Springs established an 11-7 lead in the first quarter and held just a 23-19 edge at the half before pushing the advantage to 37-22 by the end of the third quarter.
Kris Croom, who was named to the all-tournament team, led the Hornets with 16 points. Cameron Murray added 7 with Simeon Watson pitching in 4 and Alex Oneal 3. Kevin Hunt, Jordan Gentry and Dagan Carden had 2 each and Jordan Walker hit a free throw.