For more photos from this event by Kevin Nagle, go here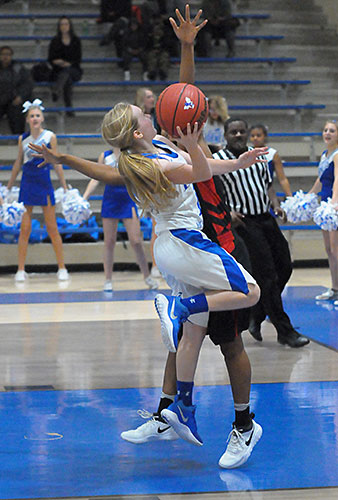 The Bryant Lady Hornets freshman team opened the 2017-18 season with a heartbreaker at the Bryant Middle School gym on Thursday night. The Searcy Lady Lion Cubs scored with 10 seconds left to take a 20-19 lead.
The Lady Hornets had a chance to answer and win it even after that, said head coach Nathan Castaldi.
"After getting the ball up the floor, we ended up with the ball out of bounds under our basket with 1 second left," he recounted. "The girls did a great job executing our in-bounds play, but the shot just rimmed out."
So the 20-19 score held up for the victory.
"Searcy's length really gave us problems," Castaldi related. "They had a girl about 6'1″ inside and she ended up with 13 of their 20 points. We are little undersized this year and I have to do a better job of making sure that our post players have help. Other than that, I thought defensively we played pretty well. Only giving up 20 points put us in position to win the ball game. I just have to do a better job of making sure we execute on the offensive end."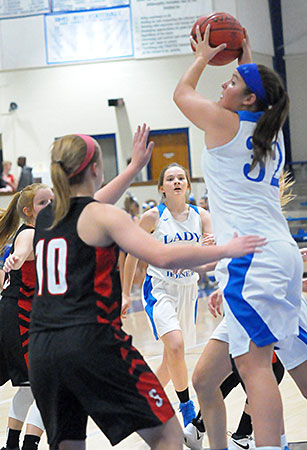 Bryant was led in scoring by Addison Funk with 6 points. Jaiyah Jackson added 5 with Kristyn Weng and Kaitlyn Weng each scoring 3 and Abbey Inman 2.
The Lady Hornets led 3-2 at the end of the first quarter and held an 11-7 edge at the half. Searcy surged to a 15-11 lead going into the fourth quarter. Bryant came back and took a 19-18 lead with under a minute to play.
"First half, especially the first quarter, we rushed some shots but, in the second quarter, we worked the ball against their zone and got the shots that we wanted," Castaldi said. "In the third quarter, when we really struggled, we almost went opposite of the first quarter and got too passive. Instead of attacking their zone like we did the second quarter, we just passed it around. In the fourth, we were a little more aggressive which gave us the lead."
The Lady Hornets will play next on Monday as they host the annual Bryant Invitational Tournament. They'll open against Magnolia at 4:30 p.m.
Other first-round games are North Little Rock versus Hot Springs at 5:35 at the high school gym, Conway White against Hot Springs Lakeside at 6:40 and Benton will take on Malvern at 7:45.
Boys first-round games will be played at the BMS gym. Second round games will be Tuesday with the tourney concluding on Thursday.