For more photos of this event by Kevin Nagle, go here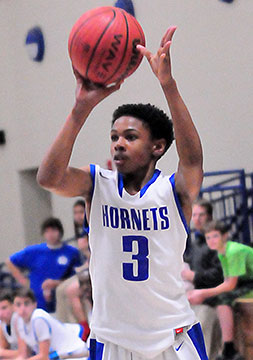 Isaiah Kearny and Khasen Robinson combined for 26 points as the Bryant White Hornets eighth grade team of Bryant Middle School opened the 2017-18 season with a 41-29 win over the Searcy Lion Cubs eighth grade at the BMS gym on Thursday night.
Landyn Newborn added 7 points for the Hornets, who play next on Tuesday, Nov. 14, at a tournament in North Little Rock against the winner of the North Little Rock Blue-Benton game, which will be played on Monday. The tourney runs through Thursday.
"We defeated a good Searcy team," said Bryant White head coach John Harrison. "Overall, I thought we did a good job of controlling the tempo in the first half. We were able to get what we wanted on offense but (Searcy) switched to a zone and it slowed us down.
"Khasen Robinson and Isaiah Kearny each played well on offense," he acknowledged. "Both scored the ball well and were aggressive. Gavin Burton, Turner Seelinger and Cameron Boothe rebounded the ball well and gave us quality minutes off the bench."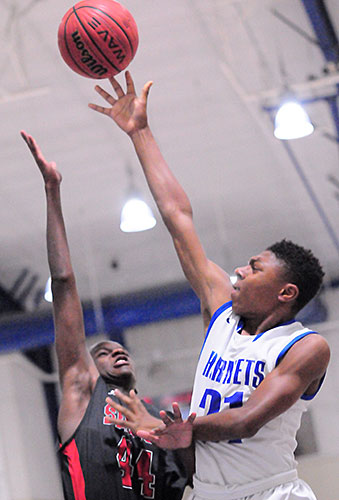 NORTH LITTLE ROCK EIGHTH GRADE TOURNAMENT
Boys
Monday, Nov. 13
Game 2 — Benton vs. North Little Rock Blue, 5:30 p.m. (Arena)
Game 4 — North Little Rock Gold vs. North Little Rock 7, 7:30 p.m. (Arena)
Tuesday, Nov. 14
Game 6 — Bryant vs. game 2 winner, 4:30 p.m. (Arena)
Game 8 — E-Stem vs. game 4 winner, 6:30 p.m. (Arena)
Game 10 — Game 2 loser vs. game 4 loser, 6:30 p.m. (Auxiliary gym)
Thursday, Nov. 16
Game 9 — Game 6 winner vs. game 8 winner, 6 p.m. (championship) (Arena)
Game 11 — Game 6 loser vs. game 8 loser, 6 p.m. (Consolation) (Auxiliary gym)