Freshman Hornets dominate second half on the way to first victory
EDITOR'S NOTE: Because the look back at each day in Bryant athletic history has been so favorably received during the time when there was no sports during the COVID-19 shutdown, BryantDaily.com will continueposting past stories of Bryant athletics either posted on BryantDaily.com (from 2009 to the present) or published in the Bryant Times (from 1998 to 2008).
Photos by Rick Nation and Kevin Nagle
Clinging to an 8-6 lead at halftime, the Bryant Hornets freshman team took over the second half[more] of their game against Lake Hamilton Wolves Thursday night. The defense limited the visitors to a net of just 5 yards of offense while the offense controlled the ball and put up 12 more points on the way to a 20-6 win.
The Hornets piled up 331 yards of total offense including 242 on the ground, led by Savonte Turner's 180 yards on 22 carries, running behind the offensive line of tackles Cameron Murray and Demaja Price, guards Jacob Hall and Peyton Robertson and center Zach Jackson.
The win was the first of the season for Bryant after swimming to a 0-0 tie in last Thursday's torrential rain.
Turner rushed for a touchdown and quarterback Jarrett Jacobs ran for one and threw for another for the Hornets against Lake Hamilton.
The margin of the game might've been larger but Bryant was stopped at the goal line in the first half then ended the game there as well.
The Hornets defense made a stand on the opening possession of the game. Lake Hamilton drove to the Bryant 5, keyed by a 26-yard keeper by quarterback Dallas Baldwin. But the Hornets stuffed a first down run there. A second-down pass into the end zone was broken up by cornerback Kris Croom then, on third down, Baldwin, trying to avoid the rush of Jaelyn Jones, touched his knee to the ground to make it fourth-and-goal from the 12.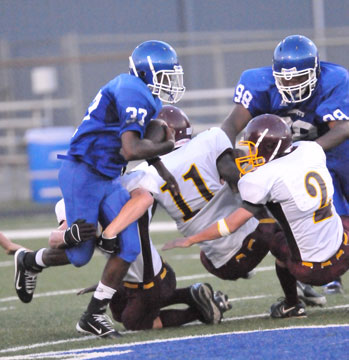 Baldwin's third-down throw was broken up by Khaliq Slater and the Hornets took over.
Turner slashed the Wolves defense on five straight carries that got out to the Bryant 46. On the next play, Jacobs' throw, though tipped, was hauled in by Turner in the left flat. Racing up the sideline, Turner took it to the house only to have an illegal block in the back at 2, negate the points.
From the 12, Jacobs fired to Quinton Royal in the left flat and Royal laced his way into the end zone for the touchdown as the horn sounded ending the first quarter.
Gunnar Burks passed to Jordan Gentry for the two-point conversion.
After the Wolves went three-and-out, the Hornets began a new march from their own 36. On the second play, Turner busted a 53-yard jaunt to the 9. But Lake Hamilton made a stand. A third-down pass from Jacobs to Royal got it to the 1 but then Turner was stopped just short on fourth down.
"Everybody just kind of stopped their feet," explained Hornets head coach Kenny Horn, who acknowledged that offensive line coach Kirk Bock had a little meeting with the offensive line after the play. "I think Coach Bock's point was to make sure they kept their feet moving. And they came out in the second half and they dominated and we took advantage with our backs. We did a good job up front and running the football."
But, before the half was over, Lake Hamilton put together a 99-yard drive in four plays. Most of the damage was done on two of them. Fullback Eli Jackson busted through from the 5 and rumbled 63 yards.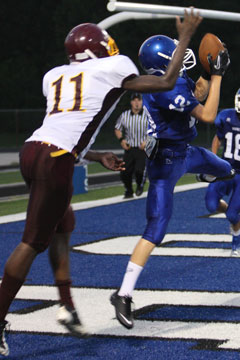 After a fumbled snap and a loss then a penalty, the Wolves faced a second-and-19 from the Bryant 41. With Nash Teague in at quarterback, Baldwin, split out to the left, found his way behind the Bryant defense on a 41-yard touchdown pass.
"Our corner just stopped moving his feet," Horn said. "But that's correctible."
Trying to tie it, however, the Wolves were turned back when Teague's pass was intercepted by Bryant's Evan Lee.
The Wolves finished with 173 yards of total offense but more than half came on those two plays in the scoring drive.
Jones made a nice return on the ensuing kickoff, getting back to the Lake Hamilton 47. With a penalty tacked on, Bryant was just 34 yards from another score with just over a minute left in the half. But a first-down pass deep down the left sideline was picked off by Lake Hamilton's Jarrod Woodall to keep it 8-6 at the intermission.
Bryant got the ball to start the second half and proceeded to add to the lead. Turner broke an 18-yard run then Drew Alpe wove his way through the Wolves defense on a 50-yard jaunt, stopped just short of the goal line. Moments later, Jacobs scored on the sneak to make it 14-6. An extra point attempt was blocked.
"Savonte's a pretty good runner," acknowledged Horn. "We think he's only going to get better. We're lucky to have two guys that can step in there and go. If one of them needs a breather, the other guy comes in. Both of them have the potential to break it. Drew's a little bit more of a pounder. It's a good one-two punch, just like with our quarterbacks. We can kind of interchange those guys, mix and match a little bit based on the circumstances."
Burks, who subs in for Jacobs, completed a 20-yard pass to Liam Miller on the time-sapping final drive. The Hornets ate up the final 6:42 of the game.
Lake Hamilton went backwards on its first offensive series of the third quarter. A pair of penalties made it first-and-26 then Teague was sacked by Murray and Kameron Guillory.
Two plays later, the Wolves were punting and Bryant got the ball back at the Lake Hamilton 48.
With runs of 11, 10 and 19 yards by Turner — the last one reaching the end zone — Bryant put the finishing touches on the scoring.
Lake Hamilton was unable to pick up a first down and when a fourth-and-1 play was stopped, Bryant took over on downs and marched from the 44 to the 1 to close out the win.
"All the things that caused big plays we know we can correct," Horn stated. "We're going to polish that up for next week. It's a big week for us."
The Hornets will play their first road game at Cabot South next Thursday.
JUNIOR HORNETS 20, JUNIOR WOLVES 6
Score by quarters
Lake Hamilton 0 6 0 0 — 6
BRYANT 8 0 12 0 — 20
Scoring summary

First quarter
BRYANT — Royal 12 pass from Jacobs (Gentry pass from Burks), 0:00
Second quarter
LAKE HAMILTON — Baldwin 41 pass from Teague (pass failed), 1:27
Third quarter
BRYANT — Jacobs 1 run (kick failed), 5:39
BRYANT — Turner 19 run (run failed), 0:08
Team stats
LH Bryant
First downs 5 13
Rushes-yds 19-112 34-242
Passing 4-9-0 4-5-1
Passing yds 61 89
Punts-avg. 2-31.5 0-00.0
Fumbles-lost 1-0 3-0
Penalties-yds 8-51 3-25
INDIVIDUAL STATS
Rushing: BRYANT, Turner 22-180, Dr.Alpe 4-56, Jacobs 6-5, Burks 2-1; LAKE HAMILTON, Jackson 3-74, Baldwin 10-42, Williams 1-5, Briggs 3-4, Teague 2-(13).
Passing (C-A-I-Y): BRYANT, Jacobs 3-4-1-69, Burks 1-1-0-20; LAKE HAMILTON, Baldwin 3-7-0-20, Teague 1-2-0-41.
Receiving: BRYANT, Royal 2-17, Turner 1-52, Miller 1-20; LAKE HAMILTON, Baldwin 1-41, Burks 1-13, Burrow 1-5, Jackson 1-2.