Photos by Andrew Schroeder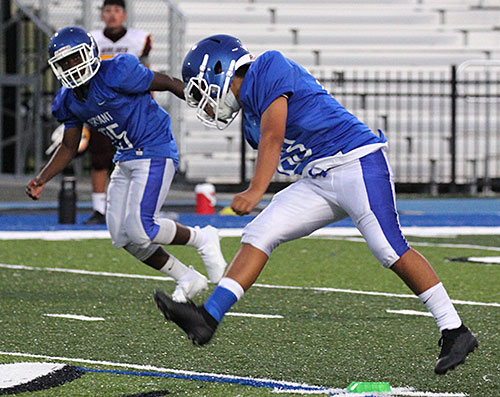 When you average over 18 yards per snap on offense and your defense is holding the opponent to minus-7 yards of offense — in just one half — that is dominance.
And it results in a 35-0 halftime lead and the mercy rule (running clock) in effect to start the third quarter.
It was the third game in as many the Bryant Hornets freshman team has played this year, in which the mercy rule came into play.
Such was the mismatch that Bryant head coach Kenny Horn put in his second team offense with 3:33 left in the first half, and they drove for a touchdown.
Lake Hamilton finished the game with minus-2 yards of total offense. The Wolves attempted just one pass late in the game, which would've resulted in their biggest play of the night. But it was dropped.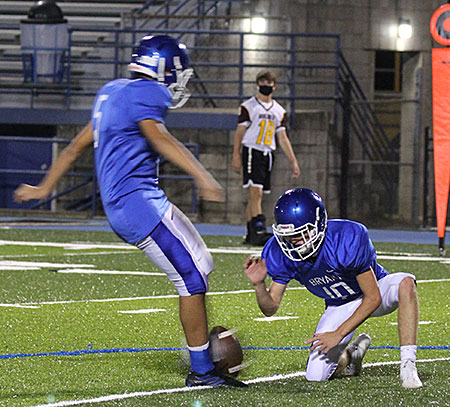 The Hornets, who travel to North Little Rock for their next game on Thursday, Sept. 24, produced a one-play scoring drive and a pair of two-play scoring possessions in just the first quarter.
In the second period, they scored on three plays in a row. The first two were wiped out by penalties but the third one — a 50-yard run by Jaden Ashford held up to make it 28-0 with 5:48 still to play in the first half.
James Martin started the game with a 43-yard kickoff return that allowed the Hornets to snap it for the first time at the Lake Hamilton 25. A handoff to Martin around right end covered that. So, 20 seconds into the game, Bryant had a 6-0 lead.
The closest Lake Hamilton came to picking up a first down was on its subsequent possession. A 6-yard run by Riley Poole set up a fourth-and-1 at the Wolves' 29. They started to go for it, but a false start penalty moved them back and they punted.
Bryant regained possession at the Wolves' 42. A spectacular catch by Mytorian Singleton of a pass from Gideon Motes picked up 32 yards. From the 10, Martin scored again.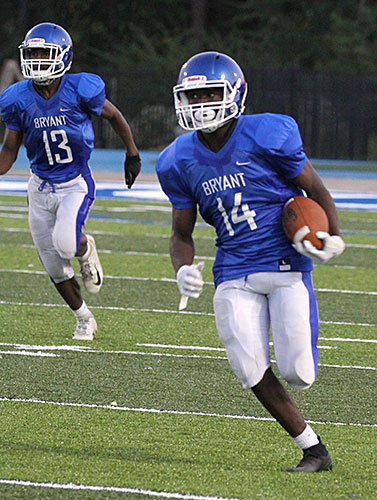 A pass from Motes to Singleton produced a two-point conversion and it was 14-0.
On the next Lake Hamilton possession, each of the three plays lost yardage. Hank Penfield and T.J. Lindsey stopped fullback Evan Payton for a loss of 4 on first down. Then Gavin Lewis tackled halfback Kohen Manley for a loss. And, on third-and-15, Sebastian Oltmans and Bryson Adamoh combined to bring down Poole for a loss of 5.
Another punt left Bryant in great field position again. From the Lake Hamilton 45, Motes kept for 13 yards then passed to Singleton who turned it into a 32-yard touchdown play and, with Jaime Perez' extra point, it was 21-0 with 1:27 left in the first quarter.
Dayton Brown managed a 7-yard run on first down for Lake Hamilton but, on second down, A.J. Foreman hauled him down for a loss of 4. Penfield stopped a third-down run for no gain, and it was punting time again for the Wolves.
This time, the Hornets were pushed back to their own 30. And Motes was tackled for a loss at the 27 on first down by Lake Hamilton's Blayne Acker.
But, on second down, Ashford slashed for 19 yards to the 46.
A screen pass to Cason Trickey then broke for 54 yards and a touchdown only to have most of the play negated by penalty.
From the 44, Motes passed to Martin for a 44-yard touchdown play only to have that mostly negated by an illegal block.
So, from the 50, Ashford split the defense for a 50-yard touchdown run and, with Christian Chandler's extra point, it was 28-0.
Stops by Lewis, Singleton and Joshua Terry forced a three-and-out once again for the Wolves only this time, they punted the Hornets back to their own 17.
Aiden Hughes took over at quarterback and engineered the final touchdown drive. He kept on the first two plays to set up a third-and-4 at the 23. Chelton Murdock converted with a 25-yard dash.
Moments later, Hughes fired a pass to Aaron Granado that broke for 42 yards to the Wolves' 22. From there, Murdock ran it in. Chandler's PAT had the final score on the board with 1:00 left in the first half.
Bryant's second half offense featured a 35-yard run by Drake Fowler and a 16-yard tote by Aaron Hernandez as the Hornets drove from their own 37 to the Lake Hamilton 5. Perez attempted a 25-yard field goal, but it was no good.
Defensively, Nick Gibbs, Terry, Ashford, Hudson Riggs and Rafe Wallace made stops for short yardage.
Lake Hamilton fell to 0-4 on the season, 0-2 in the Central Arkansas Junior High Conference going into a game against Benton on Sept. 24.