For more photos of this event by Kevin Nagle, go here; by Rick Nation, go here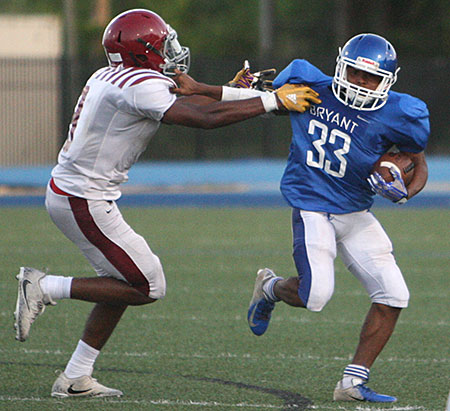 Since their pre-season scrimmage against Bentonville on Aug. 19, the Bryant Hornets freshman team cleaned a few things up. Most notably, catching the ball.
Though they beat Bentonville 7-0 in a half of standard football, dropped passes cost them a bigger margin.
There were fewer of those on Thursday night when the Hornets opened the 2019 season officially against the Pine Bluff Zebras freshmen. Bryant quarterbacks were 7 of 13 for 170 yards and three touchdowns. Six different receivers had catches and three different guys caught them for TD's as the Hornets whipped the Z's, 37-0.
Cory Nichols was 6 of 12 for 157 yards and two of the scores. Tyler Pinney, on in relief, added a TD pass of 13 yards to Keithan Pennington to complete the rout.
The Hornets B team plays Bismarck next Thursday then Bryant opens play in the Central Arkansas Junior High Conference at Cabot North on Thursday, Sept. 12.
"When we catch the football, we're fixing to be pretty potent," acknowledged Hornets coach Kenny Horn. "We caught a few more tonight and it made a big difference for us."
In the first quarter, it looked like Pine Bluff was really going to test Bryant. On the first series, quarterback William Howell hit a pair of passes and drove the Zebras into Hornet territory. But, on a fourth down at the Bryant 36, running back Tyrea Campbell was stuffed by Hornets' linebacker John Ede for no gain.
Bryant took over on the 36 and, on a third-down play, the Zebras' Blake Hegwood intercepted a pass and ran it back to the 42.
The Bryant defense was much tougher. Ede and Cody Kretsch combined on a tacke for a loss and later, Aiden Baker hauled down Campbell for a loss.
But, aided by a pass interference penalty and a fourth-down completion from Howell to Cedric Qualls, Pine Bluff reached the 10. But they went backwards from there.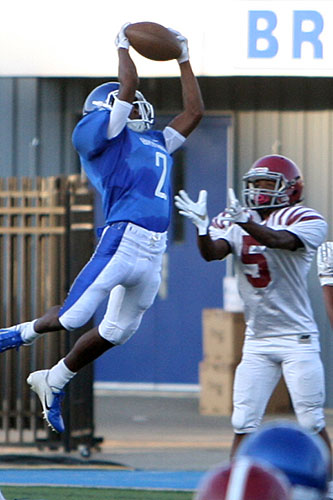 Bryant's Tyler Mosley stopped Campbell for a loss then Joshua Moore brought him down after a 1-yard gain. Baker and Josh Rice combined to foil a speed sweep and the Zebras faced a fourth-and-goal at the 12. Howell's pass was knocked down by Gabe Allen and the Hornets took over.
From that point on, the Bryant defense pretty much dominated. Howell was 2 of 12 in the air from that point on and the Zebras wound up with a rushing total for the game of minus-4 yards.
"We mixed some coverages up and had a little miscommunication on the sidelines," said Horn of the early passing success of the Zebras. "We sent some guys on a blitz and didn't back them up on the back end of it. But we got that worked out and played a lot better. We got it down.
"They actually threw the ball a lot better than I thought they would," he added. "They're tough runners but they were thin in depth and we got them in the end because we had more depth than they did."
Bryant's second possession wound up in the end zone. Starting with a 15-yard run by Nichols, they drove 88 yards in 10 plays. Nichols converted a fourth-down with a 5-yard run then a 17-yard completion to Chris Gannaway converted a third-and-5 at the Z's 46.
A play later, Martavian Earle broke a 35-yard touchdown run on his first carry of the night. Nichols ran in the two-point conversion.
In turn, the Zebras went three-and-out thanks to stops led by Jaylon Brown, Mosley and Ethan Primus. A bad snap on the Pine Bluff punt attempt gave Bryant the ball 33 yards away from another score. And the Hornets covered that in one play as Nichols found Gannaway for a touchdown.
Thanks in part to a great job with the hold by Triston Kellum after a bad snap, Stephen Fuller drilled the PAT and it was 15-0 with less than two minutes left in the half.
With the help of a pair of major penalties, Pine Bluff drove to the Bryant 33 but, on the last play of the half, Howell's deep pass was picked off by Allen at the 6 and returned all the way to the Zebras' 39.
"I thought, outside of the secondary on the first two drives, we tackled well, pursued well," Horn said. "We got after them. We stopped the run. I thought defensively, we were good."
To open the second half, Nichols found Jaylon Brown for 21 yards with a face mask penalty tacked on. A 24-yard strike to Jordan Knox reached the Pine Bluff 30 but, a play later, Nichols' arm was hit as he threw, and his pass was picked off by Pine Bluff's Jerry Hudson.
Ede set the tone for the second half by stopped a reverse for a 3-yard loss on first down. Two incomplete passes led to a punt. Again, there was a bad snap. Howell had to chase it down and he was hit as he got the kick away.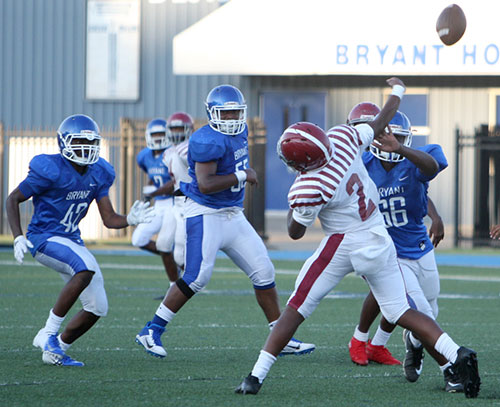 That's how the Zebras picked up their lone first down of the second half, on roughing the kicker.
"The only thing I was a little upset about was just stupid penalties," Horn related. "Roughing the kicker? I don't think that was roughing the kicker. But it is what it is.
"But there were a few dumb things here and there," he allowed. "We clean that up, we'll be good.
Thanks to a sack by Baker and a pass breakup by Primus, Howell was soon back to punt again. Another bad snap resulted in a 1-yard punt that Primus tried to scoop up. He kept pushing the ball forward as he tried to control it. He fumbled it at the 11 where Brown recovered.
Two plays later, Nichols kept for the touchdown. Earle ran in the conversion and it was 23-0.
Malachi Graham made a tackle for loss on first down of Pine Bluff's next possession and another punt occurred. This time it went 11 yards.
On first down at their own 47, the Hornets scored again. Nichols and Braylen Montgomery made a sparkling throw and catch down the middle. Montgomery split two defenders and was off to the house.
Fuller made it 30-0 with 57 seconds left in the third quarter.
Moore sacked Howell on the final play of the quarter and, once again, the Zebras had to punt.
With mostly second-team guys in the game, the Hornets put the finishing touches on the blowout. Earle started the drive with a 19-yard burst that had a face mask penalty added on. Later, he ran for 13 yards to set up Tyler Pinney's 13-yard touchdown pass to Keithan Pennington.
"We got after it," Horn concluded. "We matched their physicality and played well, finished well."