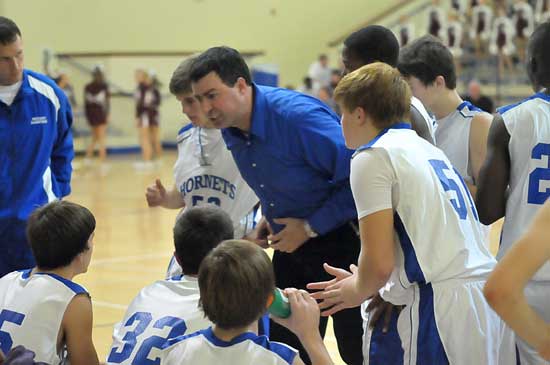 By Rob Patrick
Photos by Kevin Nagle
Just four days before, the Bryant Hornets freshman team had been whipped 38-21 by the rival Benton Panthers in the finals of the Bryant Invitational Tournament.
It was the Hornets' first loss after three wins to open the season.
So they, no doubt, were happy to have the opportunity[more] to face the Panthers again right away on Monday night.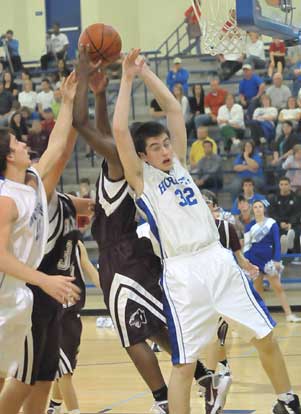 As it turned out, there was no blowout again. In fact, the Hornets outscored the Panthers 9-3 in overtime to avenge their loss, 29-23.
C.J. Rainey hit two free throws with :14.3 left in regulation to pull the Hornets even then Caleb Strain scored his only points of the night on a layup to start the extra period, giving Bryant the lead for good. The game wasn't really secured, however, until Rainey hit a free throw with :09.8 left to make it 27-23. Madre London rebounded the miss on his second shot and fed Mitch Scoggins for the clincher.
The Bryant team includes Phillip Barnett, Dakota Besancon, Chase Christie, Brandon Cranford, Cedarrian Crosby, Evan Davis, Trevor Ezell, Greyson Giles, T.J. Hall, Austin Hammonds, Hunter Holder, Matt Jernigan, Spencer Kilgore, Slade Lewis, London, Dylan Masters, Davis Nossaman, Gray Orman, Garrett Phillips, Rainey, Brian Reed, Scoggins, Strain and Christian Washington.
"We've still got a long ways to go but it's good to know we can win one like this," declared Hornets coach Steve Wilson. "I thought the kids just won it with their determination."
As the score indicates, the game was a defensive duel. In fact, Bryant went the entire third quarter and almost four minutes in the fourth without scoring. But they only allowed Benton to build a 7-point lead.
"We worked awful hard on their press," Wilson said. "The press hurt us real bad in the last game. I really wish we could've scored more off of it but they didn't score off of it. That was a big part of it. Then we were just able to hang close and we got that fivr in our eye and a little bit of determination and really came on there at the end."
The Hornets' first basket of the second half came with 2:12 left to play. Scoggins followed his own miss to cut the Benton lead to 18-13. But Tarek Beaugard answered with a drive to the hoop and Bryant trailed by 7 going into the final 1:30.
The 7-0 run to finish regulation began with two free throws by Rainey with 1:13 left. After a Benton turnover, London grabbed the carom off a teammate's miss and scored to make it 20-17. Wilson called a quick timeout to set his team's press.
When play resumed the two teams traded turnovers. Bryant then had to start fouling having committed just four in the half up to that point. They needed three more to get Benton into the bonus.
In the process, however, they forced a turnover and Rainey, who scored 6 of his 8 points from the line, converted once with :23.4 showing.
They finally got the Panthers to the line with :19.5 to go and when Beaugard missed on the front end, the Hornets had a chance to tie. Rainey was fouled at the :14.3 mark and tied it. Benton got a chance to win it at the end of regulation but Luke Vincent's leaning 3-pointer rattled out and the game went to overtime.
Poor free-throw shooting cost the Panthers. They finished 5 of 15 from the line. Nic Sanchez had a chance to tie it again after Strain's basket but missed the front end and, moments later, London was fouled. He converted once to make it a 3-point game.
Vincent went to the line with 1:16 showing and hit one of his shots to make it 23-21. In turn, London misfired and the rebound went out to Benton. But Vincent likewise missed and London rebounded with :37.2 showing. He was fouled and converted once at the line.
Giles followed with a steal. He was sent to the line with :24 to go. He made the first one then Benton called a timeout. When the teams returned to the court, Giles coolly knocked down the second shot to make it 26-21.
Beaugard kept the Panthers' hopes alive with a pull-up jumper from 12 feet out that swished with :15 to go. That set up the clinching trip by the Hornets.
Scoggins led Bryant with 9 points to go with a game-high 10 rebounds. Beaugard led Benton with 9. Vincent added 7.
In the first quarter, it was Benton that had a hard time finding the bottom of the bucket. The Panthers didn't score until Vincent beat the buzzer with a three-point play. But Bryant had been unable to run up much of a lead and it was 5-3 at the break.
Benton scored the first 5 points of the second quarter then Bryant rallied to take a 9-8 lead. Vincent tied it with a free throw with 2:09 left and it stayed that way until Scoggins knocked down a shot with :06 left to give Bryant the lead at the half.
But then came the Hornets' dry spell. Beaugard tied it with 4:18 left in the third quarter and it stayed deadlocked until he scored again off the offensive glass with 1:31 left in the period. It was 15-11 going into the fourth quarter.
A free throw by Beaugard and a layup by Blake Bowlin produced the first 7-point lead. Wilson called a timeout and the Hornets' rally commenced.
Now 4-1, Bryant travels to Lake Hamilton on Monday, Nov. 29.
HORNETS 29, PANTHERS 23, OT
Score by quarters
Benton 3 6 6 5 3 — 23
BRYANT 5 6 0 9 9 — 29
PANTHERS 23
Beaugard 4-15 1-3 9, Vincent 2-7 3-5 7, King 0-2 0-1 0, Bowlin 2-4 0-0 4, Sanchez 0-0 0-1 0, Polk 1-1 1-2 3, Wallace 0-4 0-0 0, Smiley 0-4 0-2 0, Rooks 0-0 0-1 0. Totals 9-37 5-15 23.
HORNETS 29
Rainey 1-7 6-9 8, Strain 1-3 0-1 2, Nossaman 0-1 0-0 0, Giles 1-6 4-4 6, Scoggins 4-7 1-2 9, Ezell 0-0 0-0 0, Hall 0-0 0-0 0, Besancon 0-0 0-0 0, Holder 0-3 0-0 0, Orman 0-0 0-0 0, Crosby 0-0 0-1 0, London 1-5 2-4 4, Christie 0-0 0-0 0. Totals 8-32 13-21 29.
Three-point field goals: Benton 0-6 (Beaugard 0-4, Vincent 0-2), Bryant 0-4 (Holder 0-3, Rainey 0-1). Rebounds: Benton 32 (Beaugard 7, Smiley 6), Bryant 30 (Scoggins 10, London 6). Turnovers: Benton 15, Bryant 17. Total fouls: Benton 21, Bryant 18. Fouled out: Benton, Smiley.