For more photos from this event by Kevin Nagle, go here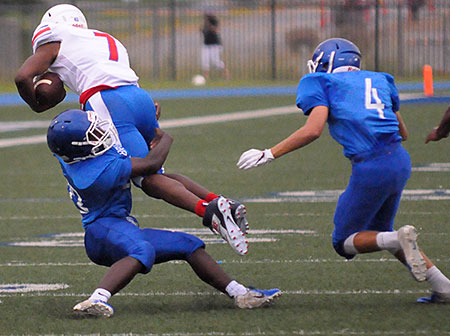 The Bryant Hornets freshman team had two touchdown runs and two touchdown passes while building a 27-6 lead over the Little Rock Parkview Patriots freshmen Thursday night in a pre-season scrimmage at Bryant Stadium.
With Bryant head coach Kenny Horn trying to get all of his players into the game down the stretch, Parkview's first team reeled off 21 unanswered points to finish with a one-point advantage at the end of the scrimmage.
The Hornets were set to host Marvell to open the season on Thursday, Aug. 30. But Marvell, who asked for the game, has had to bow out with too few players. So, Bryant will open the season with a Central Arkansas Junior High Conference game on Thursday, Sept. 6, at home against Cabot North.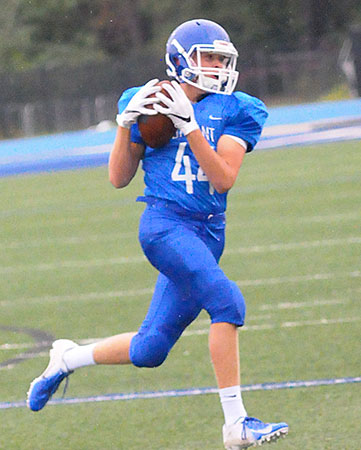 The Hornets threatened to score on all four of their first-half possessions. To open the scrimmage, they drove from their own 30 to the Parkview 25, keyed by quarterback Carson Burnett's 14-yard run and his 20-yard pass completion to Turner Seelinger.
At the 25, Bryant was going for it on a fourth-and-1 but the snap got loose, and Parkview recovered.
Layton Dickerson and Chris Elder each stuffed a Parkview running play including a fourth-and-3 snap that was stopped short at the Patriots' 31.
The Hornets took advantage of a pass interference penalty against Parkview and drove for a score. Burnett had another keeper that covered 11 yards to the 5. From there, Fabian Torres scored the first of his two TD's.
Parkview lost big yardage on the first two plays of its next possession. Brandon Jones broke through for a seven-yard setback then Jason Shifflet sacked the quarterback for a 10-yard loss. A third-down pass was stopped well short of the first down by K.J. Daniels.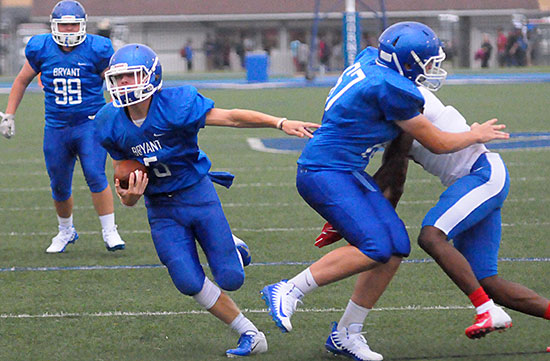 A shanked punt left Bryant just 34 yards away from paydirt. Torres broke a 10-yard run and a face mask penalty added on. Burnett then found Robert Hendrix for a 19-yard touchdown pass.
Andrew Stueve added the extra point and it was 13-0.
Parkview got on the board with a 32-yard touchdown run but couldn't tack on the two-point conversion.
A 39-yard pass from Burnett to Seelinger set up the third Bryant touchdown. Burnett dashed for 24 yards and, a play later, Torres crashed into the end zone. With Stueve's extra point, the lead was 20-6.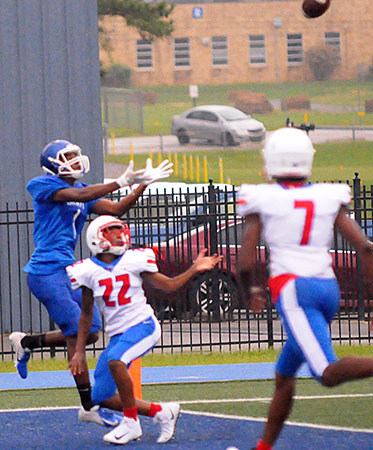 Gavin Burton made a tackle for a loss of 12 on a third-down during the next Parkview possession. A punt left Bryant just 26 yards away from another score. With time running out, Burnett nearly connected with Lawson Spear for another score but, as he made a tumbling catch in the end zone, Spear couldn't hang on.
"We played good in the first half," said Horn. "We executed. I think we were really clean, probably a little better than I thought we might be. But, boy, we did good — linemen, backs, receivers. It was nice."
To start the second half, the coach started his second defense and they forced Parkview to turn the ball over on downs. The series was highlighted by Mason Miller's tackle for a loss. Parkview hit a long touchdown pass but an illegal block negated it.
Bryant took over at the Patriots' 34 and quarterback Danny Johnson led them to another touchdown. His 9-yard keeper set up a 21-yard TD pass to Michael Rivera. Stueve's extra point made it 27-6.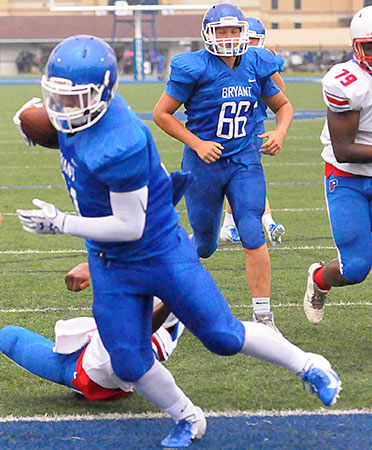 As Bryant continued to bring in players off the bench, Parkview scored on its next three possessions while the Hornets' offense went four-and-out on three possessions.
Horn downplayed the mismatch with his reserves in the second half.
"That's beside the point," he insisted. "The point is, everybody lined up right, everybody knew what they were doing. The only think we did wrong, we just didn't execute and make plays when we had to, and they were just a little bit faster than us there at the end.
"I thought our kids played extremely well," the coach insisted. "They executed, played hard, and they hustled tonight. I'm super happy about all of them."